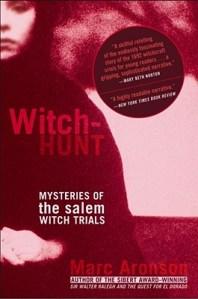 It's been some time since I've been to Salem. It's been even longer since I've read Arthur Miller's The Crucible. The events of 1692, however, continue to haunt me. I recently read Marc Aronson's Witch-Hunt: Mysteries of the Salem Witch Trials. Intended for a young adult readership, Aronson's book really isn't proposing any new theories about why religious violence was perpetrated against the vulnerable, mostly female, pool of those living in a very superstitious society. It does, however, show some of the issues in sharp relief—more academic books sometimes cloud the issues with erudition. Historians will continue to debate what happened in Massachusetts at the end of the seventeenth century when the Enlightenment was getting underway and the explanatory value of science was overcoming the world of miracle and magic. Even with science on our side, however, adequate explanations of the sad social madness of Salem are still lacking.
As Aronson points out, there seems to have been a certain amount of greed involved as laws allowed the property of "witches" to be confiscated. Equally culpable are the learned clergy of the day, some of whom overrode their disinclination towards belief in witchcraft to hang a few women (and fewer men) for an imaginary crime. Lack of full historical documentation and the unrecorded lives of women often combine to raise many questions about Salem. It remains clear, however, that the outlook of the clergy influenced perceptions on the ground. Aronson suggests that Cotton Mather's earlier accounts of Goodwife Glover of Boston—a woman executed as a witch without even her first name having been recorded—may have "inspired" similar violence among the population of Salem. When devils are suspected, the clergy are never far.
When the mania died down after a lethal year, the clergy, both Increase and Cotton Mather among them, recanted the easy execution of a few expendable women, and fewer, less expendable men, in Salem. Since we lack documentation, we will never know fully what was behind the witch-hunts, apart from misogyny and misperception.
Aronson ends his little book by asking us to consider modern terrorist hunts and the eerie similarities to the mindset of Salem. Listening to some media interviews, particularly on Fox, after the Boston Marathon bombings, we haven't traveled so very far from Salem. In a world of high technology, where Satan is said to once again stroll the streets of Massachusetts, we have to wonder if the witch-hunts will ever truly end.