It's a perfect night for mystery and horror.  The air itself is filled with monsters.   –  Mary Shelley (Elsa Lanchester) in Bride of Frankenstein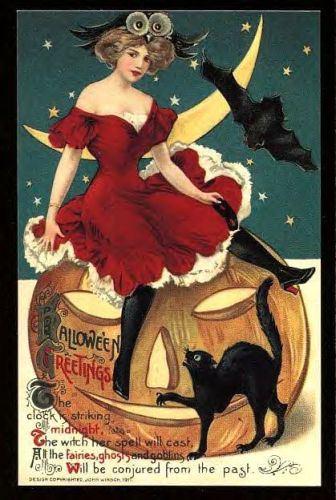 Last year I celebrated the Halloween season with a collection of horror-themed links, both to columns on my blog and to articles off of it.  If you missed that one, you definitely ought to take a look at it; this is just an update, rounding up things I've featured since last October 28th.  First and foremost, of course, are last year's columns for the holiday itself, "Halloween 2013" and "The Dance of Death".  Despite its name, "Buried But Not Dead" isn't really on the subject, but "Total Perspective Vortex" and "Cleansing Fire" are (at least a bit).  And I think "The Pit" definitely qualifies.  Last October's harlotography was on the serial killer Aileen Wuornos (certainly an appropriate seasonal topic), and I featured either scary or creepy-fun videos in Links #171, #172, #173, #174, #176, #183, #206 and #212.  Earlier this year on May Eve I shared some less-known horror books, poems and videos; also, my own stories "The Other Side", "Invasion" and this month's "The Company of Strangers" are all solidly in the horror genre.  Finally, here's a list of creepy, spooky, horror or monster-related links from the past year:
They Stole JFK's Brain.
Poetry comics: "Annabel Lee".
Photographs of children's nightmares.
An army of huge rats?  Definitely seasonal.
That HPL really knows the eldritch secrets of a truly sick party.
22 horror movies & 9 contemporary horror stories available free online.