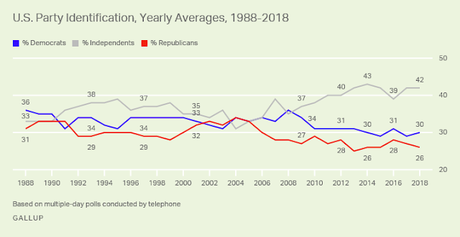 This chart is from the Gallup Poll. They questioned 13,852 adults in 2018, and the poll has a margin of error of only 1 point.
As the chart shows, there are more people identifying as Democrats (30%) than Republicans (26%). But neither party can claim a majority of the population. In fact, a plurality of 42% identify as Independents.
That means the Democrats (or Republicans) will have to convince a majority of Independents to vote for them to win the 2020 election.
Both parties like to think that a majority of Americans like their agenda (progressivism for Democrats and far-right conservatism for the Republicans). But both are fooling themselves. Most of those Independents are moderates, and extremism of both the left and the right scares them. Many want change, but they do not want radical change. The moderates want their change to come in small steps, so they can be sure the change is good for the country.
Democrats need to keep this in mind as the select their next presidential candidate. Some think that any Democrat could beat the unpopular Trump in an election. I think most Democrats could, but if Democrats nominate a candidate that scares the Independents (because they think he/she is too radical), Trump could be re-elected.
Democrats will be able to choose from a variety of candidates. Choose wisely!