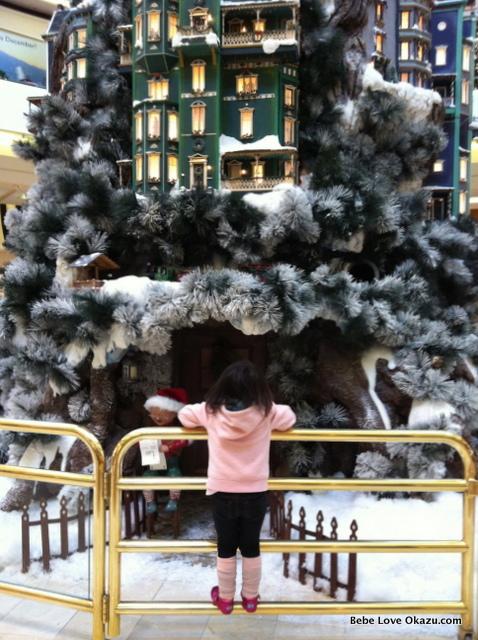 Admittedly, I've always been a shopper. From a child being dragged to the mall by my Mom, to a youthful teen shopping (or gossiping) with girlfriends, from window-shopping and meeting best friends for lunch at a favorite cafe – again in the mall, I am not ashamed to admit that I enjoy spending time at the mall.
These days, however, one of our favorite malls to visit is the South Coast Plaza. Not only is it stocked full of lovely favorite shops and restaurants, it is by far one of the top shopping locations in Southern California. (Ok, perhaps I'm slightly biased but it is indeed one of the loveliest, and this is quite meaningful given this Los Angeleno is often biased towards retailers on the Westside.) In addition, it is decked-out with beautiful holiday decorations like no other mall. Well, perhaps with the exception of The Grove in Los Angeles, yet that mall is lacking a bit in the area of retail shops but I digress…
My life now is quite different from my youth in that, a) I don't work anymore and therefore have significantly less disposable income to spend frivolously at the mall; and b) I enjoy spending what money I do have on rides on the carousel (which have reindeer and not horses during the holidays) or train rides on Santa's Express or lunch dates with my little one.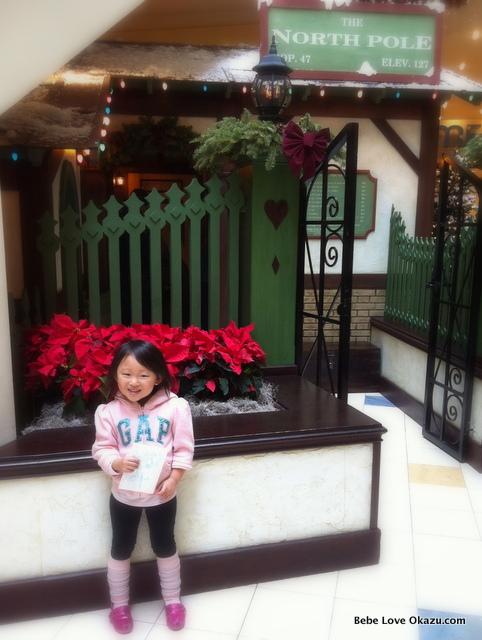 In the photo above, you'll see that we visited Santa at the "North Pole". Bebe E "wrote" a letter to Santa and wanted to hand deliver it to him herself, rather than leave the letter on our mantel for Santa to take with him on Christmas Eve. Also, please note that my daughter likes to dress herself these days, fashionably, in her ballet leg warmers, sparkly hot pink Toms, stretchy denim jeggings, and of course, we can't leave home with her favorite pink fleece jacket that she affectionately calls, "Gap". The days of Mommy dressing-up her bebe are fleeting, and sometimes it's just easier to let her be my "Punky Brewster" (this subject deserves a blog post all to itself) and allow her to express her creative inner-being. At least on this day she is very color-coordinated. Bebe E = style mavin and fashionista in training?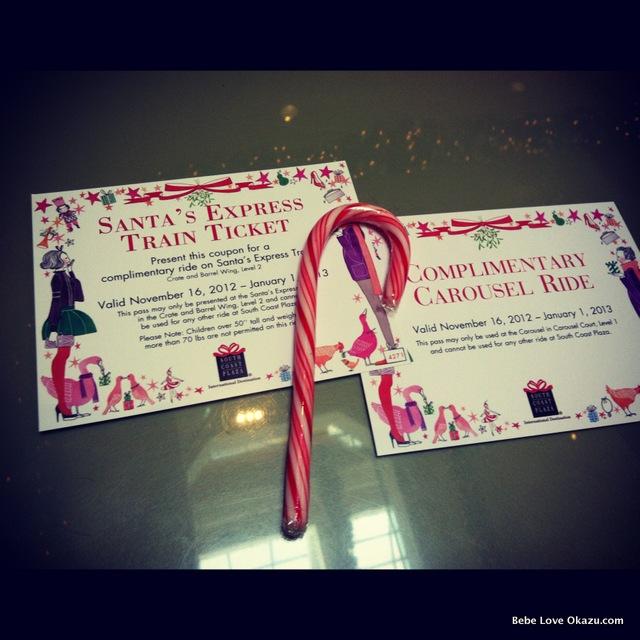 I'm not sure why, but this year, Bebe E is truly enjoying her visits with Santa (yesterday's visit was the third visit this season alone, and counting) and she seems to come up with something to share with him every time, yet she has absolutely no desire to take a photo with him. Our third visit with Santa resulted in complimentary certificates for a train ride AND a carousel ride, thanks to Santa's generosity. (Only children who purchase a photo are supposed to receive these certificates.)
Her first visit with Santa was at her school's holiday party where she shared with him the three things she hopes for.
Her second visit with Santa at the South Coast Plaza was to ask him for the mini playground set for her (plastic doll) Baby.
The 3rd and latest visit to Santa, again at South Coast Plaza, was to give him a 'Thank You' card for sending her little Elf girl, whom she affectionately named "Mei Lan" (yes, it's so very Asian and our family reading this knows how special this name really is). BUT, after this last visit, Bebe E tells me in the car, "I forgot to tell Santa that I know he's from the North Pole! We have to go back!" Fortunately, I saved ourselves a trip back (at least until next week) by reassuring Bebe E that if she tells her Elf what she forgot, she will be sure to tell Santa that night. Which of course, she happily talked to her Elf about. :) I love the magic of Christmas!!!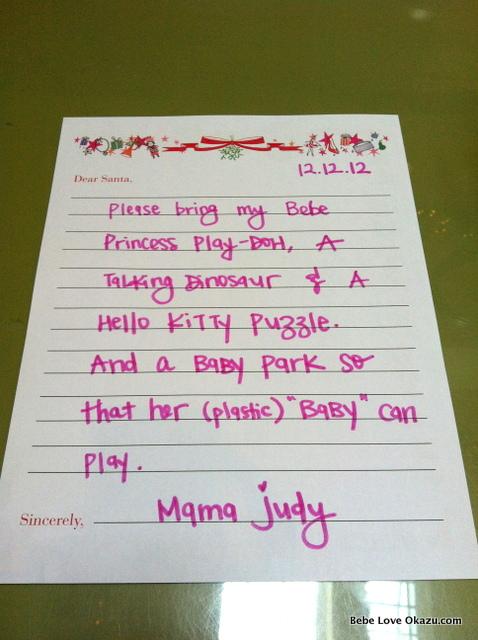 Just outside the "North Pole", there was a little crafts area where we could write letters to Santa. I took this opportunity to reinforce Bebe E's hopes for Christmas. My little one is very helpful and helped me to complete the "envelope". We are still working on our 'Y's. :)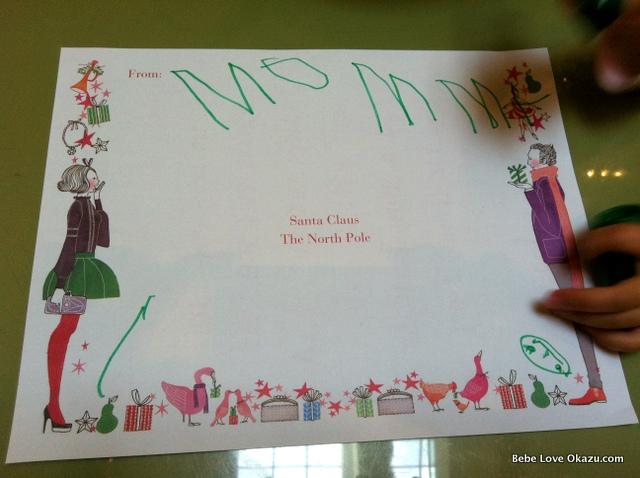 We happily took our Santa's Express Train certificate upstairs to take a ride. This visit to Santa's Train was very important to Bebe E as she wanted "Baby" to experience the train for the first time. You see, Bebe E tends to ride the train by herself, although last week we had the wonderful surprise of running into a friend from school whom she happily rode the train with.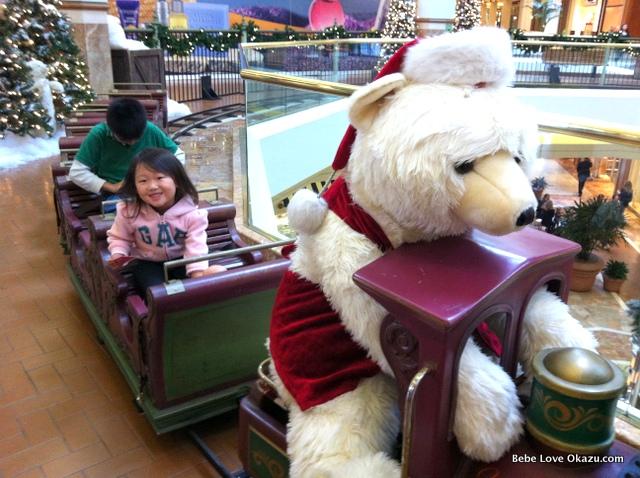 We love the big, fluffy white polar bear that conducts Santa's Train. Now, I would love to take a ride on the train too, but as you can clearly see from the size of the seats, there is absolutely no way I would fit on the train, unless of course, I were to ask the polar bear to kindly get off the train so that I could conduct it, but we all know that polar bears are unreasonable and much stronger than mommies, so I just kept my mouth shut.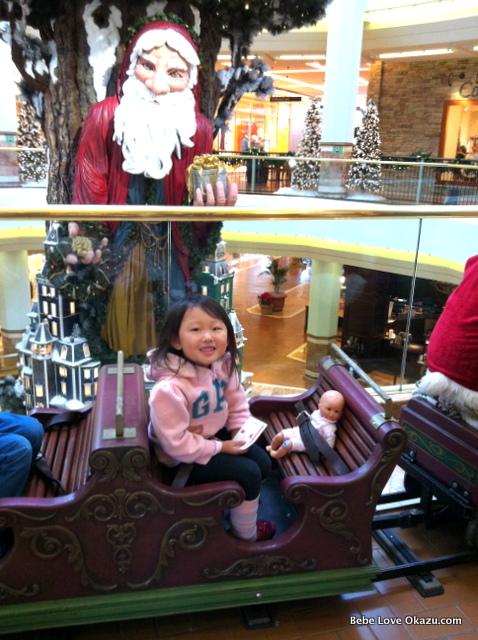 After I put my Bebe's seat belt on. She asked me to make sure that her "Baby" was strapped in tight. "Baby" almost looks as though she's being restrained against her will, but let's just say she had a good time too. That's about it for yesterday's holiday fun on 12.12.12.
… And now that's it's all over Facebook and Instagram, I can happily congratulate Aya-chan, my beautiful sister-from-another-mother, on her wonderful 12.12.12 news. Congratulations!!! I'm so excited and happy for you!!! xoxo
Oh, and I almost forgot that this post just wasn't about holiday fun and special celebrations! Below is a very easy and simple recipe for not-so refried, black beans using a can of plain ol' organic black beans. It's a quick and easy side dish that I often serve with Mexican cuisine such as our recent dinner of red sauce chicken enchiladas.
Cheers!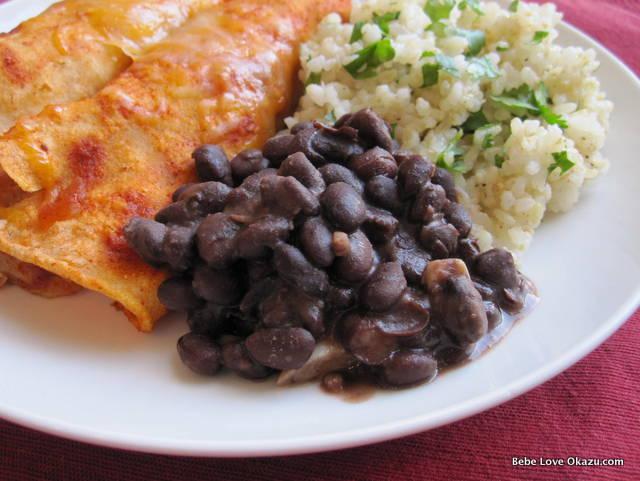 Print
Simply Refried Black Beans Author: 
Judy | Bebe Love Okazu
Recipe type: 
Side Dish
  Ingredients
1 15-oz can organic black beans, drained and rinsed
1 garlic clove, chopped
1 small onion, chopped (about ⅓ cup)
¼ teaspoon cumin (or substitute with ground cumin)
Salt, to taste
Pepper, to taste
1 teaspoon olive oil
Instructions
In a medium pot, combine olive oil, garlic and onions. Sautee until tender and translucent.
Add black beans to the onion and garlic mixture. Add cumin and cook for about 5 minutes. Mash some of the beans using the back of a spoon or spatula. Serve immediately with your favorite Mexican dish.
3.1.02