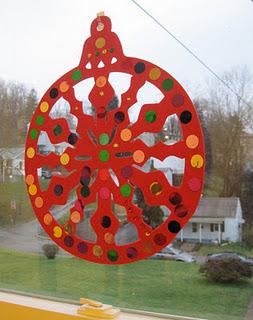 I'm pretty sure this is the last of our Christmas craft extravaganza. We're going to take it easy from now on. This is just a felt ornament that we got at the dollar store (where everything is $1). We just glued all these sparkly bits to it with tacky glue. It took about 45 minutes. If you have a toddler, you know how precious that 45 minutes can be. That's a lifetime of being occupied.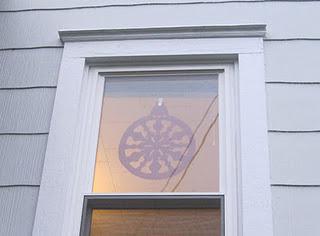 We hung one in each of our front windows using those Command hangers. I can't get a good picture at all but you get the idea.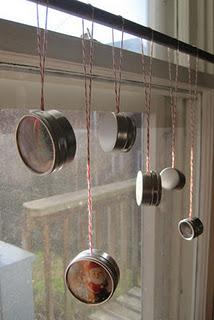 I've been hoarding these tins for years and got the idea to make these little scenario ornaments out of them. It was super simple. Just drill a tiny hole in the top of the tin and thread the baker's twine through it to hang. Everything inside is just tacked in with glue. I think they turned out well and I like them in this little cluster in front of the window.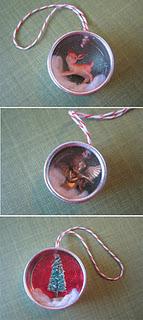 Finally, a word about Pinterest. I am loving Pinterest and having such a blast with it -- so many great ideas. Please, pin away! But I do ask that you pin directly from my post and not the jpeg image so it will link back here. I spend a lot of time writing and coming up with ideas.  I'm obviously not in this for the money; I just really enjoy doing it. So give me a little cred, okay? Thanks so much!