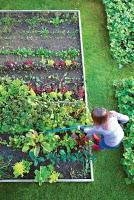 Pick the right seeds or plants.
Some backyard veggies grow well from seeds (carrots, radishes, beans, and peas, for example). Others do best with an indoor or greenhouse start, such as tomatoes, peppers, and herbs. While most garden varieties will do just fine anywhere, you may want to choose specialized seeds, such as plants for your specific latitude (e.g., northern mountains or central plains), heirloom varieties (generally non-hybrid, like your grandmother used to grow), organic, or open-pollinated.
Feed and water with care.
Throughout the growing season, your vegetable plants will need the right amount of moisture and the right balance of nutrients. Getting both right will depend on your soil and the weather. Too much water or fertilizer can be as big a problem as too little. The instructions on the seed packets or seedlings are always a good place to start. However, your best bet is to chat with a local garden 'coach' - a green-thumbed family member, friend, neighbor, or Master Gardener.
Pick the fruits and veggies of your labor.
While planting, weeding, and watering can be fun family activities, harvesting is obviously the tastiest part of the season. Freshly picked veggies can be so delicious (and nutritious) that they never make it to the kitchen or to the table! Want to grow your garden successfully from year to year? Keeping a simple garden journal can help you remember exactly what you planted, how well it grew, when you picked the veggies, and what your family enjoyed eating the most.