The "What Maisie Knew" weekend is the weekend that keeps on giving… giving us Skarsgard related moments to treasure. And hoard through the long drought that might be a head of us.
With that in mind, its time for our daily dose of "Skargasms".
Ready?
Here we go!
In this video we are back on the Red Carpet with the "Red Carpet Diaries" where they chatted up Alex and his fellow castmates.
It was a love fest

And really, what better way to start us off.
Of course, when it was ET Canada's turn they just had to ask about 50 Shades of Gray and casting rumors. *rolls eyes*
Alex, being the consummate professional he is, is just rolling with the punches with a new standard answer that he has no idea nor has he read the books.
Julianne More gets my 2 thumbs up with her reaction to the 50 mania. Tis priceless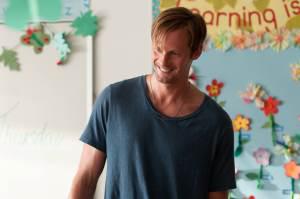 Making our way back into the world of print, Entertainment Weekly made a wonderful post after chatting with Alexander and Onata (and her white balloon) on "Press Day" Saturday. Now if you have not read it yet, click here for the full article. Little Onata is stealing my heart as she has so obviously stolen the Skars' heart. She is a very special little girl. She has her own Skars jungle gym. Le Sight. In this interview (like he has others), Alex draws the comparison between her talent and his personal experience growing up as a child actor.
To finish out our dose for the day,  The Hollywood Reporter posted a 2 minute video with Alex, Onata, and the 2 directors (David Siegel and Scott McGehee) of the film from their "Video Lounge" in Toronto.
While the directors and Alex all make insightful points on the movie… We all know they saved the best for last when they asked Onata what is the best thing about working with Alexander.
Alex: You better say something nice… now

Onata: EVERYTHING
Out of the mouth of babes