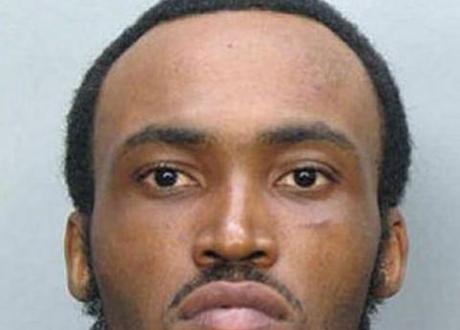 Rudy Eugene. Photocredit: Allvoices
The background
More horrifying details have emerged from the case of 31-year old Rudy Eugene, the naked homeless man who was found eating the face off another homeless man, 65-year-old Ronald Poppo.  Video footage from CCTV cameras nearby so the attack as it happens. At least five spectators called the police. The video footage shows that Eugene simply happened upon Poppo. Police are trying to piece together the events that led to this horrific attack. Drugs are thought to be a factor: though toxicology results will take a while to come through.
Read about the attack on Periscope Post
18 grisly minutes
The Miami Herald reported that Eugene walked, in the nude, along the MacArthur Causeway, before attacking the homeless man he found sleeping underneath the train tracks. He attacked him for "18 grisly minutes." He punched him, stripped off his clothes, and then started to gnaw of fhis face – "as cars and cyclists rolled by on the busy causeway on a sunny Saturday afternoon." Eugene was with his girlfriend the night previously: she reported him as acting strangely."
Clothes strewn everywhere
"It was a hot day, with temperatures in the 90′s, and a long walk. Either late that morning, or early that afternoon, police sources said, Eugene began his trek back to Miami. As he walked across the causeway, they said he started stripping, leaving his clothes on the walkway and in the road. Cops found his drivers' license and clothes strewn from the beach to the mainland," reported CBSMiami.
He was a sweet man, says girlfriend
On the morning before he hit the headlines, reported Nadege Green in The Miami Herald, Rudy Eugene  "held his Bible and kissed his girlfriend goodbye." She was surprised by his actions – when he left, he didn't tell her where he was going. She still refers to him as "my baby, my heart." She didn't recognize the man described as a monster, saying that while he smoked marijuana, he wanted to stop. "He was sweet and well-mannered." She believes that he was either drugged, unknown to him, or cursed by a Vodou spell. He often read his Bible, and carried it everywere with him. '"I don't want him to be labeled the Miami Zombie," she said. "He was a person. I don't want him to go down like that."'