Soon after HP killed WebOS and dropped the price down to $99/$150, the fire sale got crazy. Retailers went out of stock and all the Touchpads were sold out from everywhere.
People still are trying to get their hands on one device and eBay is filled with buyers selling HP Touchpad at $200+.
For people who still haven't got one and are trying really hard to get one, here is a good news.
HP's PR Manager Mark Budgell tweeted that more of the $99 HP Touchpads are coming soon for sure. @MarkatHP tweeted about it few hours ago.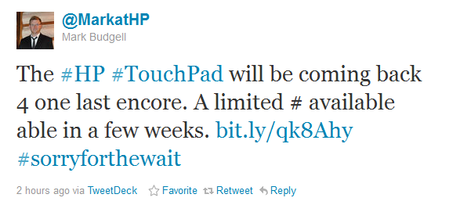 The tweet takes you to a small blog post which tell you all you need to know about the future availability of the HP Touchpad devices.
Mark said that a limited number of Touchpads would be produced just to honor the overwhelming demand for the last time. This could take weeks or even a month. But the manufacturing would be finished in the before the fourth fiscal quarter of 2011 i.e. October 31 2011.
People who have signed up for alert notification would be notified together as soon as the Touchpads are available.
Q: When is HP getting more HP TouchPads?  One week, two weeks, a month?
A limited supply are coming and it will be a few weeks before they are available.  As we know more about how, when, and where TouchPads will be available, we will communicate that here and through email to those who requested notification.  We can tell you that HP's Small and Medium Business team has sold out of HP TouchPads and will not have more inventory.