New to little Indiana? Subscribe for free to my RSS feed. Thanks for stopping by!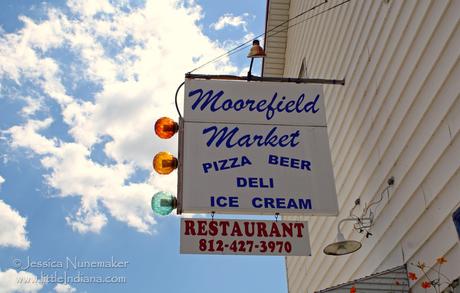 Moorefield, Indiana: Moorefield Market
Moorefield, Indiana is such a small town. The downtown is made up of just one business–the fantastic Moorefield Market, a general store and restaurant combined that's owned by Santa himself!
The address says it is in bustling Vevay, Indiana and Moorefield–but this is 8 miles north of Vevay. Just a little Indiana quirk.
Moorefield Market in Moorefield, Indiana
This is THE local hangout. Matter of fact, it's pretty much the only day time local hangout. This is the only business in town.

We sat at the one empty table in the more than a century old building as every head turned to look us over. Non-threatening as we are, they quickly went back to local talk.
The owner, Bill, handed us a menu. Sandwiches galore like a Steak Hoagie with Mozzarella and Pizza Sauce, Pork Tenderloin Sandwich, even Country Fried Steak Sandwich… great choices!
Moorefield Market Food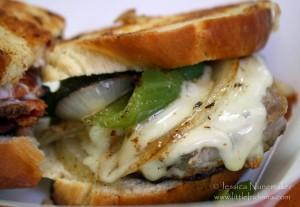 Moorefield, Indiana: Moorefield Market Philly Cheesteak Sandwich
Santa (Bill) noticed we were having trouble deciding and mentioned that they could split our sandwiches up, so we could easily share. Is that nice or what?
We went with the BLT and the Philly Cheesesteak Sandwich.
Bill's wife, Marla, makes homemade potato chips best served with Ranch dressing (at the owner's recommendation). Perfection! Piping hot and delicious.
Kid #1 had a burger and Kid #2 had a Grilled Cheese Sandwich. Both were eaten with gusto!
Obviously our sandwiches were good (just look at that image). I couldn't even pick a favorite.
Santa Gets Involved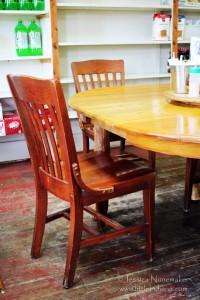 Moorefield, Indiana: Inside Moorefield Market
The owners are so incredibly nice. This husband and wife team are also really involved in their community.
In case you somehow missed it, he really IS Santa! Kid #1 informed him that he's seen him before–in Santa Claus, Indiana or, as he says it, Santa Claus little Indiana.
We told him that even Santa takes a vacation every now and again.
He brought out a few stuffed animals to entertain the boys–and let them keep them, too. See? He's Santa!
Fundraising for Santa's Kids
There is usually something going on at Moorefield Market. They host Euchre card games and corn hole on the weekend. There's also a few big events off and on to raise money for Santa's Kids.
Santa's Kids is a way to help give coats, boots, and toys to those kids who really need them. Moorefield Market has managed to raise a lot of money to aid those less fortunate.
A wonderful cause that keeps getting bigger! Go into the new addition and check out the walls for posters of previous years events.
One Stop Shop
What a great atmosphere! If you have never been in a general store and restaurant like Moorefield Market, you are missing out.
Groceries, books, ice cream, candy, Indiana wine–it's all here. It certainly gives you something to look at while you wait!
Is this Indiana town the smallest thing you've ever seen or what? Stop in for the community, for the local flair, and for a way to help support a local business!
Moorefield Market
8189 Hwy 129
Vevay, Indiana 47043
812.427.3970

View Larger Map
little Indiana: Where to Stay, Play, and Eat in Small Towns in Indiana. Discovering Indiana's best small towns! Now get little Indiana on your Kindle.
New! Offering affordable online advertising for your small Indiana business! little Indiana Businesses is the online presence that you've been looking for.