I'm back home!
After a month of TLC at my parents' following a brief illness & ban from the kitchen, I'm up & about & ready to take on the world! I did start making up for the 3 weeks away from my favorite space by making this, & this & of course this over at my parents'!
And now…I'm back in my Odd Hour Kitchen, planning menus, packing lunches for the husband… fun stuff!
Here's my first dish back

Pudlas (Gujarati), Uttapams, Appams & Dosas (South Indian), or Chillas (North India) are various Indian Pancakes or Crepes. The South Indian ones are made with a fermented Rice Flour batter or with Semolina (Rawa). The Gujarati & North Indian ones are made with various Lentils (Dal) or non-fermented Rice Flour batter & even Semolina.
This recipe that I'm going to share with you, is my maternal grandmother's. She would use Whole Green Gram Beans or Moong, which she soaked overnight. But I didn't have any  yesterday & I wanted to keep the batter ready in the fridge for this morning's breakfast, so I want ahead & used the Split Green Gram or Moong Dal.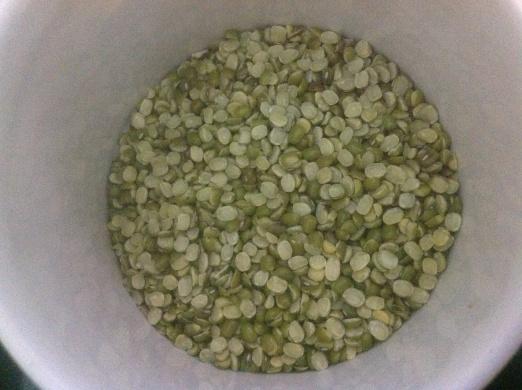 Moong Dal
These Pancakes are very easy to make & perfect for a heavy breakfast or a light-ish dinner. They use a little oil, but are Carb & Gluten Free… so they aren't bad for you either! In fact they are high in Vitamins A, B, C & E & Minerals like Calcium, Potassium & Iron. The Dal is rich in Protein & Fibre & a perfect food to help you in your weight-loss regime

Ingredients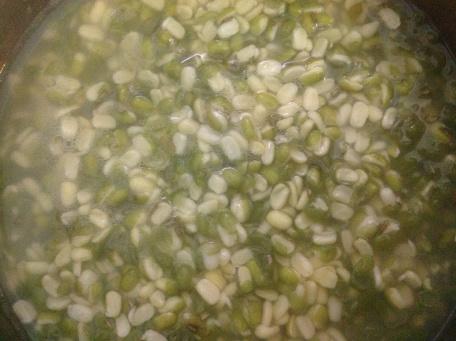 Soaked Moong Dal
3/4 cup Moong Dal / Split Green Gram (soaked for 4-5 hours)
2 small Onions (finely chopped)
1 inch piece Ginger (finely chopped)
2-3 Green Chillies (finely chopped)
4-5 cloves Garlic (finely chopped)
2 Tomatoes (finely chopped)
Coriander (finely chopped)
Cumin Seeds / Jeera
Salt
Oil
Method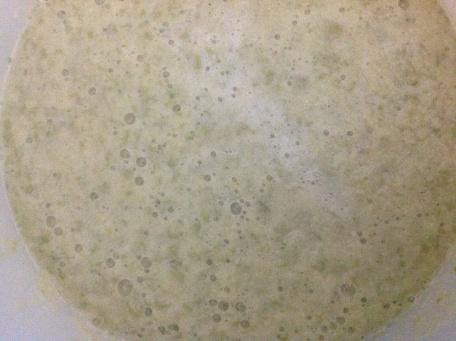 The Batter
Grind the Dal in a food procession with the ginger, garlic, green chillies & 1/4 of the onions. Do not add any extra water.
Pour the mixture into a bowl, add the remaining onions, cumin & salt.
The batter is supposed to be a bit thick, like porridge. But, if you feel it is too thick, add a little water.
Heat a flat non-sitck pan or skillet & grease it with a little oil. Drop a ladle-full of the batter as you would normally for pancakes. Sprinkle some tomatoes & coriander. Once you see the edges come away from the pan, drizzle a little oil around the pancake.Carefully flip the pancake to cook the other side.
Serve hot with a Sweet Chilli Sauce or Mint Chutney or Yogurt.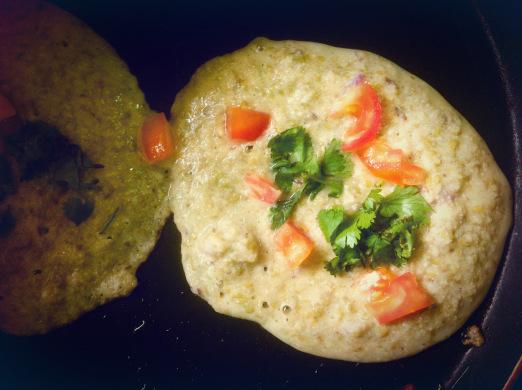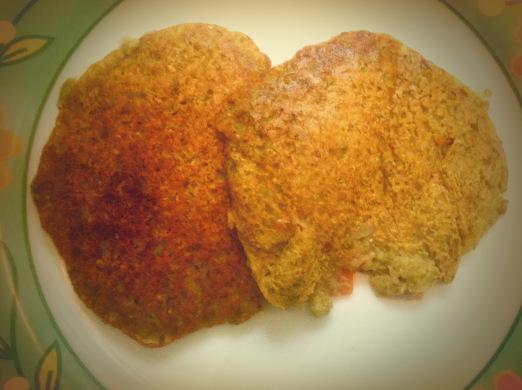 This Recipe makes about 16 Pancakes.
The batter can be stored in the fridge & used over the next 2 days.