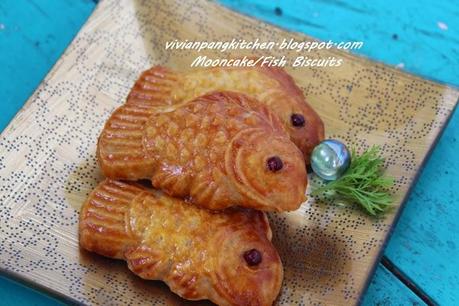 I was lucky to receive few gifts from few blogger friends. The gift bag includes fish wooden mold. Therefore I make used of it and making this fish shaped mooncake biscuits. Thanks to
Joceline
for sharing such great recipe.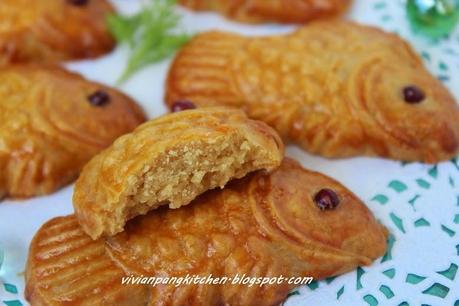 Recipe adapted from

Joceline

of Butter.Four & Me
Mooncake Biscuits/
公仔饼(香化饼)
Ingredients:
~Biscuits
350g all- purpose flour (sifted)
230g Sugar syrup/golden syrup
100g Peanut oil
5g Alkaline water (1 teaspoon)
150g Lotus paste
~Egg Wash
egg yolk + 1 tablespoon fresh milk, mix well and strain.
Method:
1. Mix sugar syrup, peanut oil, alkaline water and lotus paste together till well combined.
2. Add in the sifted flour into the syrup mixture. Use a spatula to mix and form to soft dough. Cover and let it rest for at least 3 hours.
3. Measure dough to about 30g and roll it into a ball and dust some flour. Shape by pressing firmly into fish mold. Unmould and place it on the lined baking tray. Decorate fish eye with red bean.
4. Baked in preheated oven at 160C for 10-12 minutes. Remove and leave to cool for about 10 minutes. Apply egg wash with a soft brush. Then bake the biscuits again for another 15-20 minutes or until golden brown.
5. Place on rack to cool completely before store in container.
######################################################
For upcoming Mooncake Festival I'm taking orders for Mooncake Biscuits, Purple Sweet Potatoes Jelly Mooncake and Dragon Fruits Mooncake. 
No artificial coloring
No preservatives
Low sugar, Low fat
For those who resident in Kuching area interested to place order, please inbox me at 
[email protected]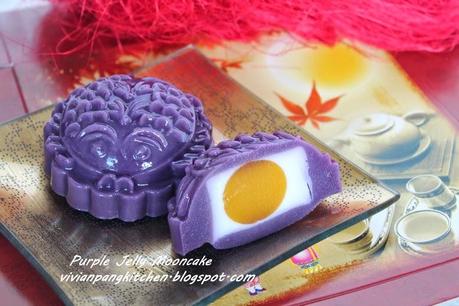 Purple Sweet Potatoes, fresh milk filling with pumpkin yolk.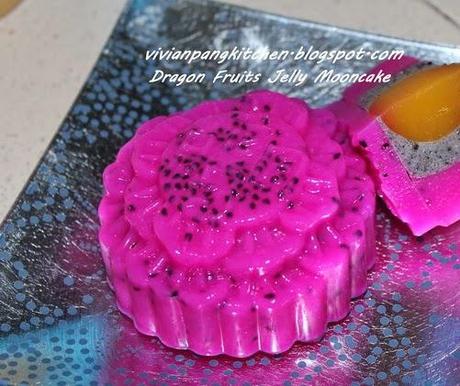 Dragon fruits, black sesame filling with pumpkin yolk