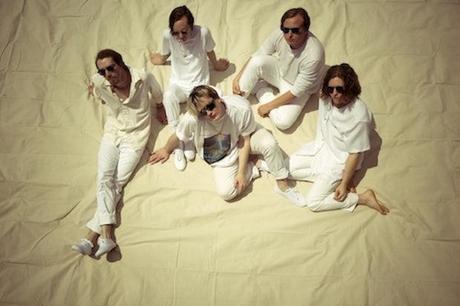 After writing and recording for two years, Atlanta's Mood Rings just released their debut full-length, VPI Harmony, on Mexican Summer (also home to Washed Out, Kurt Vile, Autre Ne Veut and other favorites). A lot can happen in two years, though, which is why each track carries a different vibe than the one before it, with sounds ranging anywhere from post-punk to 80s synth pop. Their hesitancy to stick with one genre was intentional, allowing them to remain explicitly experimental and honest. Shifting tones throughout a record can often lead to disunity, but in this case, they created a greatly craved work of diversity within a genre-sphere easily and usually typified with generic terms (see: "shimmering guitars", "hazy synths", etc).
Still, there has to be a common thread, and in the case of VPI Harmony, the unifier is its sweeping aesthetic, both glossy and dream-like. Though the record shifts genres effortlessly, the color palette here remains fairly static with themes like "longing, anxiety, and depression", which are the blues, greens, and yellows on a mood ring. Glancing at the album cover, it's at least a little bit interesting to note those are the three main colors used in the selected piece, a picture that feels a little like a beautiful nightmare.
Recorded at Gary's Electric in Brooklyn, their lo-fi Sweater Weather Forever DIY fuzz is gone, but the astral sentimentality remains intact. Melancholic, immensely elegant, and blissfully cerebral, VPI Harmony is a sumptuous Mood Rings debut.