With spring just around the corner and easter approaching, I prepared a Montessori inspired maths activity with an Easter theme.
First we have counting wheel with pictures of Easter chicks on it.
The child is supposed to count the number of chicks in each pie and then find the associated the clothespin and attach it to the wheel.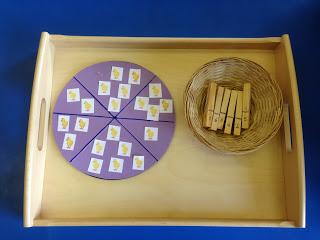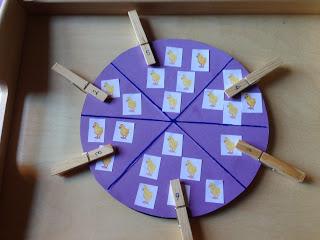 This activity helps children associate numbers with quantities and develops their fine motor skills.
Next, we have Easter themed cards and counters. For this, I prepared cards that I cut into giant eggs. Again I sticked  a chick picture on each one. For counters I used little chicks. They are cute and fluffy and create a point of interest for the children. The child is supposed to transfer appropriate number of chicks using a tong and place them below the cards.Traditionally, Montessori cards and counters are for numbers 1 to 9. As I wanted to reinforce the concept of zero, I added a card for zero as well.
I present the activity in the tray like this.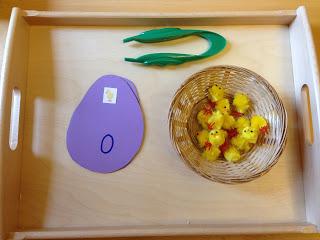 Then we lay the materials on the rug. We have been using this rug but my tutor has reminded me that it should be plain as the lines can be confusing for the child.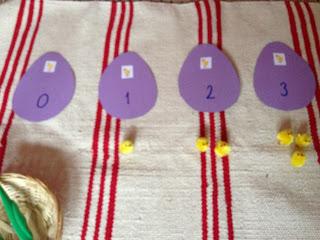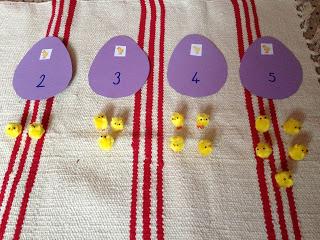 This activity aims
To reinforce the child's knowledge of sequence of numbers

To teach the child that each number represents a quantity of objects.

To reinforce the concept of zero

To give the child a visual impression of odd and even numbers
Children also develop their fine motor skills and hand-eye coordination.
I have had the chance of doing these activities with 4 year old children and they enjoyed this work.
Thank you so much for stopping by! If you enjoyed this post, please join us on Facebook,Twitter,Pinterest and G+. Click on the buttons on the right handside to follow us on these platforms.