I have been considering to buy the Montessori color boxes for a long time, yet they are so expensive that I haven't been able to justify the price.
There are three Colour Boxes in the Montessori sensorial area. The first one contains the tree primary colours :red,yellow and blue. The child learns the colours and matches the tablets. The second box contains 11 pairs of colors: red, yellow, blue, orange, green, purple, brown, pink, gray, black, and white. The child is introduced to the secondary and tertiary colors.
The third box contains 63 colors representing seven graded shades of red, blue, yellow, green, purple, orange, brown, pink, and gray. The child is introduced to grade the colours which helps the child recognize the subtle differences between each shade. Nowadays, these tablets are made of wood but at the College where I'm training I have seen these beautiful tablets that are made with wool.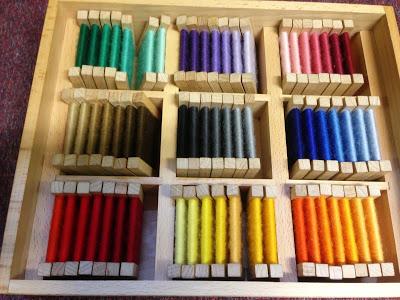 I have thought about making the color tablets but have not been able to find color swatches. Recently I came across these beautiful wooden blocks. Both my children love playing with blocks so I thought we can use them  for color grading and matching activities as well as for construction.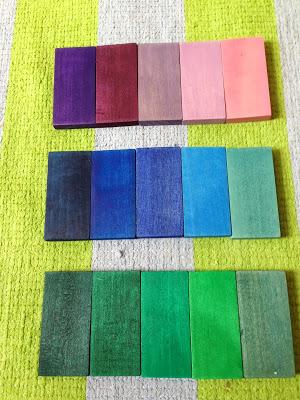 We also like building dominoes. Derin loves dominoes but he gets frustrated that he can not build them. I have been encouraging Derin to put the tablets on top of cubes which helps the tablets to stay steadily.
I have also showed him how to gently touch the tablets with a finger, instead of knocking them all down. He now loves this and makes a big deal out of it. I think this was a good opportunity to develop the lightness of touch and control his body movements.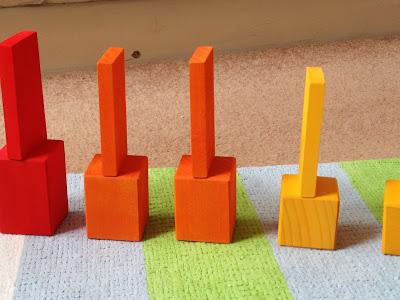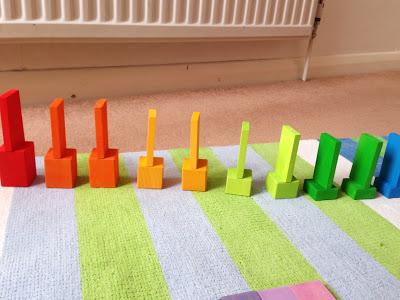 Thank you so much for stopping by! If you enjoyed this post, please join us on Facebook,Twitter,Pinterest and G+. Click on the buttons on the right hand side to follow us on these platforms.