Montana is called "Big Sky Country," a nickname not understood by many until they witness the unobstructed beauty of its sprawling landscapes, rugged mountain ranges and wide open grassland.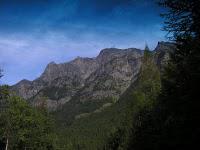 I'm writing a short article about sports in Montana for my freelance job, and reading up on the various cities and places in the state reminded me of my road trip through the area the summer after my freshman year of college. I, along with my two best friends from high school, planned a trip up to Calgary, Canada, and decided the best way to get there would be to drive. The journey became part of the vacation, with Billings as our overnight stop on both legs--since Sari had a friend there who could provide us with a free place to stay.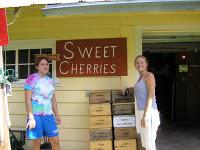 On the way up to Canada, after our night in Billings, we decided to take I-90 West through the state and drive up to Glacier National Park. It was a long drive that took us pretty much all day. But it was totally worth it. Not only did we get a glimpse of how wide open and scenic Montana is, we also got an amazing treat once we hit the Butte area and saw the rising peaks of the mountain ranges--just breathtaking. Our route took us around a lake that seemed to go on forever. (Since I don't remember exactly where we were, I had to look at a map, and I think this lake is called Flathead Lake.) As we drove along the water, we kept seeing signs for cherry farms. At the time, I had no idea that cherries grew in Montana, let alone there was such a booming business for harvesting the tasty fruits. Intrigued, we decided to pull over and buy some. We watched as the women took the freshly picked cherries from a bin and pour them into a bag for us. I think we got at least two pounds of cherries, and it didn't cost much.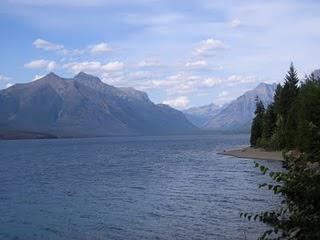 And while the lake and the cherries were certainly memorable, nothing can compare to when we first entered Glacier. It didn't look real. It looked like a painting, a photograph that had been digitally displayed for all to see. But it was real, pristine water perfectly framed by walls of glacially formed rock and dirt all topped by a bright blue sky. It became even less of a dream when we removed our sandals and dipped our toes in the lake. We cooled off briefly and then got back in the car to continue our drive through the park--since we still had to reach Calgary by that night. We weaved up the sides of the peaks, stopping every few moments to snap a picture of another magnificent scene, because there were just so many we wanted to capture. Reluctantly, we heading down the other side and headed for the exit, knowing we had a long way left to go before we could rest our heads.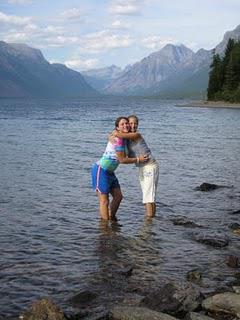 While my time in Montana was brief, it is clearly a place that has made an impression on me. I have some fond memories from that trip, and many of them happened on that drive through Big Sky Country. I can honestly say that I understand how special it is and why it is admired for its beauty. So while Montana may not seem like an exciting place, I encourage you all to give it a chance. I can guarantee you will be pleasantly surprised.