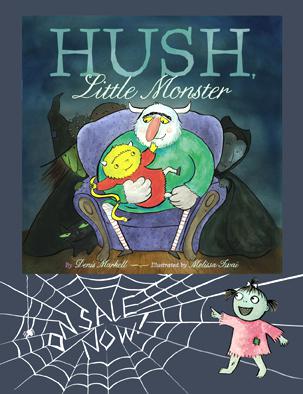 Our book was released by Simon and Schuster yesterday!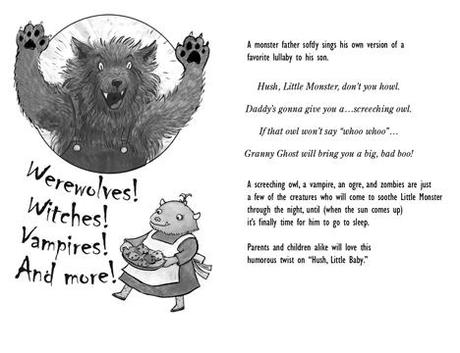 back of postcard info
It's written by my husband, Denis, and inspired by our son, Jamie.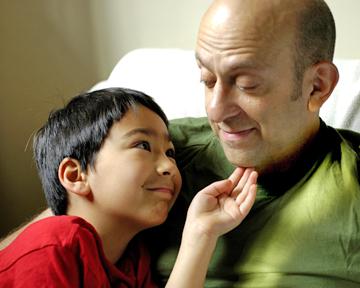 Jamie and Denis recreating the cover of the book
We got a starred review in Publishers Weekly.

To celebrate, Jamie helped me make Monster Cookies, inspired by the Mommy Monster's snacks in the book.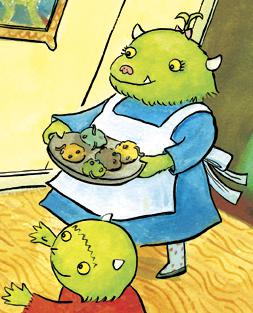 Copyright Melissa Iwai 2012
Another example of life imitating art…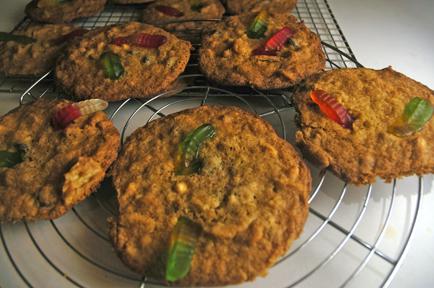 I definitely wanted "worms" in them so I decided on gummy worms which I cut in half and pressed into the cookies right after they came out of the oven (obviously I wasn't going to bake them, as they would have turned into a puddle of goo).
Instead of sticks, we used broken up pretzels. We also threw in some chips for the saltiness and crazy monster factor.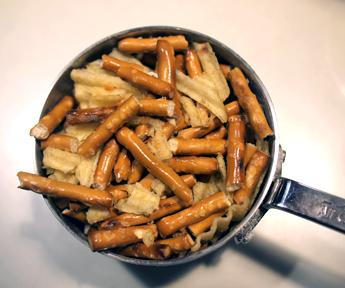 For sweet add-ins we used chocolate chips, peanut butter chips, white chocolate chips, and dried coconut.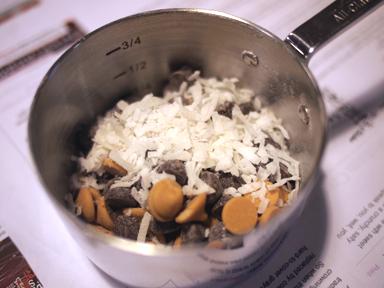 half-way full
This recipe was based on Everything But the Kitchen Sink Cookies found in The Cookiepedia by Stacy Adimando. It's pretty straightforward and easy to make with kids. Coming up with the salty and sweet add-ins is part of the fun.  I reduced the amounts by 1/3 because I didn't want to make a huge amount of cookies.  This version makes a cool one dozen large cookies.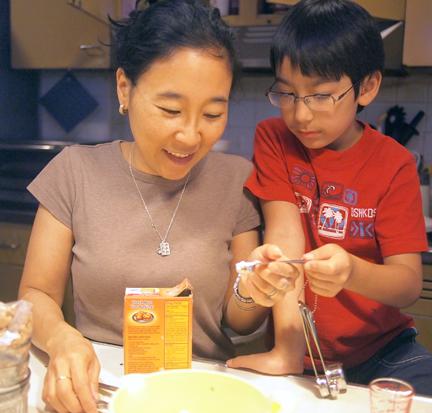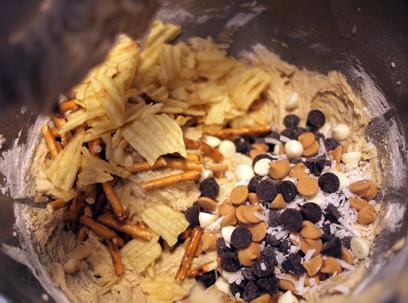 Sweet and savory additions in the mixing bowl
I was surprised at how much they spread and got so huge! But they are monster cookies, after all… so the size is appropriate.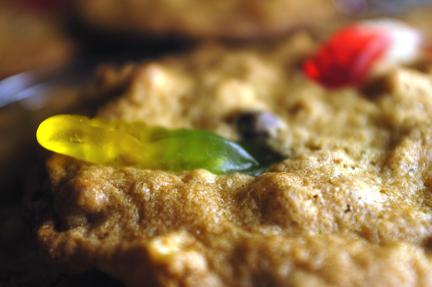 They taste really great. You can't perceive the potato chips, but the saltiness surely adds to the overall flavor.  The pretzels give it good crunch.
The gummy worm addition actually works with the flavors! But I think next time we make these, we'll add old fashioned oats for more texture.
If you get a chance, please check out Hush Little Monster! It is a perfect book for a monster loving child– or a little monster of your own.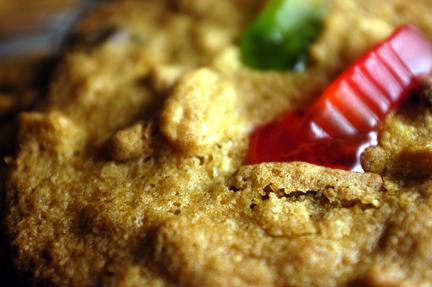 Monster Cookies
adapted from Everything But the Kitchen Sink Cookies from The Cookiepedia
1 1/2 sticks butter, softened
3/4 cup sugar
1/3 cup packed brown sugar
1 1/2 teaspoon vanilla extract
1 egg
1/2 egg white (I used 3/4 tablespoon liquid whites)
1 1/2 cups all-purpose flour (I used a combination of white and whole wheat)
3/4 teaspoon baking soda
3/4 teaspoon baking powder
3/4 teaspoon kosher salt
3/4 cup mixture of peanut butter chips, chocolate chips, white chocolate chips, and dried coconut
1 cup potato chips and pretzels broken into pieces
6 gummy worms cut in half
1.  Preheat oven to 375 degrees.
2.  Cream butter and sugars until fluffy.  Add vanilla and eggs. Mix to incorporate, scraping down sides of bowl.
3.  Whisk flour, baking soda, baking powder, and salt together in another bowl.
Slowly add to butter and sugar mixture while mixer is running.
4.  Add sweet and salty mixtures to batter and stir together.
5.  Spoon twelve round dough mounds  2-inches apart onto two baking sheets covered with parchment paper or Silpat mats.
6.  Bake for about 16-18 minutes, rotating pans halfway.
7.  When cookies are golden, remove from oven and press 2 halves of gummy worms onto each cookie.  Transfer cookies to wire rack to cool.
Makes 1 dozen very large cookies.