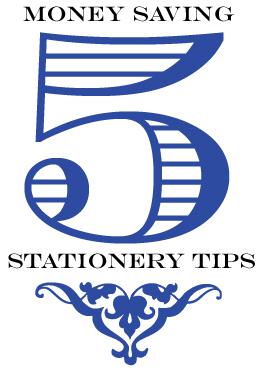 Some tips to value engineering your stationery... These can be used in combo or alone and are effective:
D.I.Y. some of the invitation yourself -- Find out from your stationer if you can save money by doing some if not all of the assembly. Invitations are done in steps. The design, the print, the assembly and delivery. Out of these 4 steps, assembly is one of the best areas to attack in terms of value engineering. Perhaps you can assemble the belly bands yourself, or you can do some gluing. Be sure to focus on an area that you believe you can do adequately and leave the heavy lifting to your stationer, who has the tools and the staff to get the job done correctly. This can also be a bonding experience with you and your bridal party. Some clients love to do this.
photo from: alongfarview.blogspot
Pick up your invitations vs. having them delivered - If your stationer is local, then you should definitely consider meeting them if they work remotely, or visiting their location to pick up the invites. This will also reduce the risk of something happening to these precious elements during transport.
Don't over-order your invites - Be sure of your guest list count! The cost for additional invitations, especially if they won't be mailed, adds up. Only order enough for your guest list + samples for yourself.
Order all at once - Invites, programs, thank you cards, etc. If you order all at once, you can take advantage of some cost efficiencies created by ordering paper up front and minimizing your design fees.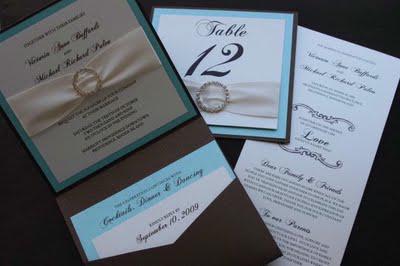 photo from: weddingbycolor.com
Explore stock options - Most clients fall in love with metallic stocks, but there are some simpler stocks that you should explore that can save significant $$$. Some examples of more affordable stocks that you should mention to your stationer when ordering invites. Mentioning paper substitutes will definitely position you as someone that is somewhat "in the know" and will force the stationer to carefully consider your line by line costs:
Cougar Natural Opaque is a nice, natural (not really ecru, but more of an off-white). Very affordable option.
Wasau Royal Linen comes in many colors and is a nice linen option if you are leaning towards this finish
Royal Cotton Stock is a cheaper option than Mohawk or other more expensive cotton stocks. Definitely worth mentioning.
Take care til' next time and I'll be back next week! --ct