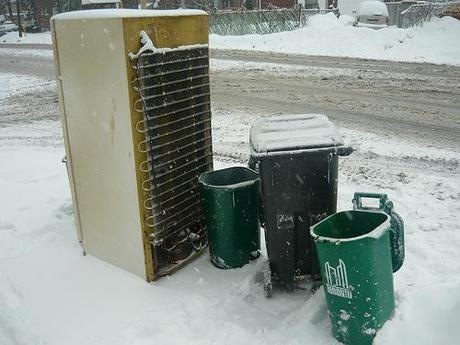 For the best deal, upgrade your refrigerator and other appliances before they have to go to the curb. Photo by Anthony Easton on Flickr.
If you wait until the major appliances in your home break down to replace them, you could be throwing hundreds of dollars away along with the old appliance.
While there are many times that can be considered the "best time to buy a new appliance" the absolute worst time to buy an appliance for your home is when the one you are using breaks.
Why? Here are X reasons upgrading your appliances instead of replacing them when they break will save you money.
You Spend More When You Panic
Think about how you would feel in the following situations. You come home to a refrigerator that reeks of spoiled food. The dishwasher breaks just before the family all comes over for Thanksgiving. It's dinnertime, and you just realized your oven stopped working today.
Many of us get at least a touch of panic when the appliances we rely on every day stop working. We want them back in working order as soon as possible. If they cannot be repaired, we desperately try to find a replacement as quickly as possible.
Making the decision about what appliance to get when you feel a gnawing need for one – any one – in your home right this minute leads to irrational decisions. Maybe you purchase the first one that is available. Or you settle for the cheapest one that your local store can get to you right now. Or you buy whatever showroom model they will let you take home with you right this minute.
When a major home appliance fails, we cease to make decisions based on what is the best price or fit for our home, because time becomes the most critical factor. That can mean overpaying for an under-performing appliance that you will be stuck with for years to come.
More Time, More Options, More Savings
If you have time on your side, and there is no urgent need to replace your current appliance, you can research your options get the best deal on the appliance you want and that will suit your family.
Shopping online for major appliances offers the greatest consumer advantage. You can easily research and compare different models, and online appliance retailers like Goedeker's can operate with less overhead and pass the savings on to customers like you.
The biggest disadvantage to an online retailer is the fact that the appliances have to be delivered, and not from a local warehouse. Getting a major home appliance can take an extra week or two, something that many of us cannot bear to wait if it means no refrigerator, washing machine, or oven for that entire time.
That is why planning ahead pays off – by shopping online, you can take advantage of competitive offers like no sales tax and free shipping from an Internet retailer like Goedeker's.
Shop When The Deals Are
It really is not a secret anymore that manufacturers and retailers are sometimes under pressure to sell certain products quickly, which means lowering prices. It is rather like the way having a broken appliance makes you pressured to purchase an appliance, except that it is the store that is feeling the pressure to make a sale. The situation is in the buyer's favor!
Appliance rebates and markdowns are the most common ways that appliances will be priced to move. You can also save money by looking for overstock, clearance, or "dent and ding" models that might have slight cosmetic blemishes.
The Range You Want, Not The Range That Is Here
Here is a different way of looking at shopping for a major appliance – do not replace an old appliance, upgrade it.
If you merely replace your washing machine, refrigerator, or dishwasher, you generally wait until it finally gives out to buy another one. If, instead, you consider upgrading it when it is getting old, you are instead planning a purchase to improve the appliance.
Not only do you save money on spoiled food or panicked purchasing, you take the time to consider what features you do or do not want in your kitchen or laundry room. Choose the appliances that will bring your dream home into reality, and keep an eye out for a great deal on the appliance you actually want for the best possible value.
Value is more than just a low price. A cheap appliance cost little, probably does little, and likely will not last very long. However, a wise investment into a quality appliance from a brand you trust, with the features you want, will serve you longer, better, and provide a more fulfilling experience each time you use it, even if it costs a bit more than the cheapest model on the market.
Set Goals and Save
Just as setting personal goals for achievement are critical to success, so too is it important to set goals for the experiences you want in your own home with the appliances you use. Decide on what you want in your next refrigerator, range, dishwasher, and laundry machines. Figure out when you want to upgrade your existing ones, and plan a budget accordingly.
Then, keep an eye on Goedeker's Savings Center and get ready to upgrade when the price is right!