Tim Geither was called in – just like he was one Sunday in 2008 when the Global Economy was about to collapse.  Obama played golf with John Boehner this weekend and the two won $4 to reduce our deficit while our Government spends another $10,000,000,000 per day whether it's a weekend or not while collecting just $6Bn a day in revenues for a $4,000,000,000 daily shortfall so you would think Obama and Boehner taking a day to make $4 and cut that day's deficit (assuming they both contribute the cash and I doubt Boehner will)  to $3,999,999,996 is just A BIT frivolous and would not inspire much global investor confidence in our train wreck of an Economy.  
But, you would be wrong!  Because $4 towards our deficit is $4 better than the G7 did in resolving the ongoing EU crisis and when people play golf and accomplish nothing – it's not a big surprise and doesn't worry anyone (no one who is not thinking in context anyway) but when the G7 convenes a weekend emergency meeting and accomplishes LESS than France and Germany said would be accomplished on Friday – then investors begin to get uncomfortable…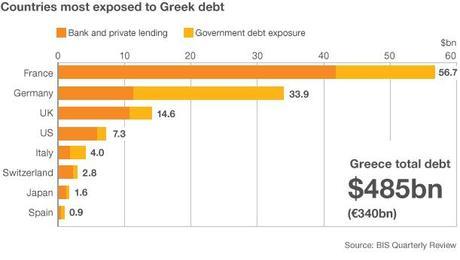 The reason for his memory to focus on that fateful weekend when Lehman Brothers went under and sent global markets into meltdown is there is currently so little consensus on what to do about Greece and its debt burden that he must have remembered a similar tone in his offices in New York as was on view in Luxembourg over the weekend, when euro zone policy leaders met and decided to do nothing; we will figure it out next month was the message.  Hank Paulson and Geithner did not have the luxury of delaying a decision on Lehman Brothers; the euro zone simply has no choice on delaying a decision as the key players remain completely divided on what to do next.
With Moody's warning of a possible downgrade of Italy to add to the sense of chaos Jean-Claude Trichet used a speech on Sunday in Germany to say very little.  Talking about global imbalances, which is now widely seen as code for "I don't want to talk about the debt crisis," the boss of the ECB simply criticized a lack of governance in euro zone countries.  There will be another meeting in Luxembourg Monday that will see the International Monetary Fund weigh in on the outlook for the euro zone before a no-confidence vote in the Greek government on Tuesday and a heads of state summit in Brussels on Thursday and Friday.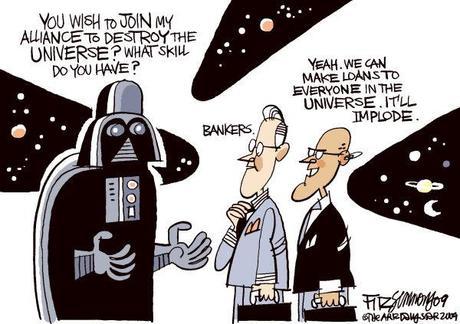 The euro fell against the dollar for the first time in three days as calls for new elections in Greece dimmed prospects for austerity measures needed to ensure an aid package to prevent the currency union's first default.  Prime Minister George Papandreou must deliver budget cuts in the face of domestic opposition.  On the eve of a confidence vote that may bring down Papandreou's government, Euro-area Finance Ministers pushed Greece to pass laws to cut the deficit and sell state assets. They left open whether the country will get the full 12 billion euros
($17.1 billion)
promised for July as part of last year's 110 billion-euro lifeline
.
"We forcefully reminded the Greek government that by the end of this month they have to see to it that we are all convinced that all the commitments they made are fulfilled," Luxembourg Prime Minister Jean-Claude Juncker told reporters early today after chairing a euro-crisis meeting in Luxembourg. Decisions on the next payout and a three-year follow-up package were put off until early July, prolonging Greece's fiscal agony and heightening the brinksmanship that has marked Europe's handling of the unprecedented debt crisis.
I love it when Juncker makes pronouncements like that.  Luxembourg is essentially a tax-haven for bankers, famous for keeping Kim Jon Il's "secret" $4Bn account because they don't care how much blood is on the money, as long as you keep it in their vaults.  Juncker was the Governor of the World Bank before becoming Prime Minister of the World's banking nation so it's not surprising when he hammers home the sanctity of "all the commitments" that Greece made to his buddies.  Why the only thing more ridiculous than letting a Bankster puppet like Juncker call the shots on Greece would be appointing some GS flunky to be the US Treasury Secretary – thank goodness we're not that dumb!  
What is dumb is this charade of "voluntary" participation by private Greek bondholders to "extend and pretend" along with the rest of the EU.  Banks and pension funds run a risk if they contribute on a voluntary basis to another rescue operation for Greece, European Central Bank Governing Council member Nout Wellink said in an interview. "Pension funds have Greek bonds," Wellink said, "they can sell them with a small loss to limit the risks. But they are being asked to keep the bonds. They then run the risk that the damage is three or four times higher."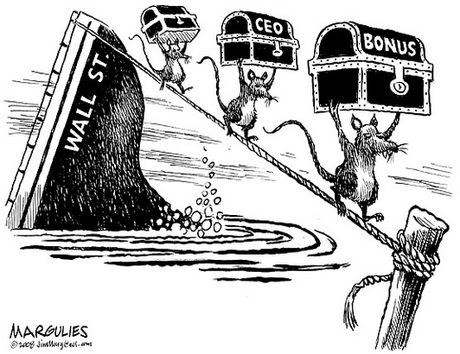 Rather than running to Greece's rescue, private funds have reduced bullish bets on commodity prices for the first time in four weeks as Greek's debt crisis spurred speculation that global growth will decline, curbing demand for raw materials. Speculators cut their net-long positions in 18 U.S. commodities by 0.9 percent to 1.3 million futures and options contracts in the week ended June 14, government data compiled by Bloomberg shows.  That's the first drop since May 17th.  Declines were led by a 63 percent plunge in bets on rising wheat prices.  Natural gas holdings tumbled 41 percent. Investors pulled $973 million out of commodity funds in the week ended June 15, according to EPFR Global, a Cambridge, Massachusetts-based researcher.  That's the biggest outflow since mid-May
.
Nonetheless, pre-market trading is all over the place as the Dollar ran up to 76 into the Nikkei's close, to keep the Yen down and the Japanese market flat but now, into the US open, suddenly the Dollar is out of favor and back to 75.50.  If there is one single thing that scares me about the markets these days, it's the way the World's largest currency – one that represents 62% of all the money on Earth – can be yanked up and down like a yo-yo to suit the manipulation of the moment.  
Oil futures (/CL for August delivery) fell from $96 on Thursday night to $91.50 at 3am but then ran right back to $93 as the dollar fell half a point.  Did demand go up and down 5% in 48 hours or did supply or was it, perhaps, nothing but speculators manipulating the markets – just like they do every day while Bankers like Juncker pose as politicians and tell the poorest nation in the EU that THEY must make whatever sacrifices deemed necessary in order to make sure their bankers get paid in full.  The Greek people are already burning bankers in effigy – I, for one, won't be surprised when the effigy no longer satisfies…