"I beg of you, don't say goodbye
Can't we give our love another try
Come on baby, let's start a new
'Cause breaking up is hard to do" – Neil Sedaka
Let's see:  We have Dow 13,435 and we predicted 13,447 (off by 12), we have S&P 1,466 (off by 10) and we predicted 1,456, we have Nasdaq 3,101 and we predicted 3,056 (off by 45), we have NYSE 8,667 and we predicted 8,660 (off by 7) and we have Russell 879 and we predicted 866 (off by 13).
So, based on where our futures spiked down at the end of last year, we were able to predict where the 5 major indexes would finish within 87 out of 27,500 total index points – a margin of error of 0.3% – gotta love that 5% rule!  
Of course we discuss these levels every day in Member Chat and we even posted some of our levels for free readers in last week's posts - so don't say we didn't tell you so – because we did.  Now we're expecting the obligatory 1% pullback and the levels we don't want to fail (aside from the 3 long-term 5% lines on the Big Chart) are Dow 13,319, S&P 1,442, Nas 3,028, NYSE 8,580 and Russell 858.  The Nasdaq is our biggest outperformer so far, up 2.35% from it's 4% retrace so the real question for the week is – do we think the Nasdaq will fall 2.5% this week?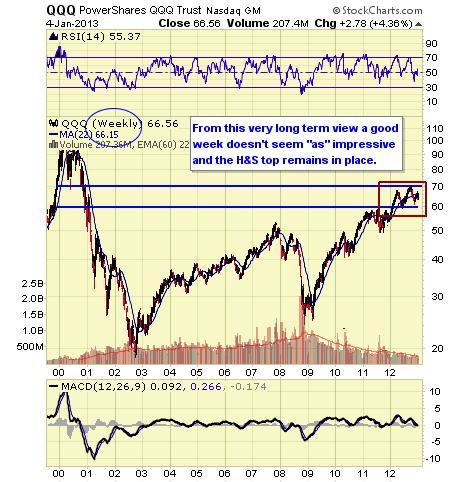 If not, we should remain fairly bullish.  In order for the Nasdaq to fall 2.5% (Dave Fry's chart), AAPL would have to fall about the same and that's back down to $513.  Well, AAPL can do that with it's eyes closed and that's why we covered our AAPL by selling some $525 calls on Friday, after taking profits on the $550 calls we had sold previously.
We still think AAPL is worth much more (as does GS, who put a $766 price target on the stock for 2013) but, unfortunately, VALUE is not the same thing as PRICE and people are panicking on price action at the moment.  What's most disturbing about AAPL at the moment is they are weak while the rest of the market is strong – although it's possible that either they are being purposely held back so…
This article will become free after 48 hours (see below for free content). To read the rest of this article now, along with Phil's live intra-day comments, live trading ideas, Phil's market calls, additional member comments, and other members-only features -
Subscribe to Phil's Stock World by clicking here
.