Japan's economy slowed more than forecast in the second quarter as businesses cut investment, undermining gains in consumer and government spending that helped reduce deflationary pressures. Q2 GDP rose an annualized 2.6%, down from Q1, when it rose 3.8%, the Cabinet Office reported today in Tokyo. The median of 32 estimates by leading Economorons was for a 3.6% gain.  While consumers continue to propel Japan's rebound, companies have yet to commit to the Abenomics project, paring capital spending for a sixth straight quarter. 
The Shanghai Composite jumped 2.4% this morning and the Hang Sengs popped 2.1% as money flew out of Japan and into China – the Nikkei fell 0.7% on the day, now down 10% in just over two weeks.  As you can see from the WSJ chart above, the emerging market economies certainly aren't picking up the slack and, as noted in today's title, even intense amounts of stimulus aren't doing enough to drive serious growth in the G8.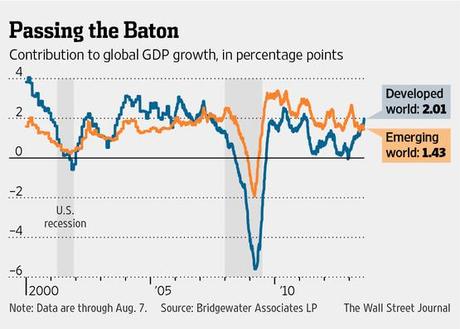 Can you blame us, then, for getting more bearish into August?  I was working on Part 2 of a July Trade Review over the weekend titled "Too Bearish or Just Right?" and, when I started
Part 1
, way back on August 3rd, we were very unsure that my bearish picks were on the right track.  This morning, with Japan down 10% in two weeks and the US Futures down another half a point, at least I'm not looking so crazy anymore!  
As macro fundamentalists, sometimes we see things coming a little too far ahead of the curve – like our bets to short V recently, that we bailed on right before they crashed or the SBUX shorts that haven't kicked in yet as no one but us seems concerned that they will have to pay KRFT $1Bn+ to settle a lawsuit in the very near future.  The fundamentals on that one are simple, SBUX has $1.6Bn in cash and may get a $2Bn fine – also, they "only" earn $1.3Bn per year so it's not like this is a love bite.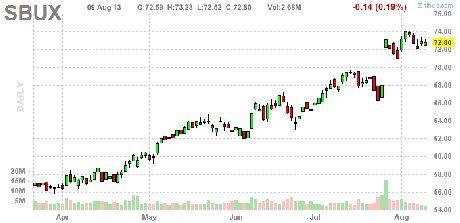 Currently, we're shorting SBUX off the $74 line with the Sept $75/70 bear put spread that we picked up
…
You must login to see all of Phil's posts. To read the rest of this article now, along with Phil's live intra-day comments, live trading ideas, Phil's market calls, additional member comments, and other members-only features -
Subscribe to Phil's Stock World by clicking here
.
To signup for a free trial membership, click here.