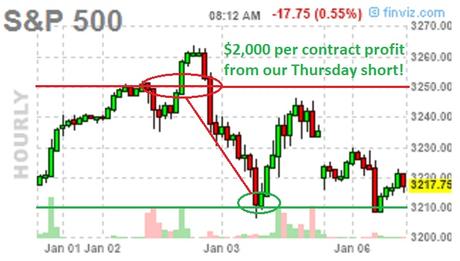 Whee, what a ride!
A very profitable one too if you read our Thursday morning PSW Report and followed our note to short the S&P (/ES) at 3,250 as those Futures contracts pay $50 per point, per contract so a very nice $2,000 per contract gain on the 2nd leg down – after the first set hit our initial $500 goal at the open. 
Of course, that's nothing compared to our long on Oil (/CL) Futures at $61 as oil topped out this morning at $64.50, paying $3,500 per contract or, if you were more sensible, taking gains of $3,000 off the table into the weekend was PLENTY to make in 24 hours!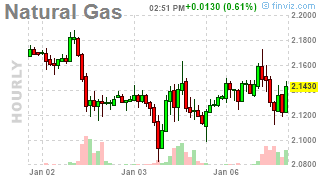 It's been a while since I've made any Futures calls because the market had been too uncertain but Thursday we got a hint something was wrong in Iran – so those were good news plays – the kind we love to make.  Natural Gas (/NG) is still playable at $2.16, that one dipped down on us to $2.09 and the proper way to play it was to take the loss below $2.15 and then get back in at $2.10 OR, if you play with more conviction, double down at $2.10 to average $2.13 and then get 1/2 back out at $2.13 and either way your average entry is $2.125 or $2.13 but $2.16 is fine if you missed the initial fun.  For the Futures-challenged, our options spread idea on Thursday morning was:
We also had a USO options spread for those of you who are Futures-challenged but we didn't get the fill we wanted (as the dip didn't last long enough) – so no trade there though you could just pick up the long USO Jan $12.50 calls for 0.40 and wait to sell the Jan $13s for 0.20 and accomplish a very similar spread.  
Mission accomplished so far as the USO Jan $12.50 calls are already 0.75 and the Jan $13 calls are now 0.40 so 0.35 on the spread is already a 75% quick profit and I'd keep a stop at 0.30 to lock in the 50% gain – not bad for a weekend, right?
The VIX Futures are back to 16 on all the uncertainty and we haven't been over 16 for long since October – so a move over that line should be taken very seriously if it lasts a day.  When we spiked higher in August it signaled a 200-point drop in the S&P so 40 points is nothing if this is going to be a real correction.  Of course, so far, this is nothing more than a very small blip in a very huge rally and China will be signing Phase 1 of the Trade Deal on the 15th – so it's going to be hard for the bears to sustain a down move when more "good news" is on the way.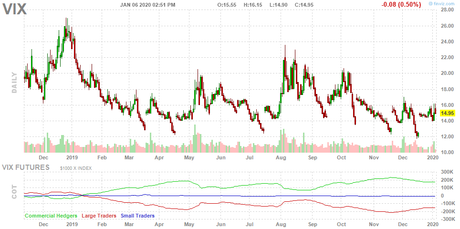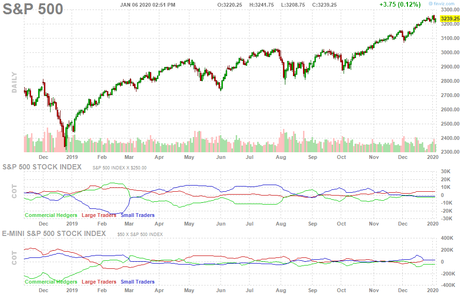 The next "good news" we need to focus on is earnings and this week we have a few but things kick in to high gear next week when the Big Banks begin reporting on Tuesday.  The early reports are going to set quite a tone into the Trade Talks so it's time to dust off our Earnings Portfolio and start looking for some nice set-ups to play into.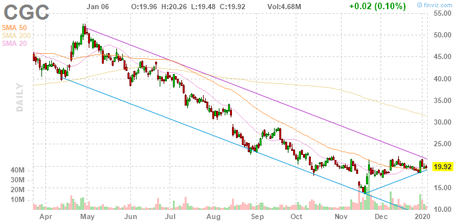 Constellation Brands (STZ) is very interesting on Wednesday as they have taken huge write-offs from their investment in Canopy Growth (CGC), who dropped 66% on them since.  STZ has already written down the investment on their 36% stake in CGC so there's tremendous upside potential if they recover and not too much downside exposure left.  
Other than that, STZ has been a very solid performer and should make about $8.50 per share this year so I'd say $189 is a fair price, but not a great price and, in a situation like that, we can always make an offer that WOULD be a great price, like $150/share and promise to buy STZ for $150 between now and Jan 2022 and, for that promise, someone is willing to pay us $11.50 and we are able to cement this promise by selling the 2022 $150 puts for $11.50, which drops our net entry all the way to $138.50 – 26% below the current price.  
When buying a stock you like (and can afford!) for a 26% discount is your worst-case scenario – it's a good time to make the play!
Lance Roberts wrote an excellent article about Corporate Profits back in November and, rather than quote the whole thing, I strongly suggest you read it.  Just before Christmas, Q3 Corporate Profits came in down $4.7Bn in the final tally and that's keeping me from getting bullish – at least until after (if) we survive these Q4 reports.

Needless to say – be careful out there!  
Do you know someone who would benefit from this information? We can send your friend a strictly confidential, one-time email telling them about this information. Your privacy and your friend's privacy is your business... no spam!
Click here and tell a friend!