We're past goal on all of our major indexes with a strong finish to the week (and the Nas 3,150 box should be green on our Big Chart) – so now what?  Clearly sentiment has turned more bullish but we're not at the stupid bullish levels we were at in 2008 with multiples for most stocks in the 20s or higher and oil at $140 natural gas at $14 and interest rates at 6% and housing prices 30% higher than they are now.  
Do you take that into account when you are shown all those scary-looking charts along with predictions of a crash?  We crashed because Europe blew up and it turned out our banks had over-leveraged too and there was a massive, cascading crisis that was, in retrospect, inevitable – but this is not that crisis.  
What we certainly are, at the moment, is overbought in the short-term and we were just discussing this morning how we needed to cash out our Income Portfolio, which is 18 months ahead of schedule with a too-quick 20% virtual gain – far too much for a conservative portfolio and it's not so much that we fear a pullback, but that it costs too much to protect our ridiculous gains in what is supposed to be a very conservative portfolio.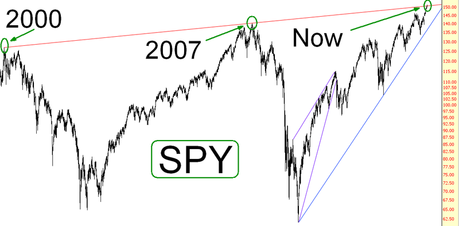 In our aggressive, shorter-term portfolios – we're actually too short and our hedges and short calls have been burning us and all of our decisions at expiration were essentially to leave the protection in place for a long-overdue pullback.  
It's not a question of IF we're going to have a pullback, but a question of when and how much.  With such terrific profits in January already – why stick around in our long positions to find out when cash on the sidelines will do us quite nicely?
Last week we discussed that I thought the Dollar was bottoming around 79 and a move up in the Dollar is always bad for commodities and our indexes in the short run.  That's why we went heavy on oil shorts last week and, in the conclusion of Friday's morning post, I reminded you to use the opening pop on Friday morning to stock up on those hedges we've been using
This morning, already, the Dollar is up over 79.50 (0.5%) and the Futures are down 0.5%…
This article will become free after 48 hours (see below for free content). To read the rest of this article now, along with Phil's live intra-day comments, live trading ideas, Phil's market calls, additional member comments, and other members-only features -
Subscribe to Phil's Stock World by clicking here
.