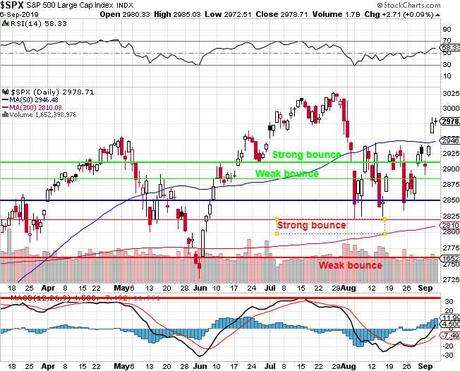 It's quiet time.
With a Fed Meeting a week from Wednesday, the Fed has entered a "quiet period" where there won't be any policy statements.  At the moment, based on last week's comments, odds are strongly favoring a 0.25% rate cut – even though the market is at record highs, unemployment is at record lows and inflation is at or over the Fed's 2% target so a rate cut, if we get one, will undercut faith in the Federal Reserve as being independent of the Government and will render them far less effective for years to come – but at least Trump will get his bonus rally.
As you can see from the S&P chart, as we expected, breaking out over the Strong Bounce line is taking us back towards the highs and last time we did this (June) on hopes of a China deal and a rate cut, we ran up another 2.5% over 2,950 to 3,020 so 3,100 would be the ideal goal of this run on the S&P (/ES) – at which point we'd probably start shorting again – deal or no deal with China.
Still, there's probably a month of this nonsense to deal with – 30 days in which the bulls will once again become insufferable with their ever-rising predictions for higher and higher market prices.  It's a very annoying time to be a Fundamentalist and, come to think of it – we don't enjoy the crashes either – maybe I should stop thinking and become a TA guy…

Not a very exciting week on the Economic Calendar and earnings are barely trickling in at this point but still a few big guns reporting – even at this leat stage: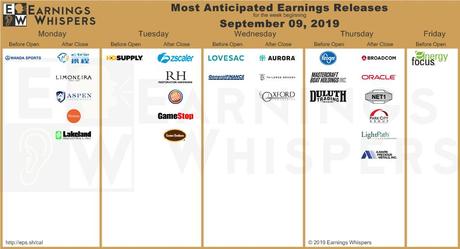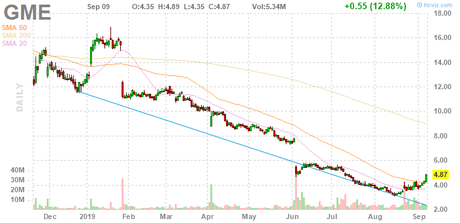 GameStop (GME) is very interesting as yes, they are going through a rough patch but not as rough as is not indicated by their $4.30 price as they made $7.5M last quarter and $4.30 is just $413M for the whole company so, even if they only made $30M for the year – that's still pretty reasonable but Q4 is their big one and they had an operating income of $196,300 from 11/2-2/2 which was wiped out by restructuring.  I'm betting they won't do that again and should make about $1 per $4 share – that makes them a great bargain ahead of earnings.  
We're not going to go too crazy as they are still going to show declining revenues to last year but they eliminated a $157M quarterly dividend so, guess what?  That's $600M a year that can now drop to the bottom line.  So bad if you were in them for the dividend but good if you can buy the whole company for $413M so let's do that with this spread:
Sell 1,000,000 GME 2021 $4 puts for $1.50 ($150,000,000) 
Buy 1,000,000 GME 2021 $3 calls for $2.20 ($220,000,000)
Sell 1,000,000 GME 2021 $5 calls for $1.60 ($160,000,000) 
That's a net $90,000,000 credit on the $200,000,000 spread and the margin requirement is $137,950,060 in an ordinary margin account so it's a pretty efficient way to make $290,000,000 if GME is over $5 on Jan 15th, 2021.  Of course, I'm not serious about the amount but, if I had $4Bn and owning GME for net $310M (you're worst case – not that you could actually sell put options on every single share, of course) constituted just 1% of my net worth, then yes, I'd certainly play for the whole company – especially if I owned a sports team and a stadium and wanted to leverage my way into the ESports business. 
In fact, Steve Ballmer would be the perfect purchaser for GME as he owns the LA Clippers AND knows a lot about the gaming biz through Microsoft, who developed the XBox under his administration.  Microsoft is also very big on virtual reality with their Holo Lens and new VIVE systems and GameStop has 5,800 stores in 14 countries so they make a logical partner for one of the big manufacturers and all the new technology will give them plenty of things to sell through the transition from PC games to VR games where the company will likely become more of a showcase than a sales floor. 
Meanwhile, while we wait for Steve Ballmer to call us, we can do the same spread with 20 short puts ($3,000) and 50 of the spreads ($3,000) and that's net $0 on the $10,000 spread and we'll see how that goes to start.  Our worst case is owning 2,000 shares of GME for net $4 ($8,000) and our margin requirement is $2,777 so still an efficient way to make $3,000 in 16 months.  
Meanwhile, we will see what is actually announced at Texas and other US States are expected to officially announce an investigation into Google and possibly other major Internet players, almost certainly FaceBook too.  According to the WSJ:
Google's parent company, Alphabet, has a market value of more than $820 billion and controls so many aspects of the internet that it's hard to imagine surfing the web for long without running into at least one of its services. Experts believe the antitrust probe could focus on at least one of three aspects of Google's business that have caught regulators' eyes.

An obvious first place to look could be online advertising. Google will control 31.1% of global digital ad dollars in 2019, according to eMarketer estimates, crushing a distant second place Facebook. And many smaller advertisers have argued that Google has such a stranglehold on the market that it becomes a system of whatever Google says, goes — because the alternative could be not reaching customers.

Last week, online project management company Basecamp complained that Google's paid search ads are similar to a "shakedown," noting that it had to pay to make sure its service appeared before rivals' ads.

"There's definitely concern on the part of the advertisers themselves that Google wields way too much power in setting rates and favoring their own services over others," said Jen King, the director of privacy at Stanford's Center for Internet and Society.
What an interesting way to start the week! 
Do you know someone who would benefit from this information? We can send your friend a strictly confidential, one-time email telling them about this information. Your privacy and your friend's privacy is your business... no spam!
Click here and tell a friend!