It's not too complicated to know what happens next – we've been talking about it for long enough and the Dow has already tested that 12,800 line – leading the way for the next 5% drop on all of our major indices.  
It's far too late to say "I told you so" as there's nothing to be done about it now – I can only tell you what's going to happen in the future – the rest is up to you and now we'll be seeing our RUT 775 goal and maybe 12,500 on the Dow and this is the point at which we expect the Central Banksters to step in with at least TALK about more easing although Europe is such a mess, it may put off intervention a bit longer than we had expected.  
So, as I keep saying: "Cash is KING" as we wait for a clear sign that it's safe to do some bargain-hunting once again.  We've already gotten some nice entries on out-of-favor stocks like CHK and, soon, JPM but that doesn't mean they won't get even cheaper in a real panic so we'll see how things play out but hopefully the real bottom-fishers show up soon and at least put a floor under some of our discounted equities.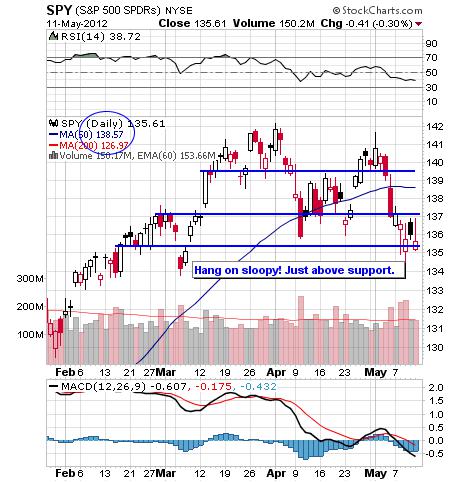 It's a very long way down to our next support level on the S&P which never filled the gap up over 1,320 from early February, which just so happens to be our 2.5% line for that index as well – so we'd expect to see some strong support around there.
That then, brings us to the question – is the news bad enough to justify more than a 7% correction in the S&P?  Other than JPM, which I feel is an isolated incident and not even a really big deal to JPM, the rest of this Global mess is nothing more than the stuff we've been pointing to all year as we warned the Emperor seemed a bit under-dressed for a rally.  
We initiated our Long Put List on March 15th – a little early with our top call but it certainly gave us plenty of time to nail down some great entry points.  The next Friday (3/23) I was wondering "Are There Any Dips Left to Buy?" and it's amusing to look back at our conservative TZA hedge that day, which was the April $17/18 bull call spread at .42, selling the $17 puts for $1 for a .58 credit (finished at $1.58, up 272%) as well as our bullish play on TLT, which was the April $108/110 bull call spread at $1.15, selling the $108 puts for $1.30 for a .15 credit that finished at $2.15 for a 1,433% gain.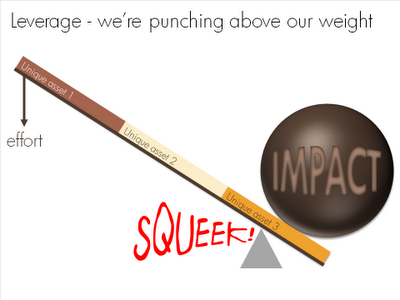 Now TZA is at $19.93 and we took a far more aggressive hedge on them in Friday's Member Chat to protect our early bottom-fishing expeditions and TLT is going to be over $120 this morning – getting to the point where we prefer to be short on them, not long!  Other hedges from that March 23rd post are still working and should be doing really well today: 
CAT May $95 puts at .95, now $1.45 – up 52%
SQQQ June $10/14 bull call spread at $1.05, selling $10 puts for .60 for net .45, now $1.70 – up 277%
DXD May $12 calls at $1.20, now $1.45 – up 20%
Of course WAY back in March of 2012, we were nervously shorting oil futures at $107.50 as it seemed like the rules of logic were completely suspended on that commodity.  Now we wonder if they can hold $95 (probably not).  On Wednesday, the 28th, I noted that $3.5Tn in RUMORED (never happened) easing was still not enough to prop up the Global Markets and I laid out the crux of our bear case in that post.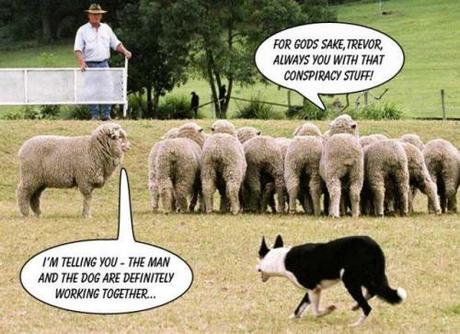 We had a very fake rally to close out the month but we weren't buying it and Friday's post was titled: "Friday Fade – March Goes Out Like A Lamb (To the Slaughter)" in which I said:  
What's our biggest concern?  It's still those pesky bottom 99% consumers and the fact that they simply don't have the money to support a 30% run-up in the market – unless, of course, actual earnings and revenues don't matter anymore – then we can carry on with our rally. 
We plunged that first week in April (see "Monday Musings – New Quarter Not So Shiny") but then recovered into the end of the month and now we are plunging again but it's all the same nonsense.  As we expected, earnings were pretty weak with consumers all over the World pulling back but the markets are STILL up 100 S&P points (8%) for the year and 1,280 on the S&P is about the 200 dma so it's not at all out of the question that we retest that 5% line BUT, just like I did not see any particular reason we should go higher in March and April – I don't see any major proof that we should be lower either.  
There is nothing I would point out today that we haven't been pointing out for two months now.  Our major sin was being too far ahead of the Retailers and having to wait for them to catch up to our point of view.  We're not going to make that mistake by catching falling knives in this round – not when we have such a clear set of levels to give us crystal clear buy and sell signals (and see our April 30th post for a good example of our skeptical nature that keeps us out of trouble).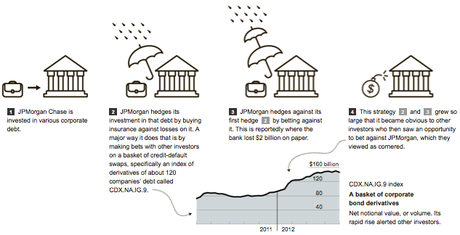 The real worry here, that can lead us back into a real panic mode, is the renewed fear of risk that has been brought to the surface by JPM this week.  It's not shocking news to find out that a TBTF institution is still gambling hundreds of Billions of Dollars every day.  Why shouldn't they – it's YOUR money, not theirs!  
If they win, they get to keep some of the winnings and, if they lose, then you don't get your money back and they get bailed out and gamble with the next suckers' money.  Is there any reason for them not to gamble?  Certainly there are no regulations to stop them…