Sometimes, all it takes to end a wicked bull run in the markets is a nice, cold splash of reality and what can be more real than the idiocy of the US Government, a country where almost 25% of the World's GDP takes place.  When you are pushing historically high forward multiples, like our current market is – you have to BELIEVE things are going to go smoothly in the future – or at least not get worse.  
Clearly we are already worse and getting "worser" as the the GOP dug in this weekend and came up with a new set of demands with House Speaker John Boehner saying he wouldn't bring up bills to fully reopen the government or raise the debt limit unless Democrats agree to broader talks aimed at trimming the deficit.  "And your little dog too!" said Boehner as he cackled and flew away on his broomstick, leaving 800,000 Emerald City employees without pay for another week (but NOT, technically, unemployed) while millions people in the land of Oz suffer as vital Government Services contine to be withheld.
Isn't that some fantastic doublespeak?  Stephanopoulos (2:34) says to Bohener that Harry Reid is happy to sit down and have a discussion, but not under the threat of a Government shut-down and Boehner (and you can see how excited he gets to have an opening to jam in his zinger): "So, it's my way or the highway, that's what he's saying."  Said the man who is holding the United States hostage if they don't meet his demands.  WHAT A JOKE!  WHAT A JOKER!!!  HOW FRIGGIN' SAD…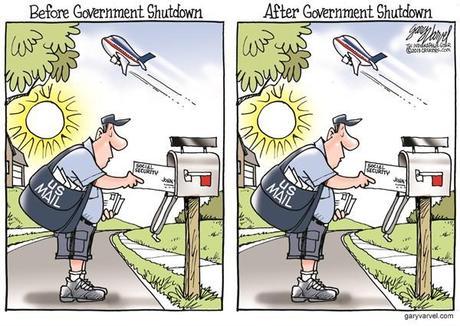 Unfortunately for the GOP, Ronald Reagan taught us how to deal with hostage takers – and they aren't going to like the end game one bit.  Sure we can expect to have 40 years of bitterness and hatred and certainly there will be many more acts of economic terrorism to come from the GOP but clearly they cannot be reasoned with and they must be stopped now – none of this wishy, washy negotiating and placating that Carter is so reviled for (by the GOP, in fact).  
While the…
You must login to see all of Phil's posts. To read the rest of this article now, along with Phil's live intra-day comments, live trading ideas, Phil's market calls, additional member comments, and other members-only features -
Subscribe to Phil's Stock World by clicking here
.
To signup for a free trial membership, click here.