I mentioned in this weekend's White Christmas Portfolio update that the reason we cashed out our bullish positions and went bearish into the weekend was based primarily on our FUNDAMENTAL expectation of intervention by the BOJ to support the Dollar which, as we all know from reading Stock World Weekly, is going to put a dent in US equites and commodities which are, of course, priced in US Dollars. 
On the whole, so far this morning (8am) there has not been too much effect.  A 1% bump in the Dollar has caused a 1% drop in the futures – if anything, that's a sign of how strong the markets were after last week's spectacular rally.
We're up about 15% for the month of October with a day left to go so it would be a shame to blow it.  As you can see from our Big Chart, we're flirting with our +5% lines on the Dow, S&P and Nasdaq and just under the Must Hold lines on the NYSE and the Russell.  It's the fact that we could not pop those lines, coupled with our expectation of Yentervention that kept us bearish at the end of Friday's session: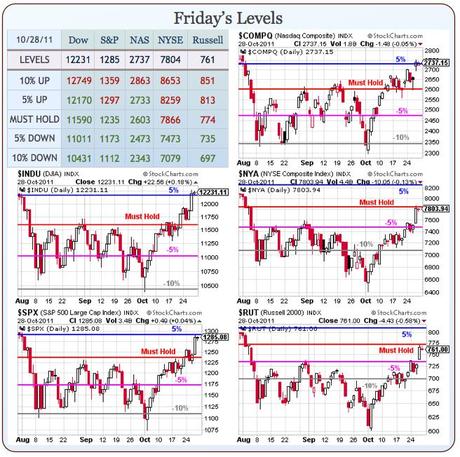 The Yen was at 78.80 per dollar as of 4:57 p.m. in Tokyo after earlier trading as high as 75.35. Japanese Finance Minister Jun Azumi pledged to continue to intervene until he is "satisfied," adding that an appreciating yen threatens the nation's rebound from the March 11 earthquake.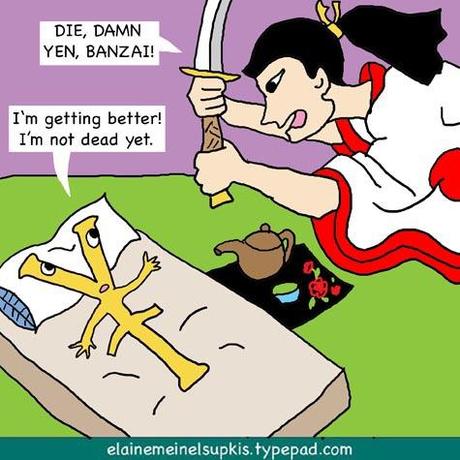 "
There was growing frustration among exporters
" amid a strengthening exchange rate and flooding in Thailand that has impaired production, said Martin Schulz, a senior research fellow at Fujitsu Research Institute in Tokyo, who used to do research for the Bank of Japan. "
The government wanted to show that they get the message
."
NOW things are going to get interesting because, while Japan may want a stronger Dollar – neither the US or China does.  The US, of course, owes A LOT of Dollars to other people and China because they sell a lot of stuff to people who have Dollars.  Currency wars like this are exactly what we expect in the early stages of a hyperinflationary environment (see "When Money Dies").  
This is the BOJ's 3rd attempt to weaken the Yen this year and the last time they…