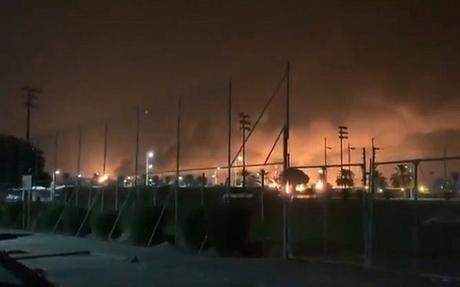 Phil – September 14th, 2019 at 3:17 pm

"Oil/Emike, Bert – Yeah but it's the same thing.  FUNDAMENTALLY we knew the Saudis would do something to support $60 on /BZ due to the Aramco deal.  Last summer they pulled the deal but now they are too far along so their only option is to do SOMETHING to boost the price.  

Oil (/CL) right at $55, Gasoline (/RB) coming off $1.55.  Brent (/BZ) $60.33 should hold $60 so /CL is not a bad long at this line over the weekend – maybe something will blow up? "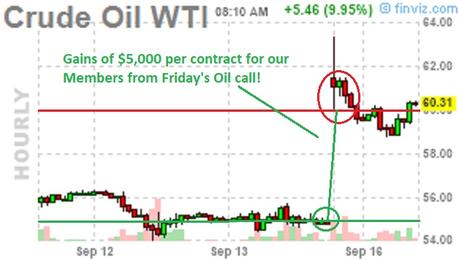 And THAT is how you make $5,000 PER CONTRACT trading oil into the weekend! 
In our Live Memeber Chat Room, we are not conspiracy theorists – it's simly that we have observed many, many times that, when the Saudis need to boost the price of oil (and they desperatately needed the price highers as the Aramco (state-owned oil company) IPO is looming), things tend to blow up.  Whether it's Nigerians attacking a pipeline or Iran or Houthis (who are taking credit for the current attack), we call them "Rent-A-Rebel" as they are perpetually on-call to jack up oil prices off key supports.  
Creating a sense of unease in the supply chain is a great way to jack up the Futures and jacking up the futures by 10% is a $100-200Bn payoff for the valuation of Saudi Aramco – that's enough money to make even Dr. Evil stand up and take notice.  Do you think the Saudis are above sacrificing a few men for that kind of money?  Jamal Khashoggi would certainly tell you otherwise.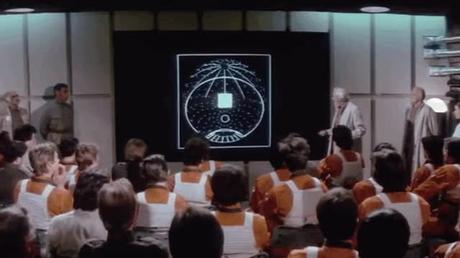 According to the narrative, Iranian-backed Houthi Rebels used drones to attack the Aramco Death Star and took out "50% of their production capacity" although suddenly 1/3 of it will be back on-line by the end of today so maybe it was never 50% – or maybe it was never much at all and this is just how they manipulate the price of oil?  Trump's Administration is blaming Iran – because he doesn't like Iran so he blames them for things – even when the Houthis are in Yemen and the drone attacks seem to have come from Iraq's territory, causing their Government to state:
"The Iraqi government will deal firmly with anyone who tries to violate the constitution … (and) calls on all parties to stop mutual attacks which cause great loss of life and facilities.

"The Iraqi government affirms that it follows with great interest these developments and solidarity with its brothers and expresses concern that the escalation and military solutions will complicate the humanitarian and political situation and threaten our common, regional and international security."
Iraq, Iran and the Saudis do have one thing in common – they all benefit financially from this attack and they are all members of OPEC and, if this attack were really real, then this is an act of war and you would not expect them to be all working together in the Future, right?  Iraqi commanders of pro-Iran armed factions said media reports of their involvement were an American attempt to put more pressure on the Iraqi government and justify future attacks on resistance leaders inside Iraq.  That does kind of sound like something we'd do, doesn't it?
"We know that the accusations are baseless and the Americans cannot prove them. They would know if any drones took off from anywhere in Iraq as they fully control the Iraqi skies, so it is just a new pretext to target us," a prominent commander of Asa'ib Ahl Al-Haq, one of the most powerful Shiite armed groups in Iraq, told Arab News.

"They (the US) will start a campaign to terminate the leaders of the resistance (pro-Iran) factions and some Shiite politicians who they (the Americans) believe are a threat for their (the US') interests.
So who are the "bad guys" here?  At this point it's hard to say but we'll take our money and run on the oil longs but Exxon (XOM) might be fun to play at $75 (up 2.5% at the open) and you can sell 2021 $65 puts for $4 as that price is likely off the table and our Oil Service ETF (OIH) should get a nice pop because someone has to rebuild those wells, right?  We're already very long OIH as it was stupidly cheap.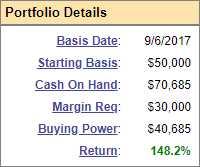 This is another fine example of where investing and politics meet!  Speaking of which, we have a Fed Meeting this week where it's considered a certainty that rates will be cut another 0.25% and chatter says 0.5% is still in the cards though I doubt that very much.  Powell will speak Wednesday at 2:30 and I will address the Nation (well, Canada) on Bloomberg's Money Talk that evening, where we'll go over our Money Talk Porfolio, which is up 148% since our Sept 6th, 2017 inception.  Not bad for a portfolio we only trade live on the show, once per quarter…  
Other important events happening this week are this morning's Empire State Manufacturing Survey, which already came in a bit wea.  Tomorrow we have Industrial Production and the Housing Market Index, Wednesday is Housing Starts, Mortgage Applications and the Fed and Thursday we get the Philly Fed, Existing Home Sales and Leading Economic Indicators and we wrap up the week with Fed Speak from Williams and Rosengren on a Quad Witching Expiration Day – what a fun week this will be!

And you would think earnings are a thing of the past but we still get some good ones, like Adobe (ADBE) and FedEx (FDX) tomorrow, General Mills (GIS) and Herman Miller (MLHR) on Wednesday and Darden (DRI) on Thursday – big national companies that give us a very useful sense of recent consumer direction in an otherwise quiet week.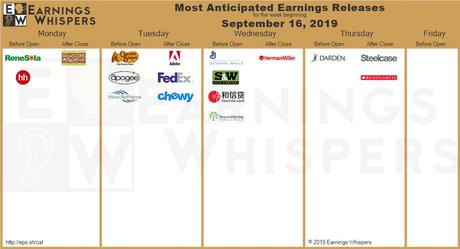 Do you know someone who would benefit from this information? We can send your friend a strictly confidential, one-time email telling them about this information. Your privacy and your friend's privacy is your business... no spam! Click here and tell a friend!