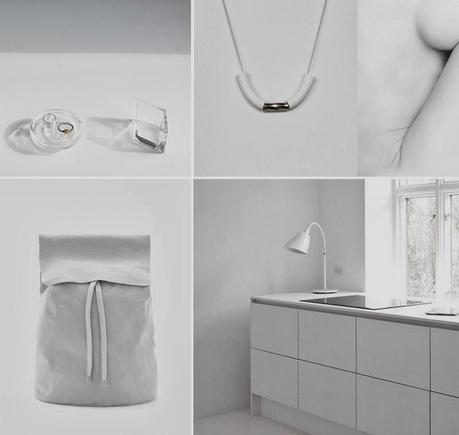 Today is the last day of March when we are supposed to live winter behind and starting enjoying the frizzy air of spring. The problem this year it is winter hasn't really left Barcelona yet! I cannot believe I'm still wearing my jumper... We spent most of last Sunday at home and it was not bad: I did some experiments with watercolours and dedicated some hours to tidy up a bit my Pinterest account (still lot to do, though!). And I had time to surf some of my favorite brands website, like Cos where I found the marvelous white suede backpack that inspired today's Monday Crush. I hope you enjoy it! Have a lovely kick-start of the week!
| 1 | Vitriini glass box by Iittala
| 2 | Jewellery from A merry mishap
| 3 | Picture via
| 4 | White suede backpack by Cos
| 5 | White kitchen by Norm Architects
Ps: Later today the second part of the Stockholm series with some amazing shops like Grandpa and Hope.