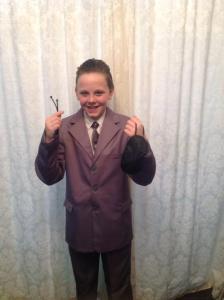 ABC News: An 11-year-old boy in Manchester, England, caused a controversy when he showed up to his school's World Book Day celebration dressed as Christian Grey from the hit book and movie "50 Shades of Grey."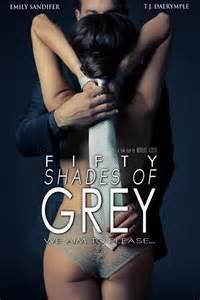 At the Sale High School World Book Day Thursday,
students were encouraged to dress up as a character from their favorite book
, but Liam Scholes' "50 Shades of Grey" costume had to be "modified" before he could participate, according to a statement from the school.
Nicola Scholes posted a photo of her son's outfit on Facebook, showing the boy dressed in a suit and carrying a mask and small cable ties.
Her son's costume "was lighthearted, tongue-in-cheek," Scholes told ABC News today.
She wrote earlier on Facebook, "It was that inappropriate that they told him to change his character and wouldn't include him on any photos."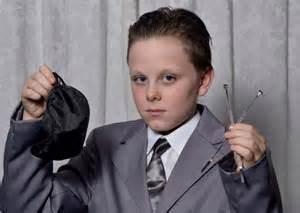 Just a "light-hearted" costume for an 11-year-old boy…
"It also required a phone call home regarding the matter," she added. "Yet it was appropriate for a teacher to dress up as a serial killer and other students to come in with 'guns.' I thought Christian Grey was the most talked about book character for the past few years."
Scholes told BBC Radio 5 Live the school suggested her son change his character to James Bond. "The way I see it, James Bond is a promiscuous character who kills people," she said.
Sale High School said in a statement, "The school stands by the decision it made yesterday in relation to the costume worn by one of its students to World Book Day. The decision reflects the school's high standards in terms of student behavior, welfare and safeguarding."
The statement continued, "The student was not excluded from taking part in any of the activities as has been wrongly reported, his costume was modified and he was then able to fully participate and enjoy the day with his peers. The aim of our world book day events was to celebrate and encourage reading and we are disappointed that what was a fantastic day for our students, has been marred by this issue."
The school declined to say to say how his costume was "modified."
The "Fifty Shades of Grey" books by E.L. James, which explore Christian Grey's world of bondage and submission, have sold 100 million copies worldwide.
See also:
"Fifty Shades of Grey" is hazardous to your health
Exorcist warns about '50 Shades of Grey'
Sexual "liberation" is a sign of society near its end: The enthrallment with "50 Shades of Grey"
DCG