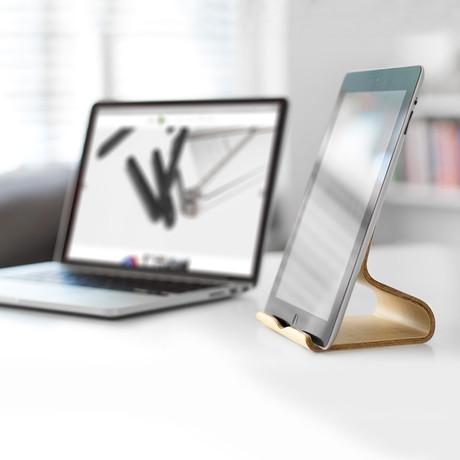 video
Share & earn cash when friends join: 


Moku Desktop Chair
---
$46.99 
$59.00 retail

Using the Moku Desktop Chair for your tablet is as intuitive as sitting down on a real chair. Able to accommodate virtually all sizes and shapes of tablets and phablets, the design is so simple and universal that you'll instantly know how to use it. Whether you're standing or sitting, using your tablet vertically or horizontally, cased or covered, the Chair's two-way design adopts to you.
There's a reason this stand is referred to as a chair, that age-old standby that's meant to last a lifetime. It's designed and handcrafted using the same methods, and with same attention to detail, as any piece of high-end furniture. Formed with premium wood sheets, that are 

cross-grained and hydraulic hot-pressed to achieve maximum dimensional durability and precision

, the rounding of the edges and the sleek finishing can only be done without the hands of a craftsman. In other words: the Desktop Chair is exceptionally strong, precise, and beautiful.

Product Details
— Handmade
— Weight: 150g
— Materials: White Basewood
— Cross-Grained and Hydraulic Hot-Pressed
— Holds Anything Flat Up to 1.2" Thick and 11.8" High
— Each Product Is Completely Unique; Slight Variation in Grain Is Expected
Materials

Plywood

Measurements

5.9"L x 4.7"W x 6.5"H