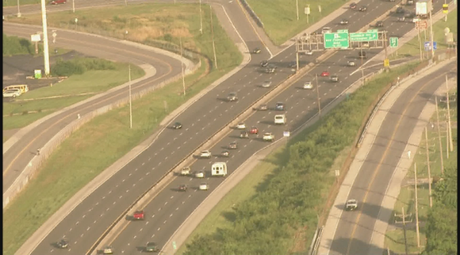 The Missouri Department of Transportation wants to hear from You today about your driving experiences on Interstate 270. Interstate 270 has been a congested difficult interstate for quite some time and city/state planners are interested in what the public has to say. The meeting is an open forum to discuss the next phases of development for the I-270 North Environmental assessment. It is one of the first steps in the $1,000,000 18-month study to assist planners and engineers in the best way to address issues going forward.
Where? Student Multi-Purpose Center at St. Louis Community College-Florissant Valley, 3400 Pershall Road in St. Louis
When? Tuesday, July 30, 2013 between 4 -7 p.m.
MoDOT and engineers have not determined which part of the 14-mile stretch from the Chain of Rocks Bridge to Interstate 70 will be the main focus of the overhaul. The planning process is in its very beginning stages. Right now, they are estimating that the initial road construction could take as long as five years and the project could cost "upwards of several $100 million". "We have congestion problems and traffic operation problems in the corridor and we need the public's input because we need to know what they see as problems, "said MoDOT Area Engineer Larry Welty. MoDOT wants to know what type of solutions and suggestions the public would accept.
Who woudl be better to ask about the traffic solutions than the drivers who travel down I-270 daily? Daily commuters on I-270 are all too familiar with the congestion problems and if you travel I-270, your input is valued. Many times I have blogged about dangerous accidents on I-270 and congestion is just one factor in the causes of accidents. Tragic accidents happen frequently on interstates because of heavy, swift traffic and the sheer numbers of automobiles. So often we read about fatal and serious injury accidents on interstates such as I-270, I-70, I-55 and I-64/40.  St. Louis is somewhat unique in the number of major interstates that junction in the metropolitan area. If you have suggestions and ideas for MoDOT, take advantage of this opportunity to share your experiences for engineers and planners. As a driver on I-270, I look forward to any and all ideas on how to make I-270 more safe and easy to travel. Reducing the number of car accidents and truck accidents is in everyone's best interest.
If you have been injured in an auto accident in the greater St. Louis area (Missouri or Illinois), you may or may not need a personal injury attorney—it depends on the degree of your injuries or if the other party is claiming the accident is your fault. Our attorneys at The Cagle Law Firm know that the time following an auto accident is stressful. We offer free consultations to provide you information about the best "next steps" following an accident. We are available seven days a week to answer your questions, locally (314) 276-1681 or toll free (800) 685-3302 .
Source: MoDOT wants to hear from you about I-270. KMOV. 7/30/13
Link to this post!MoDOT Wants Your Input on I-270 in St. Louis, Missouri" onclick="javascript:this.select()" readonly="readonly" style="width: 100%;" />