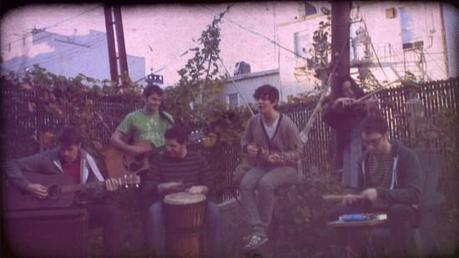 Photo credit: Bek Andersen
Often, when I stumble upon a new, talented band, I think to myself, "wow, these guys have the potential for a really tight sound!" A few days ago, though, when I hit play on Modern Rivals' (@modernrivals) Bandcamp page, I was amazed not so much by the band's blatant potential, but rather as to why their new EP, Sea Legs, hasn't yet become the talk of the indie music lovers' town.
Originally hailing from NYC's suburbs, Modern Rivals popped into the buzzing Brooklyn scene in 2010 with their debut, self-titled EP. In an interview with Cardinal Playlists, I learned that before making the move to Williamsburg, three of the band's members had been playing music together since middle school. Their dissimilar artistic tastes, ironed out by many years of experience as bandmates, led them to become a fantastically cohesive and engaging ensemble.
Modern Rivals' precise yet vibrant style evokes comparisons to bands such as Dog is Dead and Local Natives. With straightforward orchestration — clean vocals, multiple guitars, ornamental keys and energetic beats — they've woven together a sophisticated and colorful release with Sea Legs. Their refinement is balanced with an innately youthful vibe, as exhibited by the title of the opening track, "Defenestrate You" (meaning "throw you out a window" — I had to look it up). Also embodying a Freelance Whales-like beauty in songs such as "Clocks vs. Darts" and "Riku", the band delivers a uniquely diverse spectrum of sounds.
Be sure to catch Modern Rivals play their next show at The Studio at Webster Hall on August 25th.