As I've said before, I don't know what I expected from Portugal. I got a glimpse as to what to expect in Up Magazine, TAP's in flight publication as I eventually flew to Porto, though. Well-written articles with a Portuguese focus were laced with creative references to art, architecture, cuisine, and design. Accurately so...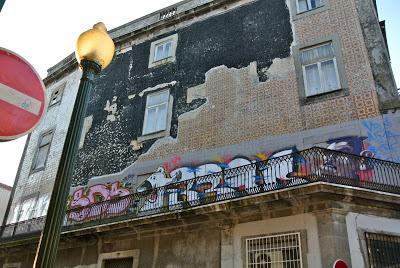 What I found was that among the sometimes tragic beauty of "old Porto", there are modern galleries, innovative restaurants, and boutique hostels that tell a more optimistic story. These were my favorite venues: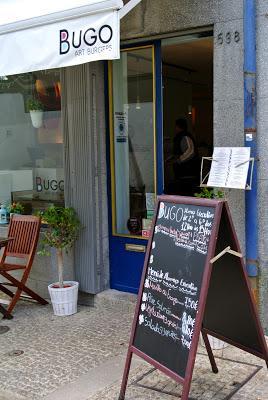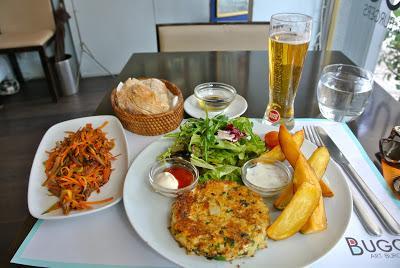 On my first day, by the time I got from the airport to my hostel, I was more than ready for lunch. Lucky for me, Bugo Art Burger was right down the street. Made with local ingredients in very creative ways, these burgers--beef, fish, black bean, chicken, lentil, etc.--are served alongside fresh sides like roasted julienned vegetables, green mesclun salad, and hand-cut french fries. I ordered the chickpea burger (prepared with feta cheese, onion, and fresh coriander) with the yogurt and mint sauce, the sides described above, and a Super Bock (a standard Portuguese beer). Fresh bread with an olive oil & vinegar dip came, too for a small price.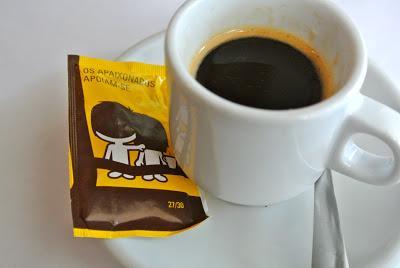 So small, in fact, that even with a black espresso for dessert, my bill was just shy of eleven euros. This kind of price "discrepancy" was true throughout the country; beneficial for budget visitors like me.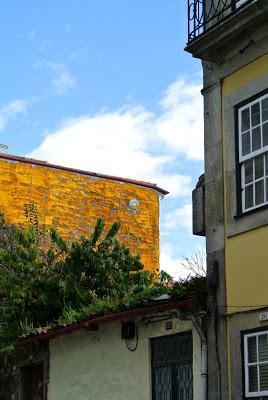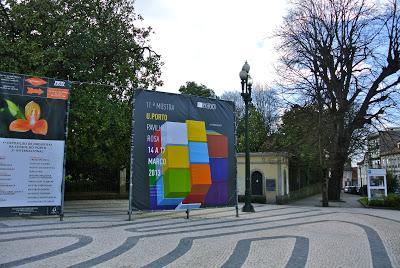 Following lunch, and a 4-hour hike stroll through the city (photos here), I intended to retreat to that hostel of mine. Then I realized I'd misplaced the key. The "key" was, in fact, a white and inconspicuous card I'd placed in my coat pocket alongside my iPhone. I'd noticed it seemed to jump out each time I reached for my phone throughout the day, but apparently I hadn't realized the one time it'd fallen on the ground. So, I retraced each step. I also went through my iPhone photos and paid special attention to the ground at each spot I'd photographed. No luck. Please note: I was in the city center at rush hour. And it's only when I was just about to give up, leaning against the same wall I'd leaned on at least two hours before, that I noticed it, at my feet.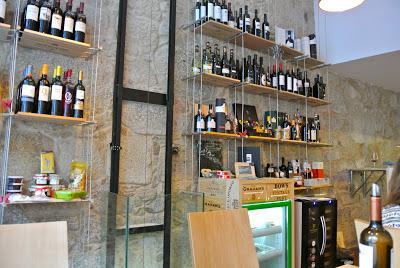 Relief swept over me. A celebration was in order! ...if only I had someone to celebrate with. Since I didn't, at least not at that time, I headed back in the direction of my hostel. That is, until I saw Linha 22.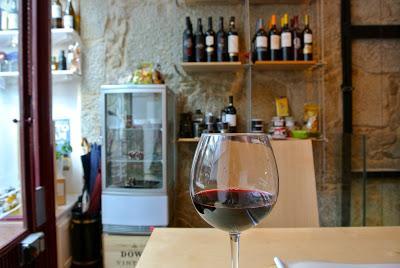 It was small and cool. There was a sign outside inviting passer-bys in for a glass of Portuguese wine or a snack. I wanted the former. I walked in and sat down at the first table. A women came up to me with a smile, and asked me what I'd like, first in Portuguese, then in English. I told her I preferred dry reds but didn't know Duomo wines well. No, thank you, I didn't want anything to eat. She returned with a delicious 3-euro glass.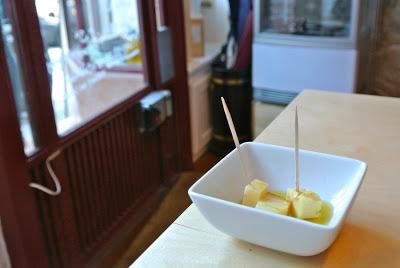 She even waited around as I told my victorious story and pretended to be enthusiastic about my luck, too. And soon after she left me to revel in that fact, she sent over a Portuguese cheese tasting, just because.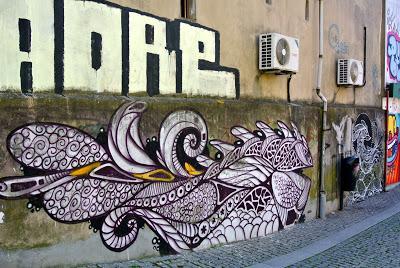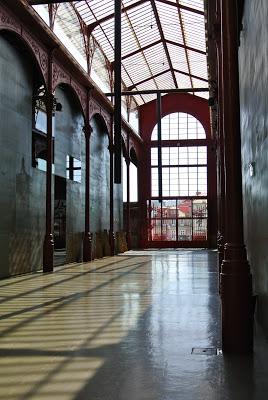 Extra positive interactions like these continued throughout my trip. I found Portuguese people to be extremely helpful and kind, always willing to answer my questions, whether or not their English was "very good." The same was true of all the stuff that worked at my hostel. They suggested I visit the Mercado Ferreira Borges, a Beaux-Arts-style covered market which has since become Hard Club, a bookstore, exhibition space, restaurant, patio bar, and concert hall (pictured above), in addition to the Center of Photography. Un/fortunately, I didn't make it to the latter due to two exceptionally sunny days that kept me from most indoor activities. I got my art-fix by window-shopping at the galleries along Rua Miguel Bombard instead.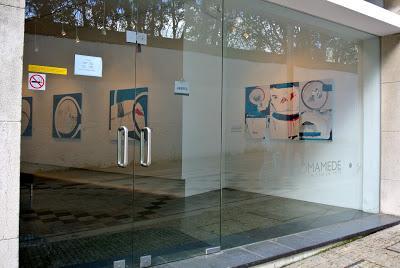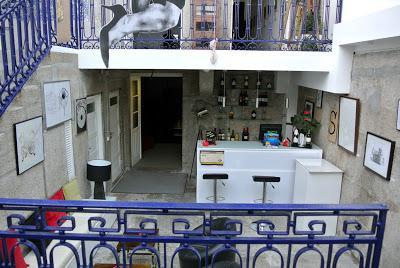 It's no wonder my choice of lodging, located on that same street, was called Gallery Hostel. Housed in a renovated early 20th century building, the space itself hosts more than just backpackers in dorms, it features a bar, cinema lounge, library, garden, karaoke nights, football match parties, wine tastings, and tours. At the time of my visit, they also had a collective exhibition by Rita Stravinsky and Aurelia Brysch on display.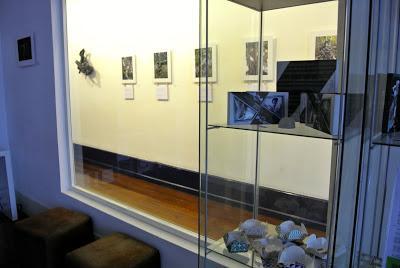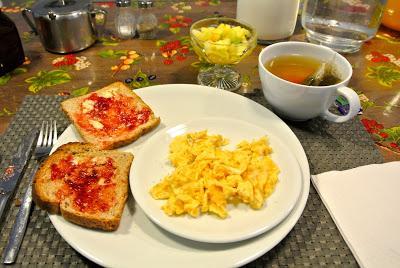 And have I mentioned their breakfast? Fantastic. A spread of Portuguese and sliced breads, fruit salads, deli meats, cheeses, and spreads--like butter, jam, and Nutella--were available on the counter each morning until 10:30am. Coffee and a variety of teas could be found to the right. Eggs or sausage were served by request. It's probably the best "free" breakfast I've ever had. I only had two qualms: no fresh juice nor community.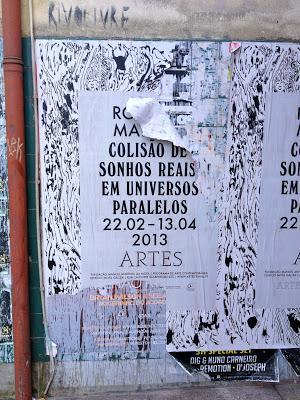 One of the biggest appeals to the hostel, for me as a solo traveler, was that it was best "for meeting people." I'm disappointed to say that I didn't find that to be true. The other women in my 6-person dorm were nice enough but hardly friendly, and the groups I met at the breakfast tables pretty much kept to themselves. By my third morning in Porto, I was painfully aware of how lonely I felt. Thankfully, I had a train ticket to Pombal that evening and the most lovely company in a tour of the Duoro Valley before then. Stay tuned...