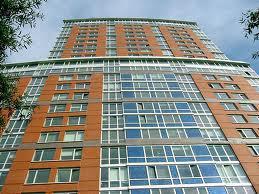 In the classic sitcom, Green Acres, actors Eva Gabor and Eddie Albert bicker over the complications with their move from Manhattan to a rural farm.
"Farm livin' is the life for me/ Land spreadin' out so far and wide/ Keep Manhattan, just give me that countryside," sings Albert, while Gabor pleads to return to Park Avenue.
Surprisingly enough, if Green Acres aired today, amidst the now-mainstream pursuit of eco-friendly living practices, Gabor's city life would likely win a head-to-head contest of 'who is greener?'
There's an inherent paradox in the notion of modern green living. For nature junkies, living close to the land sounds like the most eco-friendly option – grow your own food, heat the house with wood, draw water from a well. But if the entire U.S. population decided today to follow their ideals out into the woods, our farms, pastures, and forests would quickly be swallowed up by sprawl. In fact, the high-density compactness of city living can be far greener than spreading out in the country.
People in major metropolitan areas often do away with their car, utilizing public transportation and walking daily. In a high-rise apartment, 1,000 people might fit in the same acreage that one family would occupy in the suburbs or the country. Finally, central climate control, efficiency in building materials, and group initiatives like building-wide recycling take green apartment living to levels of clean-green-conscience.
Across the U.S., LEED-certified and green motivated building standards are becoming the norm, no longer requiring any sacrifice of luxury to lower one's footprint, compared to the apartments of yesterday. Here's a look at some of the most impressive.
The Solaire – New York, New York
Buildings outnumber trees in New York City, but when judged by standards of density and efficiency, the Big Apple (Manhattan in particular) gets credit as the greenest city in America, with a per-capita greenhouse gas footprint below 30% of the national average. New York boasts nearly 50 LEED certified buildings – and plenty of green buildings that didn't bother with the expensive certification, like The Andrew. Among the mainstream options, however, The Solaire deserves recognition as the pioneer in a city where green building is the new normal.
Opened in 2003, the LEED Gold certified, Battery Park City structure claims the permanent title of the country's first green apartment tower. Their green roof garden and rooftop solar panels are now almost commonplace, but broke new ground when they were introduced almost a decade ago. The Solaire also boasts the first on-site, water recycling system in a multi-family residential building. Most importantly, The Solaire's influence is contagious. The Battery Park City neighborhood now sports Tribeca Green and The Verdesian, rounding out a trio of the greenest apartment options in the country.
The Greenhouse – Charlottesville, Virginia
Built below the Mason-Dixon line, where green ideology has been slower to catch on than in the progressive northeast and west coast, The Greenhouse is most notable for its reuse of the structure that preceded it. Slated for completion this August, the 28-unit building includes all the LEED standards – green roof, solar panels, EnergyStar appliances – but ups the ante by reusing 90% of the original building's materials and sourcing new construction material from within 500 miles of Charlottesville. Developer Jim Stultz points out that tenants' 25% annual energy savings, 10-20% water savings, and 15% maintenance savings more than make up for the 5% increase in construction costs. That's the kind of much-needed forward thinking that's just catching on in America's smaller cities.
ECO Modern Flats – Fayetteville, Arkansas
Like The Greenhouse, ECO Modern Flats gets credit for its remarkable innovations in an unexpected place, deep in American's heartland. Boasting LEED Platinum certification, a status that exceeds many of its peers in New York and Chicago, the spacious 96 apartments near the University of Arkansas campus are rebuilds of a 40-year-old building. Among the best perks? Drought-tolerant, native-plantings, a community garden (homegrown veggies at an apartment? – wow!), and a solar-heated swimming pool.
Indigo @ Twelve/West – Portland, Oregon
A cursory look around Indigo's website won't turn up any bragging about the building's status as the first LEED-certified Platinum apartment building in the country. Maybe that's because it's in Portland, where green is taken as a given. Even in Oregon's metropolitan mecca of sustainability, Indigo still finds ways to impress, including adding rooftop wind turbines in 2009 (perched alongside the original solar panels). Developer Oakwood Worldwide claims that energy bills for some apartments have been reported as low as $12 per month. And again, there's no sacrifice required. Indigo includes room service from ground floor restaurants, in-house spas and yoga, a rooftop for hosting parties, and a private cinema. Talk about a home office.
360 State Street – New Haven, Connecticut
Connecticut's first (awaiting approval) LEED Platinum apartment building may also be its most luxurious. The complex claims to halve typical utility bills with its energy efficient structure (and on-site, first-of-its-kind, renewable power 400 kW fuel cell), and a personal webpage allows residents to adjust their thermostat remotely from the internet. From a half-acre green roof to the billiards room to the heated outdoor swimming pool, 360 State Street's apartment listings read more like a resort than a house.
And why not? With all the options for green apartment digs around the country, city living keeps getting more and more appealing. Sorry, Green Acres. "Dah-ling, I love you, but give me Park Avenue."
Tim Eyre helps residential and business customers who use self storage when they don't have enough storage space on their own property. Tim's employer – Extra Space Storage – has locations from coast to coast, including Boston self storage storage and multiple Philadelphia self storage locations.
[Image source]