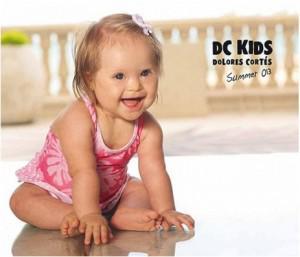 Ten month old Valentina Guerrero is said to be the first person with Down Syndrome in history to become the main model for a fashion designer.   Spanish swimwear designer  Dolores Cortés cast baby Valentina to not only grace the cover of their catalog but within several features of it.  She is also the new face of the 2013 Delores Cortés kids' ads.
DC Kids also announced that 10 percent of proceeds from its latest collection will be donated to the Down Syndrome Association of Miami.
While the trend of using people with disabilities like Downs Syndrome in fashion campaigns and the media is hardly new (like Ryan Langston who modeled for Target and Nordstrom to Lauren Potter who plays Becky on Glee), writer S.E. Smith on xoJane sees it a bit more cynically.   In this article she wished that these models with disabilities were incorporated a bit more subtly into the ads and catalogs vs. companies like Dolores Cortés who seem to be using it as an opportunity for press.  She followed up by saying, "It means that casting disabled models is still viewed as progressive, daring and in need of celebration, rather than something unremarkable that doesn't necessitate commentary."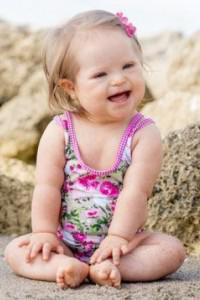 In some respects I understand her point, yet for a change is seen as normal, it has to first be seen as progressive.  We've seen this many times in history.  Obama as the first black president was an incredibly progressive and historic moment and was more than deserving of the celebration it got.  Yet after we've voted our 4th, 5th or 6th black president into office will there be as much hoopla?  Probably not.  Therefore, I look forward to a time where the use of a person with Downs Syndrome or any other disability in an ad campaign isn't a big deal; it will mean things have progressed to the point where something like this is so normal that it's boring.  Yet, until that time comes, I will celebrate the progress and acceptance that is happening in our society right now.
However, where I agree with the article in xoJane is in the implication that designers are using their choice to feature a person with a disability to get more press.   That doesn't sit well with me.  Supposedly, Dolores Cortés is issuing press release after press release about her decision to use Valentina and last Friday carried her down the runway when she  showed off her new collection in Miami Beach.   Scoff at my cynical judgment if you will, but how many of you knew who Dolores Cortés was before she decided to use a baby with Downs Syndrome in her campaign?  All I'm saying is,  let's just hope Dolores Cortés  sees her beautiful model as a person and not a prop for her own gain.