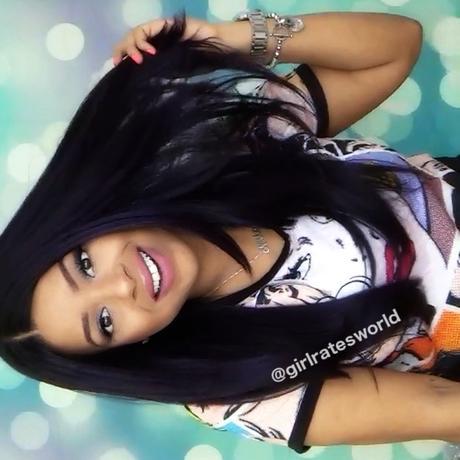 This is Model Model Sage Wig. So I'm impressed! The 5×4 lace frontal on this wig is so well done. Very well constructed and no issues with styling her. Sage has everything a high-end wig has but at a much better price. I really like the Freetress Equal Silk Base line, but this lace frontal was better executed in my opinion. See more on this wig and how I styled it in the video review below (:
MODEL MODEL SAGE WIG REVIEW

WIG SPECS:
BRAND:
Model Model
NAME:
Synthetic Hair U Curve Lace Front Wig – SAGE (5 X 4 Parting Versatility)
COLOR SHOWN HERE:
OTDKPU
MATERIAL:
Synthetic – Heat resistant fiber
TYPE:
Lace Front Wig
LENGTH:
Layered 18 – 22 inches
PARTING:
4×5 Lace Frontal
HEAT SAFE:
Yes – Up to 400ºF / Heat resistant fiber
WIG CAP:
Comfortable size with 2 combs at temples and 1 in back; adjustable straps.
RATING:
4 stars by GirlRatesWorld

TIPS FOR STYLING:
– use a skin tone colored wig cap
– add a cream concealer or foundation powder to parting
– wear straight or bump/curl for more volume
– keep all heating tools below 400 degrees when styling

LET'S BE SOCIAL!
Hey there! I hope you found this review on Model Model Sage helpful. I have dozens of wig reviews posted on this site. Stay up-to-date by following @GirlRatesWorld on your favorite social media sites. YouTube | Pinterest | Instagram | Facebook. I appreciate the support and share my blog with anyone who ♥︎loves♥︎ hair as much as we do!
Related Post
Outre Batik Dominican Blow Out STRAIGHT Lace Front...
Zury Sis Dream Lace Tamanna Wig
Freetress Equal MISTY Premium Delux Wig
Bold. Lavender. Pastel. – Outre ECO Kylie WI...

About GirlRatesWorld
Beauty and style lover with an addiction to wigs, pups, french toast and neon polish. Hundreds of reviews under my belt with new ones added weekly. Be sure to swing by often ♥︎.