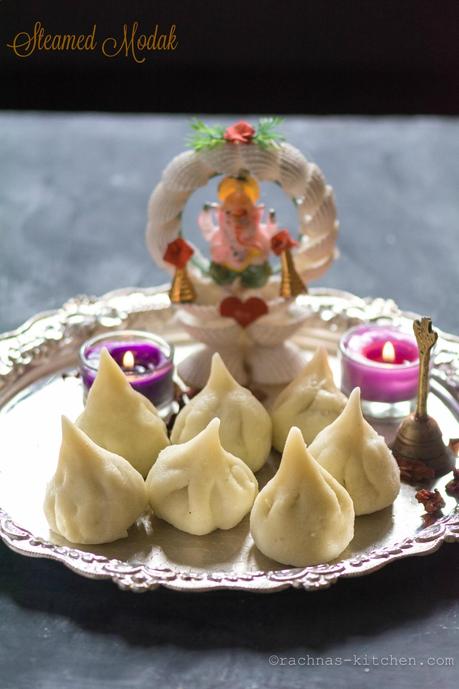 Ukadiche modak are sweet rice dumpling stuffed with jaggery and coconut mixture prepared to offer Lord Ganesha on Ganesh Chaturthi. This year the Hindu festival Ganesh Chaturthi is on 5 september 2016. So I am here to share a popular modak recipe - Steamed modak recipe also known as Ukadiche modak. Ukadiche means made up of ukad(rice).
There are many variety of modak are made like fried modak, mawa modak, sesame modak and many more. This steamed modak recipe is the most popular one.
This modak recipe is not very simple especially if any one is trying it for the first time. I had tried it last year twice. But I was failed consequently in both attempts. I tried it this year again. And guess what ? Yes I Made them successfully and they were delicious.
As I live abroad so there is no chance to get the modak mould at my place so I learnt to stuff it with hands I mean without mould. The shape of my modak is not perfect but I think not too bad. Anyways it tastes same.
Tips to make Ukadiche Modak recipe
Now coming to modak recipe, first key point is to cook the rice perfectly. If rice dough is rough you can never be able to stuff them. So when you are kneading rice dough don't afraid to use warm water to knead it smooth. Use water or ghee or oil for greasing whenever required.
Second key point is that never cook jaggery for longer which would result into hard mass and will spoil the stuffing.
Third never take small rice dough ball to stuff mixture because if outer covering (rice dough) is thin it will break during steaming(cooking) modak.
Last never stuff too much it will also break the modak.
Keep these point in mind while preparing these modak and be patient. Happy Ganesh Chaturthi !
Ingredients
For outer covering
1 cup rice flour
1.5 cups water
a pinch of salt
1 tablespoon ghee or oil
1 teaspoon ghee
1 teaspoon white sesame seeds
½ teaspoon poppy seeds
1/2 teaspoon cardamom powder
1/4 teaspoon nutmeg powder
1 cup grated coconut
1/2 cup powdered or grated jaggery
Step by step modak recipe
Step 1. Place a sauce pan on medium heat and add water. Bring water to a boil. Add ghee and salt. Add rice flour immediately.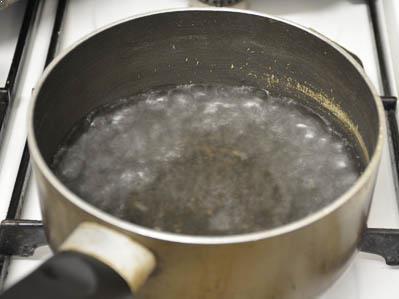 Step 2. Quickly stir it using spatula and make sure there are no lumps left.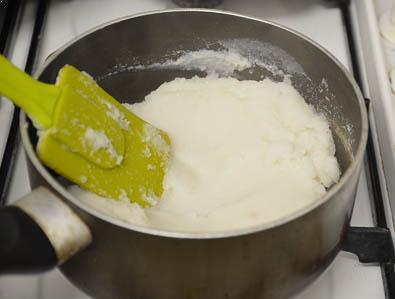 Step 3. Switch off the flame. Cover the rice mixture with lid and let it rest for 7 -8 minutes.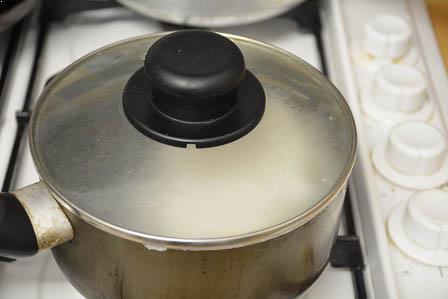 Step 4. Meanwhile let's prepare stuffing. Heat a different frying pan on medium heat. Add a teaspoon ghee and add poppy seeds to crackle.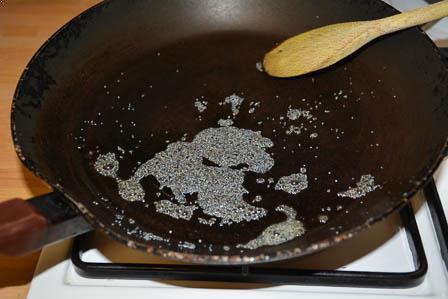 Step 5. Add sesame seeds and saute for 20 seconds. Then add cardamom powder and nutmeg powder. Mix it.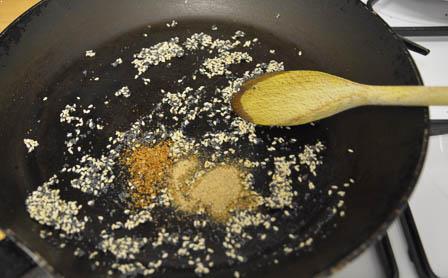 Step 6. Add jaggery and grated coconut. Jaggery will melt first but when moisture evaporates mixture will become dry. It took me around 3 minutes.
Note- Make sure that you do not over cook the mixture as it may harden the mixture and you will not able to stuff it.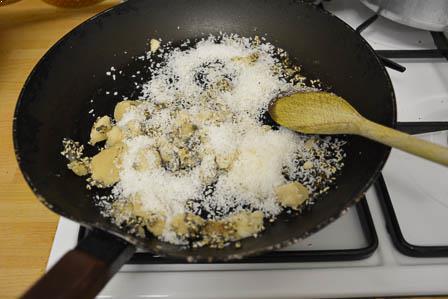 Step 7. When moisture evaporated switch off the gas and let the mixture cool aside.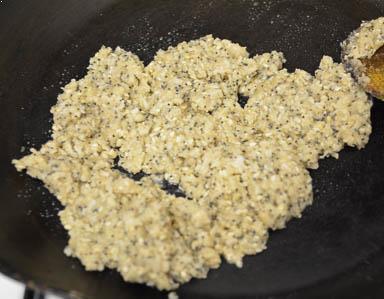 Stuffing and shaping modak
Step 8. Now transfer the rice dough to a large plate when it is still warm and start kneading. If necessary add few teaspoons of warm water to knead it to a smooth dough but be sure it is non sticky.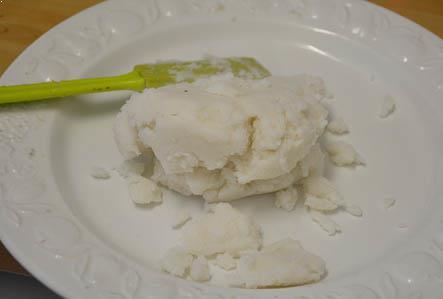 Step 9. Divide the dough into equal balls.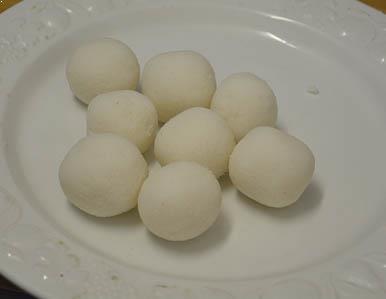 Step 10. Take each dough ball, knead it and flatten it to a 3 - 4 inch diameter circle.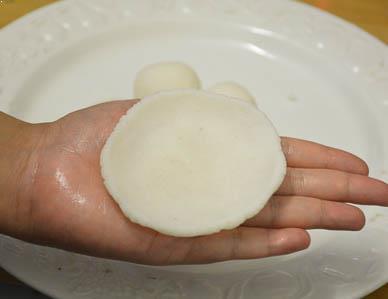 Step 11. In centre put 2 teaspoons of stuffing prepared in step 7.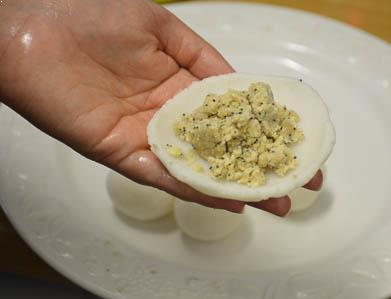 Step 12. By using your thumb and first finger make pleats by pinching the dough.
Step 13. Gather all the pleats together and seal the top. Prepare all like this and keep them covered with kitchen tissue.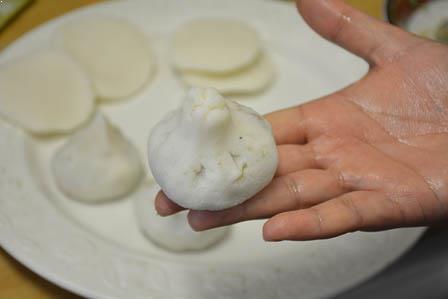 Step 14. Bring water to a boil in a steamer and steam modak for 12 - 15 minutes on low heat.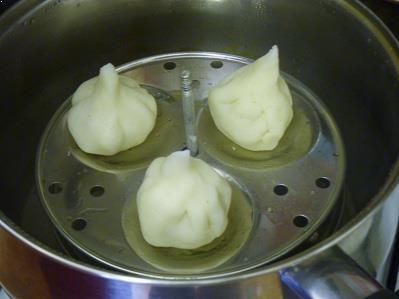 Now modak are ready to offer to Lord Ganesh. You can drizzle ghee on top of modak which enhance the flavour and it also makes them aromatic.
Recipe card - Modak recipe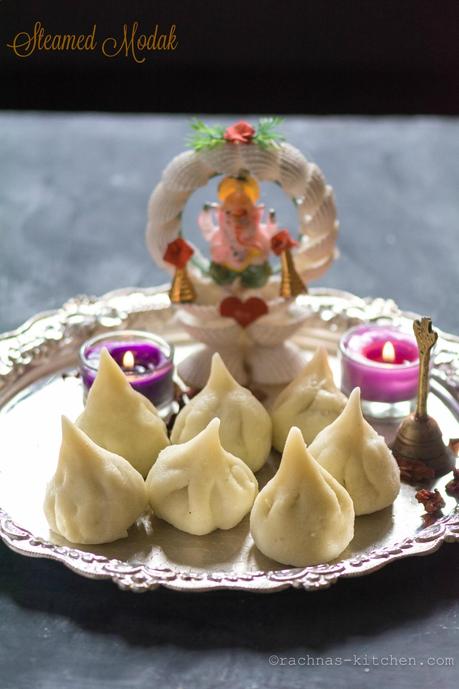 Some other dessert recipes for Ganesh chaturthi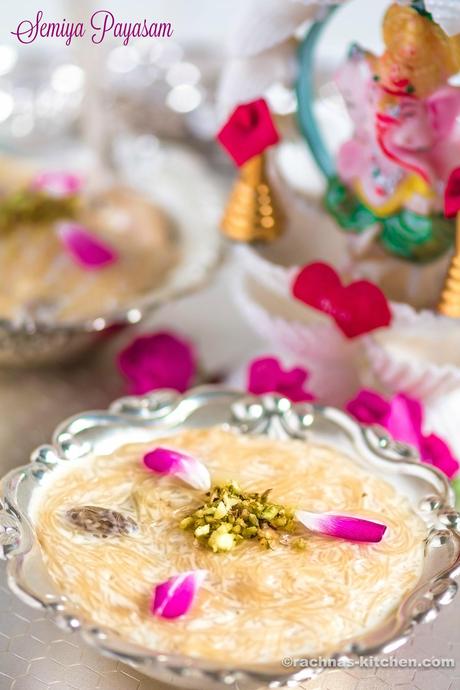 2. Besan laddu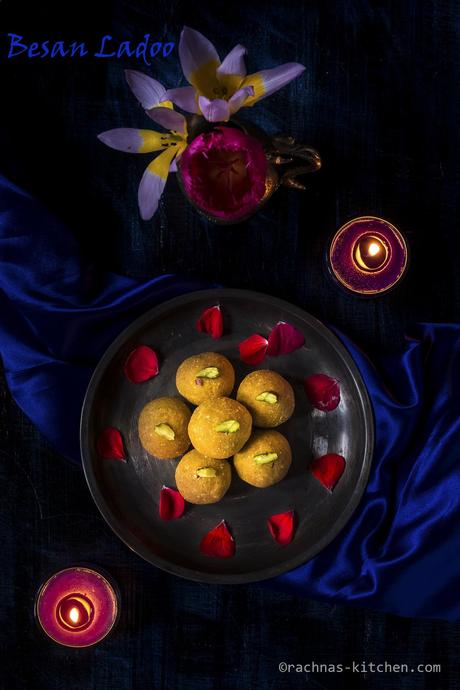 3. Rava ladoo