The POS is in Los Angeles today to receive a "humanitarian" award from butt-kisser director Steven Spielberg.
This is the poster that greets the POS, plastered all over L.A.: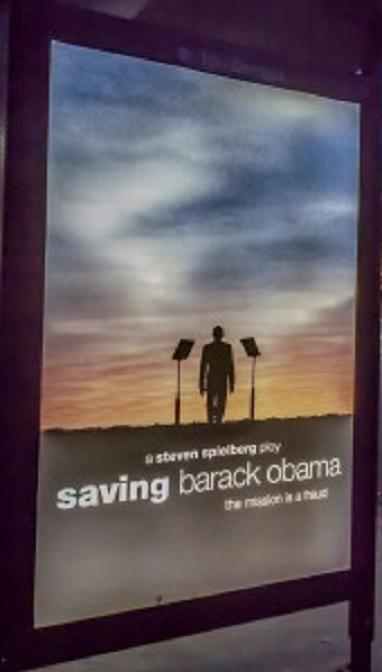 Featuring a silhouette of Obama between two teleprompters, the poster is a parody of Spielberg's movie "Saving Private Ryan." It says:
A Steven Spielberg ploy

Saving Barack Obama

The mission is a fraud
Elizabeth Harrington reports for The Washington Free Beacon, May 6, 2014, that the posters have appeared on bus stops and benches throughout Los Angeles, including just outside Melrose Avenue, the main entrance to Paramount Pictures, and across from the Century Plaza Hotel, where Obama will receive his award.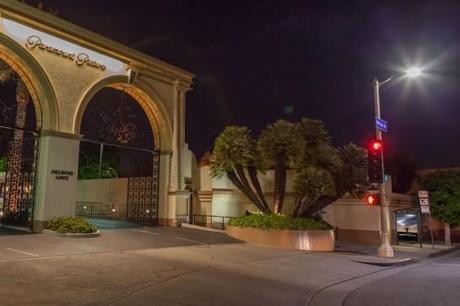 The appearance of the mock posters coincides with Obama's visit to Los Angeles on Wednesday to receive from Spielberg a humanitarian award at the Holocaust museum Shoah Foundation at the University of Southern California.
The Ambassador for Humanity Award is the foundation's highest honor. Butt-kisser Spielberg said the award is for Obama's "global efforts to protect human rights, his commitment to education and expanding educational technology, and his work advancing opportunities for all people" and that "President Obama's commitment to democracy and human rights has long been felt."
Spielberg must not know, or just doesn't care, about Obama's oh-so-humanitarian insistence on raining bombs on Syria, ostensibly to punish the Assad regime for perpetrating a poison gas attack on a suburb outside of Damascus — an attack that Pulitzer-winning journalist Seymour Hersh and others now say was a false flag perpetrated by the Syrian jihadist "rebels" whom Obama's CIA is still funding and training.

The award ceremony will also be attended by House Minority Leader Nancy Pelosi (D., Calif.) and Senate Majority Leader Harry Reid (D., Nev.).
While he is in town, Obama will also attend a Democratic fundraiser at the home of Alan Horn, the chairman of the Walt Disney Studios, with tickets going as high as $64,000 per couple.
The artwork is part of a larger campaign by anonymous street artists who are filling cities with political messages that oppose the administration. Images with the president golfing and the headline "subpar" appeared in various cities throughout the PGA tour, including at the Masters Tournament in Augusta, Ga.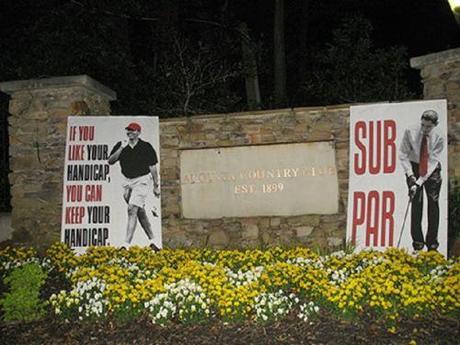 ~Eowyn