Airy and light chocolate and coffee flavoured cake. This cake is not heavy and moist, but really airy with nice rich coffee butter cream and chocolate (truffle) frosting. First time I tried this lovely rose technique, so not all of them look perfect...but I so much enjoyed the result!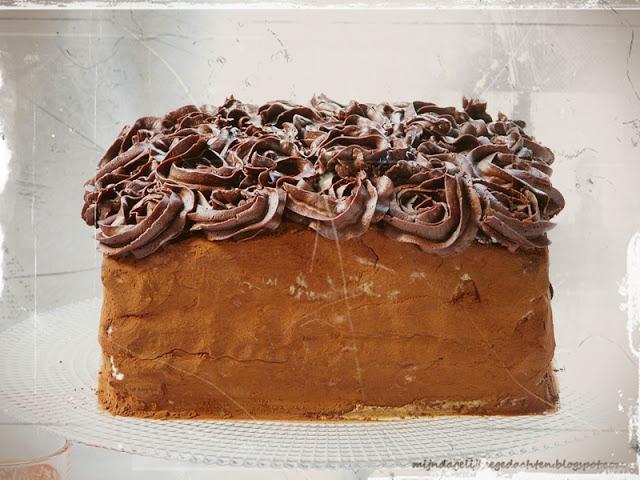 I baked chocolate cake in the evening and sandwiched two layers with coffee butter cream. Also prepared chocolate ganache in the evening, so that it would set and be ready to be whipped up for piping... My *problem* with the cake was waiting for me in the morning...when I opened fridge and found that the cake was missing one side...yeah...my dear husband ate it late at night...so here we go. But I still decided not to give up the idea of trying new frosting technique and piped cream on what was left...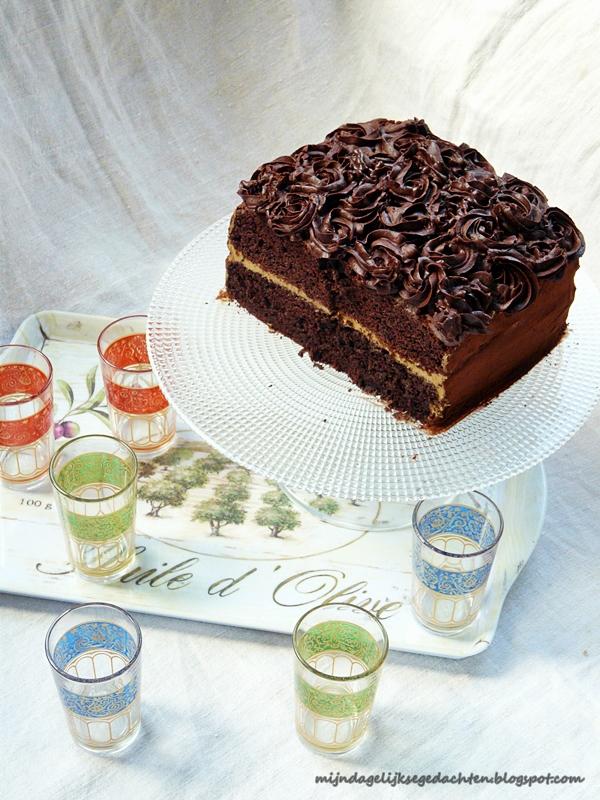 Chocolate Chiffon Cake
based on this one 

5 eggs, separated
200g sugar
2x10g baking powder
1 cup + 50ml AP flour
3/4 cup cocoa powder
200ml water
125ml vegetable oil without any flavour
pinch of salt
Combine flour, sugar, cocoa and baking powder with salt. In another bowl beat together egg yolks, water,and oil. Beat the egg whites until stiff. Mix liquid with flour mixture and carefully fold egg whites in.
Preheat oven to 165C and line 20cm baking form with baking paper. Divide the batter in two parts and bake separately for about 25 minutes. Let them cool.

Chocolate Ganache 
200g dark chocolate
200g butter

Melt chocolate chunks and chopped butter in the microwave. Stir and chill in the fridge until it has hardened.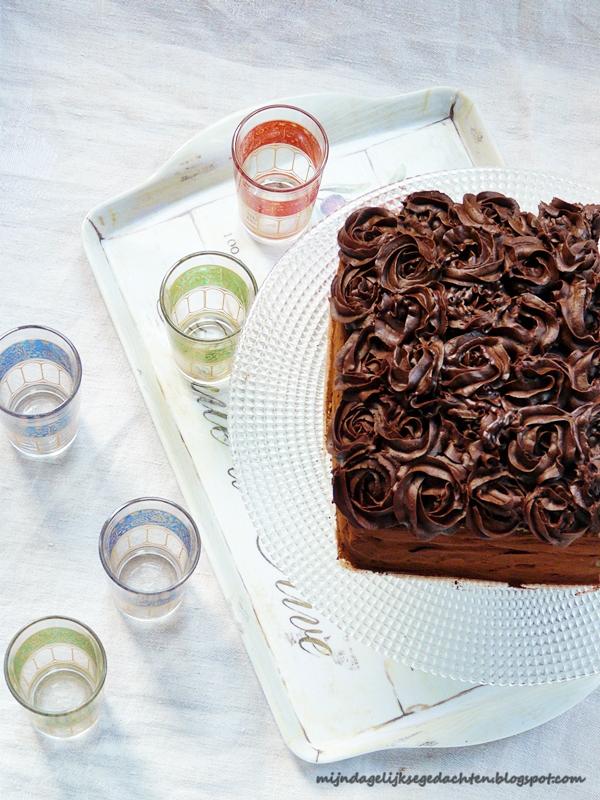 Espresso Cream 
from this recipe

150ml milk
2 egg yolks
2tb.s. sugar
1.5tb.s. flour
1tb.s. coffee granules
100g vanilla powdered sugar
120g butter, softened
Heat milk. Mix flour, sugar and yolks in a separate bowl and add some of the warm milk to it to dissolve. When milk begins to boil pour flour mixture into milk and stir all the time until it thickens. Set aside, add coffe and chill it. Beat butter, sugar powder and coffee cream until pale.
Whip chocolate ganache until lightened in color.
Trim cake edges and sandwich two cakes with coffee cream. Cover sides of the cake as well. let it rest in the fridge for a while. Sprinkle with cocoa powder onto the sides of the cake (I used my fingers to help spreading cocoa powder evenly over chilled butter cream).
Pipe *roses* on top of the cake and make sure no one eats it before it's ready to be served:)
This recipe is also posted here