This is the weekend edition of TheMarioBlog and will be updated as needed. There will be no blog post published Friday, March 6. Next blog post is Monday, March 9.
As a person who has judged entries in this WAN IFRA European Digital Media Awards​ in the past, I have been particularly impressed with how media companies are becoming more ambitious and sophisticated in the type of apps they create.
Some themes emerge:
--apps that are more user friendly, faster and more service oriented
--unique products that are not necessarily inspired by the print legacy
--more effective use of video and multimedia for mobile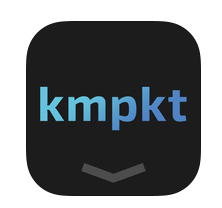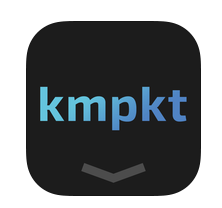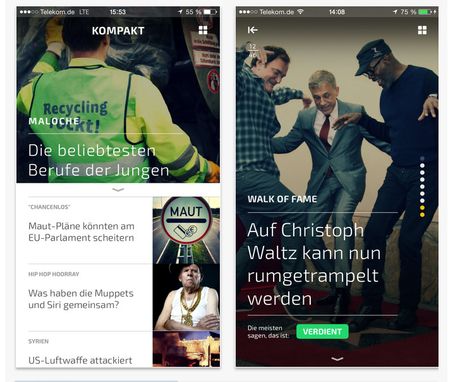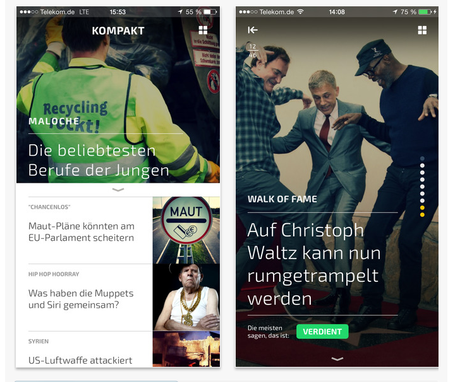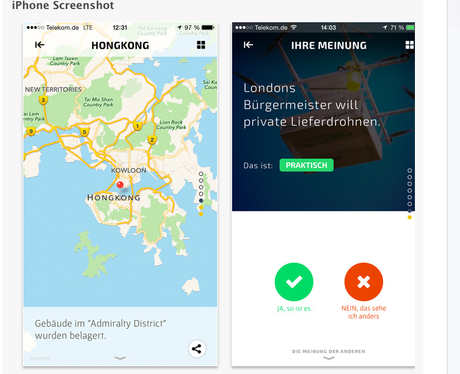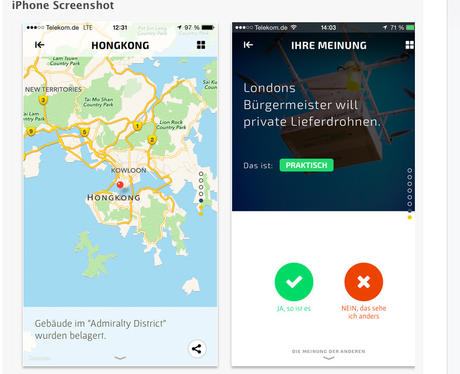 Die Welt is a German daily published by the Axel Springer group.
It is a high brow broadsheet.  Ten years ago it introduced a sister publication, Kompakt, a tabloid aimed at attracting younger readers with a fare of short, photo driven stories.
That's the spirit of its new Kompakt app, which it introduced in May 2014, "an approach to reach a younger demographic…in a truly mobile product."
The results?
"Kompakt came out on WELT Kompakt's 10th anniversary. The app since then has enhanced the brand DIE WELT and WELT Kompakt. It's a hit with millennials in Germany. Around 50 percent of the users are 30 years and younger. The app made it to more than 100.000 downloads since Kompakt for iOS was available in Germany, Austria, Switzerland from may 2014 on."
Take a look at a day in the life of KOMPAKT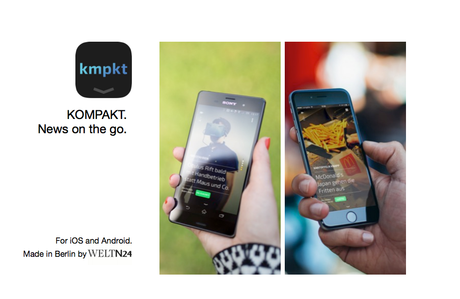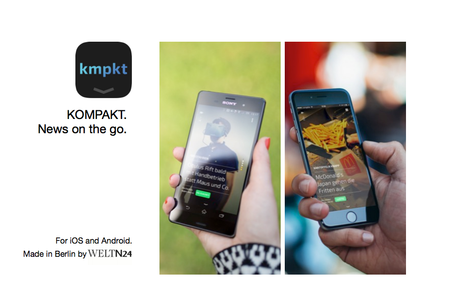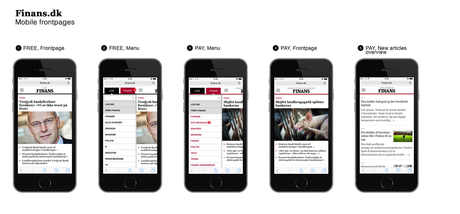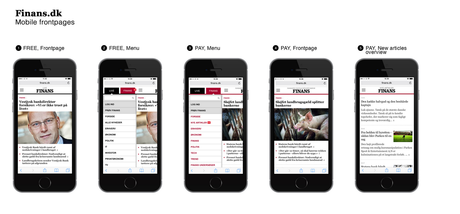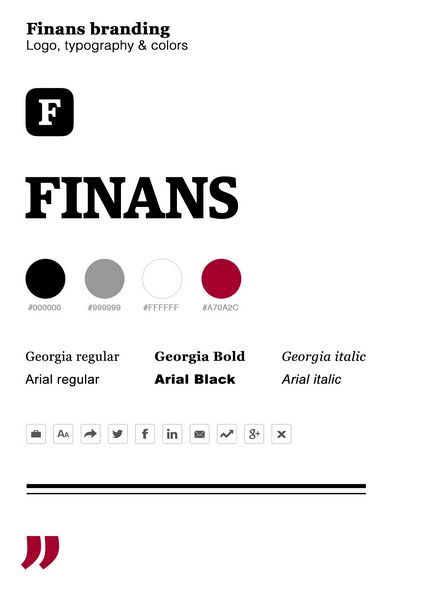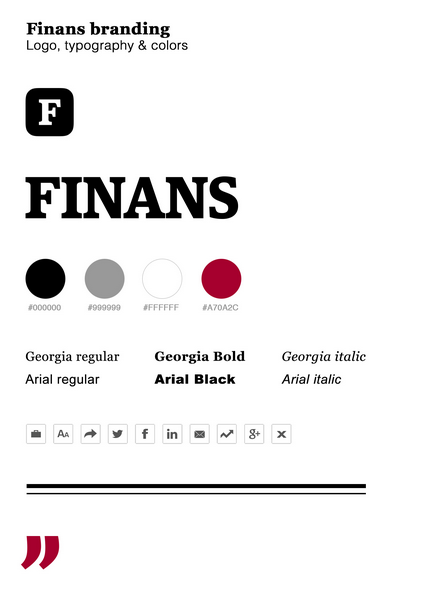 Finans.dk is the first full comprehensive Danish business media, developed as a true 'digital first' media. It has NO companion print edition.
Finans.dk is a subscription-held media, supplemented by a free news site, Finans 'Live'. The joint news is free, while the service to paying customers consists of in-depth topics, investigative journalism, analysis, long reads and stories about new mega trends and trends in business and the economy as well as financial data.
Main concept for finans.dk mobile site: 
"To give the readers and subscribers of Finans the ability to access the content through an adaptive mobile site with rich content and functionality as close to desktop content and functionality as possible while still being very smooth, fast to load and consume."
Austria: Kleine Zeitung Physicians Directory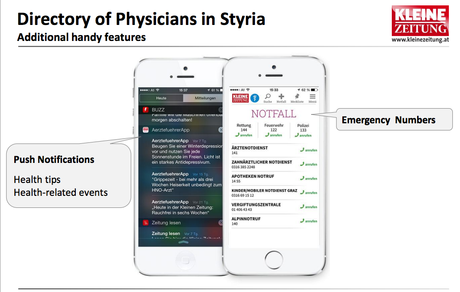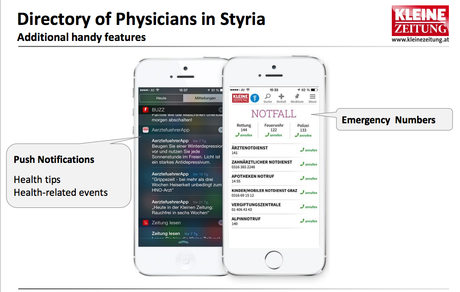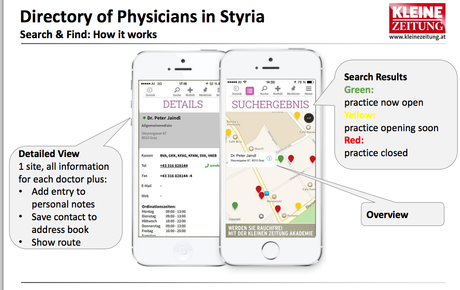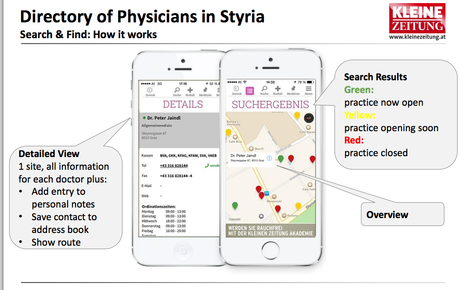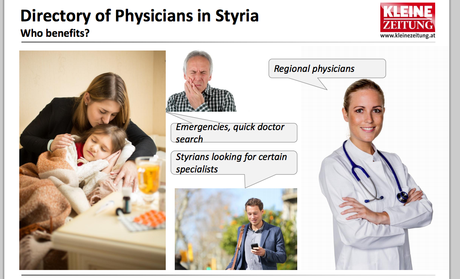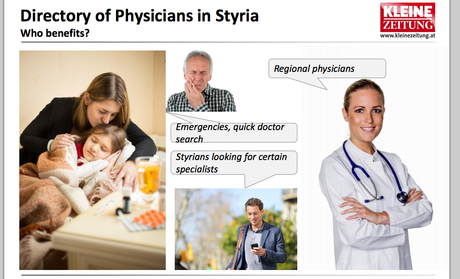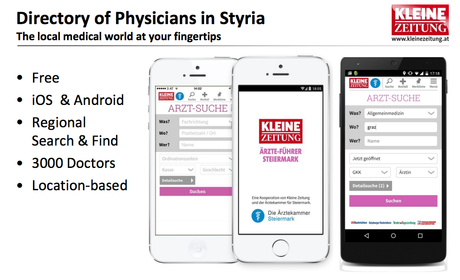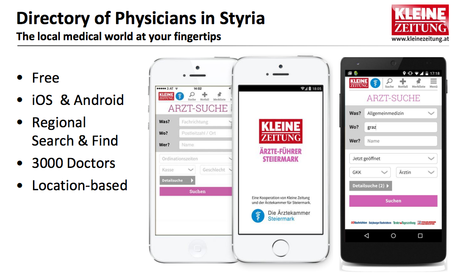 This regional Austrian daily is a favorite of mine (one with which I had the pleasure of collaborating two decades ago when it underwent its first major redesign). Much has happened to the KZ since then, and it has dived fully into the world of digital, and, particularly, mobile.
That is why I was so satisfied to see its app for a physicians directory, which I consider a major public service that enhances the popular newspaper's brand.
Norway: MinMote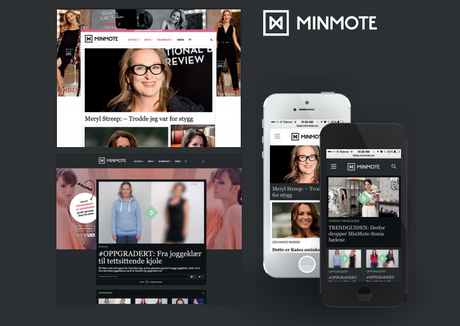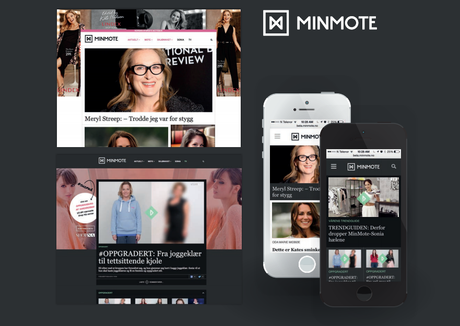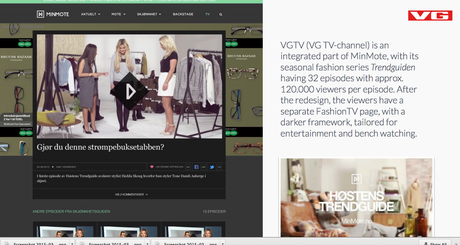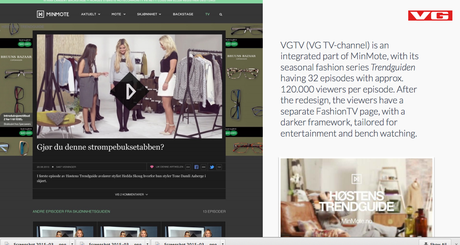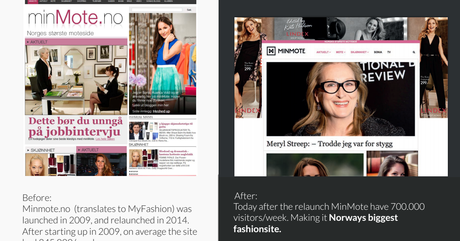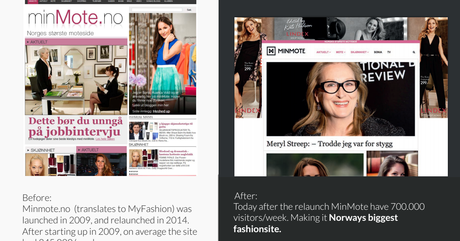 For fashionistas, MinMote is the must have app.  It is available via print, tablet and desktop.  But in their contest briefing, the editors report that "we have developed the new design thinking mobile first, even by developing our own admin tool for optimizing images on phone devices."
MinMote.no (translates to MyFashion) was launched in 2009, and relaunched in 2014. 
It has a connection with the popular Norwegian daily VG via its VG TV Channel. 
"VGTV (VG TV-channel) is an integrated part of MinMote, with its seasonal fashion series Trendguiden having 32 episodes with approx. 120.000 viewers per episode. After the redesign, the viewers have a separate FashionTV page, with a darker framework, tailored for entertainment and bench watching ."
The results?
"After the relaunch of MinMote we have 700.000 visitors/week. Making it Norway's biggest fashion site."
Greece: Naftemporiki iPhone application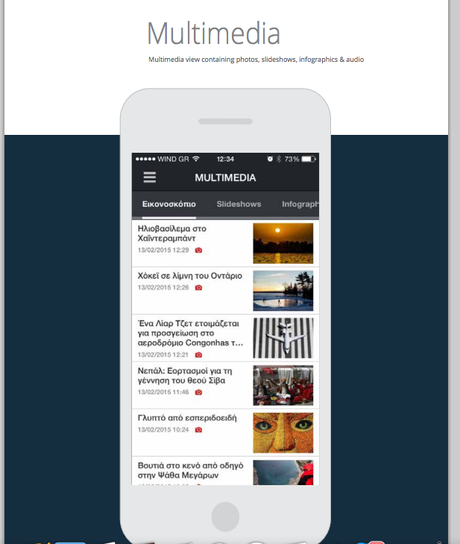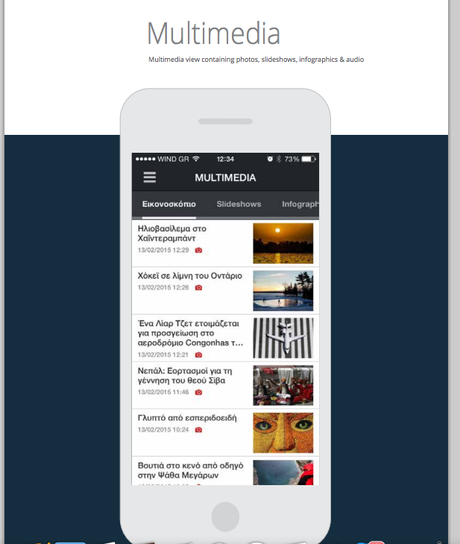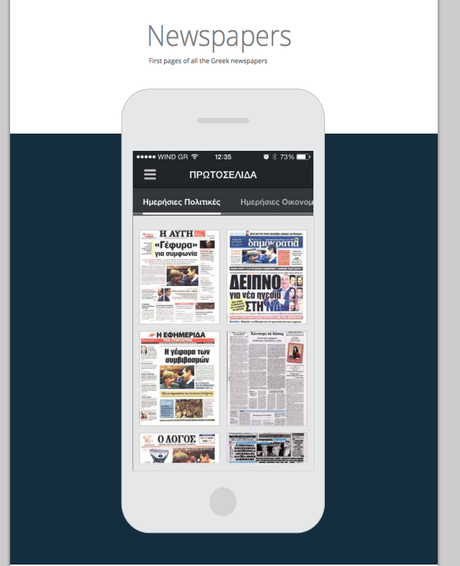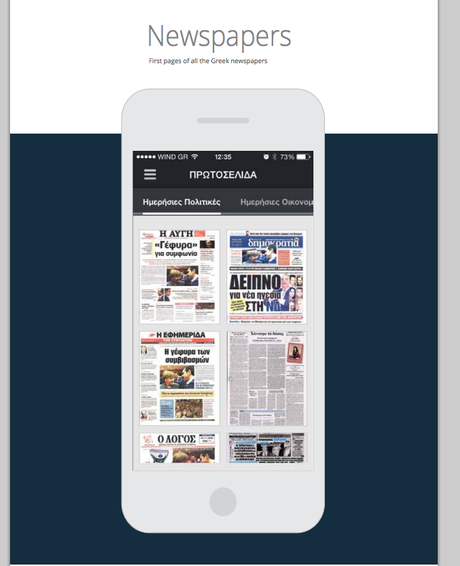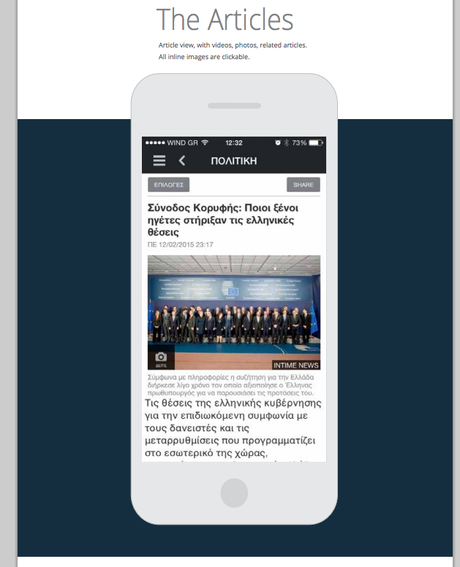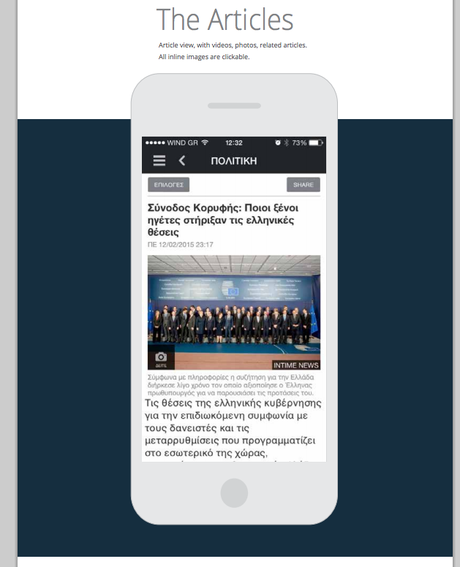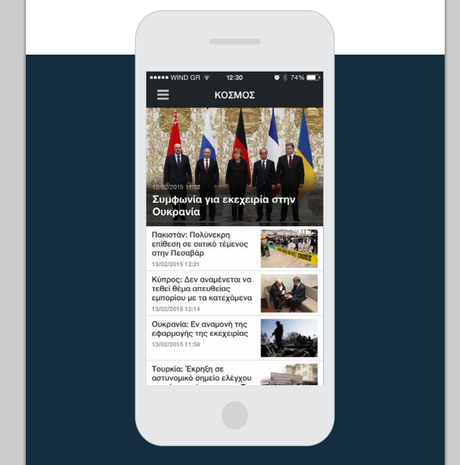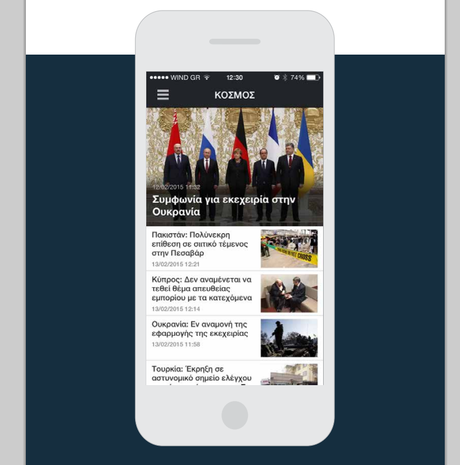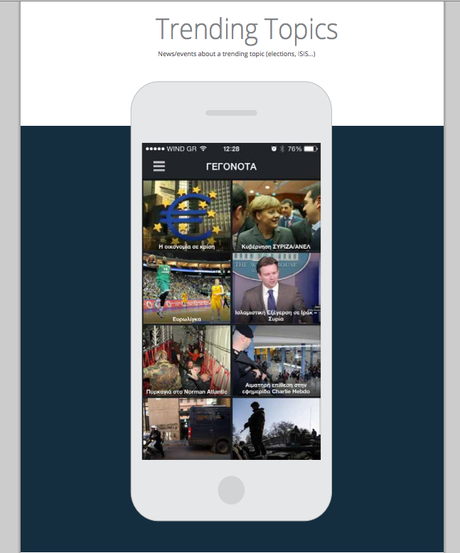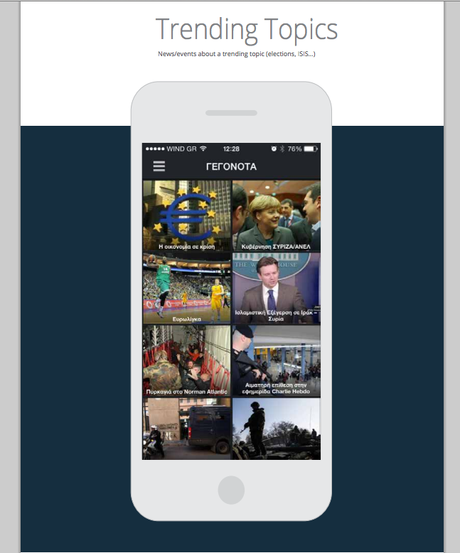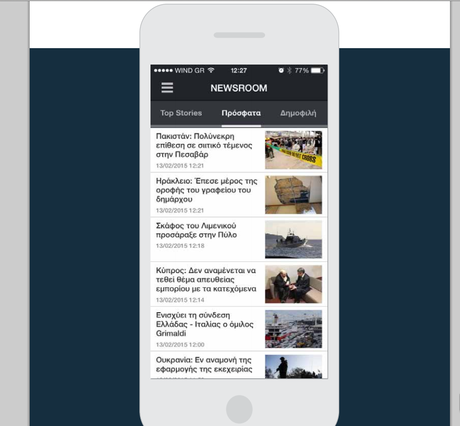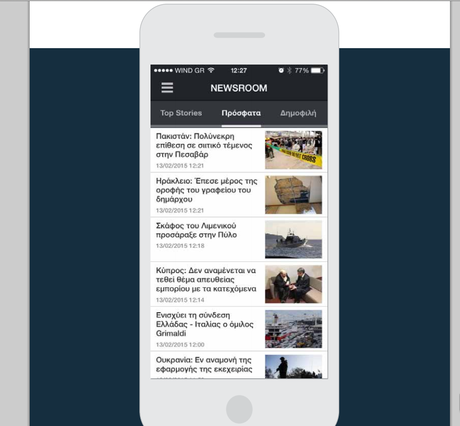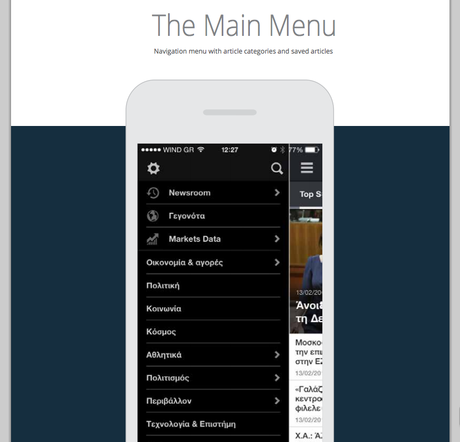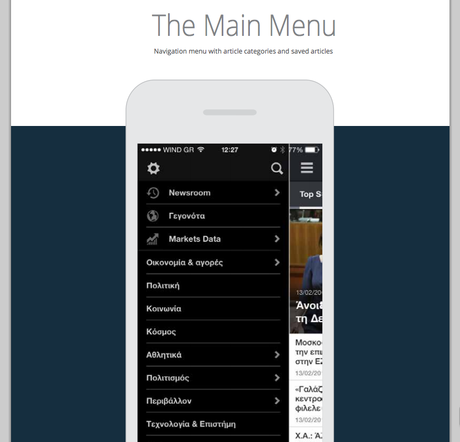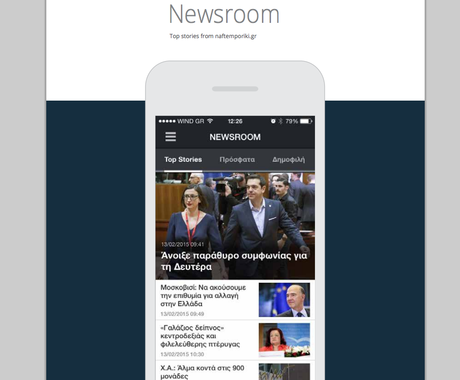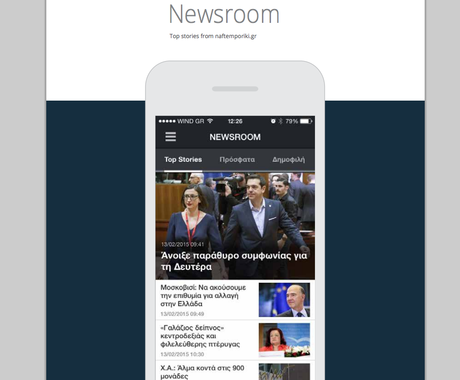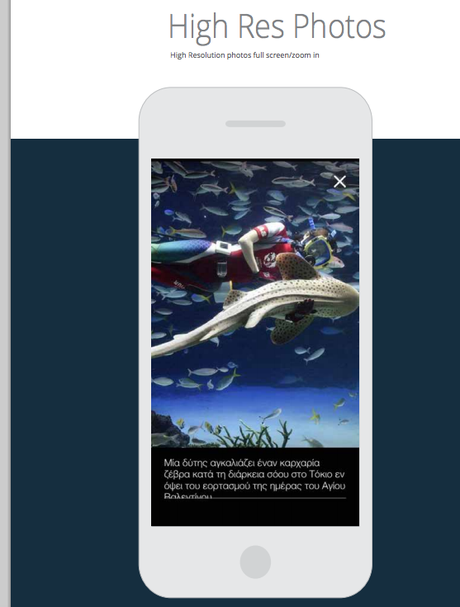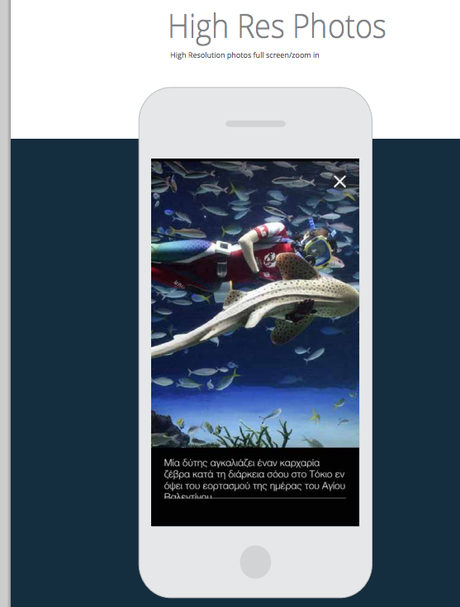 Here is a Greek native news app that includes :
- Automatic behind the scenes bandwidth saving feature for GPRS/3G connections by serving slightly lower quality images compared to the images served when the user is connected via wifi.
- High resolution images optimized per device.
- Fast and accurate as-you-type search for all news and financial content, interactive stock charts etc. 
There is also new content such as:
- Markets data section that includes full coverage of Athens Stock Exchange, foreign indices, real time forex prices etc.
- Newspaper front pages.
The results?
"The new app was launched on November 15th. During the first full month (December 2014) there was a 25% increase on unique users and a 60% increase on screen views compared to October 2014. There was also a very high increase in downloads numbers. More specifically, when comparing numbers from the quarter before the app launch date, we noticed a 123% raise."
TheMarioBlog post # 1700
Please enable JavaScript to view the
comments powered by Disqus.
comments powered by

Disqus