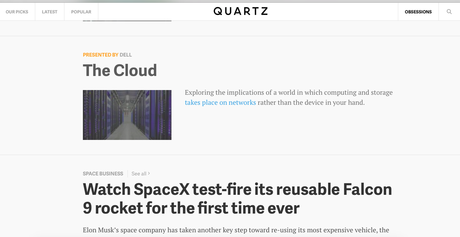 Forget those banner ads that get ignored by so many of us. Get away from those standard ad positions developed during the early days of the Internet in the early 1990s.
This is of particular interest to me today in Manila, as I address a group of advertisers of The Philippines Daily Inquirer to present to them trends in advertising prior to our relaunch and rethink of the Inquirer in mid September. My talk is titled, "Advertising & Media: Trends and Realities."
What is different and exciting about the Quartz experiment is the use of high end, non-standard ad positions/sizes and fill them with well designed ads. 
Also, and this is extremely important: the notion of not having a massive audience but having the right audience and focusing to appeal to their preferences and needs.
Apparently, the ad innovation seems to be working for Quartz, which is reportedly on pace  to bring in more than $30 million in revenue this year, having already booked $25 million.
What is different in the Quartz ad strategy?
--Forget standardized ads: First, Quartz has never run the standardized display ads encouraged by the Interactive Advertising Bureau as a way of simplifying online ad buys. Unlike many other publishers, it does not make money by embedding article-recommendation widgets powered by services like Taboola and Outbrain. More than 50% of Quartz's ad deals have a content marketing component, according to the person.
-Go for enticing content-sponsored ads: Here Quartz excels. It releases new editorial and technological products, usually sponsored by a well-known advertiser.  For example, this week, for example, the company introduced The Quartz Index, "a collection of metrics that show how the global economy is fundamentally changing." Quartz Index is sponsored by IShares by BlackRock; GE served as launch sponsor for chart platform Atlas, while Mini did the same for Quartz's iPhone app.
I can personally vouch for the attraction and effectiveness of this type of ads, as I often find myself diving into sponsored content on topics that are not at the top of my prioirty list.
In one of last week's editions, The Cloud, sponsored by Dell:
Exploring the implications of a world in which computing and storage takes place on networks rather than the device in your hand.
I am a Quartz fan
Beside its innovation with advertising, Quartz shines, in my view, because of its use of headlines.
It continues to add features that make it essential. For example, the Quartz Daily Brief, with " the most important and interesting news from around the world." Also, The Chart of the Moment.
TheMarioBlog post # 2063
Please enable JavaScript to view the comments powered by Disqus. comments powered by
Disqus