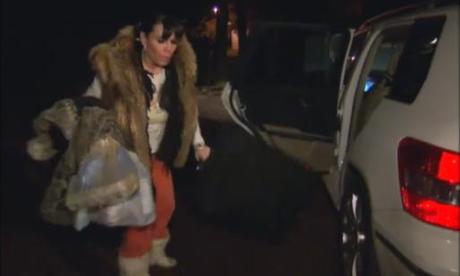 The rare and elusive Mobus Wiveius travels under the cover of darkness, often shedding its fur multiple times.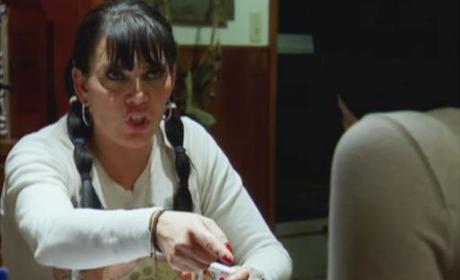 The Mobus Wiveius is extremely protective of its young, and will attack if provoked in bright light.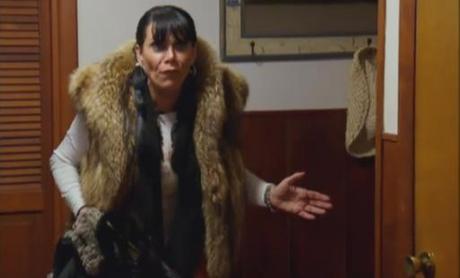 When cornered, the Mobus Wiveius is often mistaken for its relative, the Drama Queenius.
Identified by its glittery chest fur, the Mobus Wiveius travel in packs, marking their turf with gin & smokes.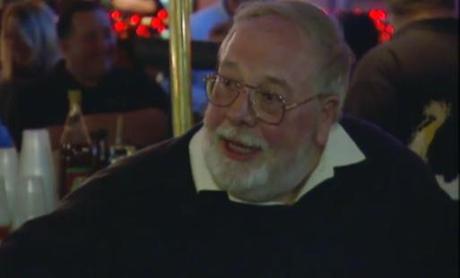 Those Jersey Shore girls looked younger on the television.
So these four Mob Wives walk into a backwoods, redneck bar…
Oh, you've heard this one already?
You must be thinking of one of those Real Housewives Road Trips where Andy Cohen foots the bill for a glamorous jaunt across the globe, complete with camel rides and Punta Cana swim up bars.
Forget the first class flights and Hawaiian luau airport arrivals, people.
Been there.  Done that.
We're talking Mob Wives, and this week was their chance to see the world.
Right up Interstate 80.
It's been a rough couple of weeks for the Wives.  Everyone has been nipping at each other's neck and face, and Karen thought it was time for a big group hug.
After meeting up with Carla, Ramona and Reality Goddess Big Ang at Belmont Raceway, she thought it would be a great idea to get everyone together up in the Poconos.  After all, if the deep woods can survive Freddy and Jason and all those missing Summer Camp counselors all these years, how much damage could our favorite (bleepin') girls do in one weekend?
As the Mobettes sat around discussing how the dueling Halloween parties had just gone down, they plotted out their trip and tried to explain how racetrack betting worked to Ramona.
Girlfriend has a mouth like a trucker and some seriously white teeth, but she couldn't fill out a betting form to save her life.  Admittedly, the only reason Ramona likes to go to Belmont is so she can cut the tag off one her fur collared Krystal Carrington ensembles and pretend she is High Society.  I swear Linda Evans wore that same whacky outfit right before Joan Collins shoved her head under the koi pond.
Check it out on VHS tape.  If I'm lying, I'm dying and you'll be crying.
My Reality Love Muffin Big Ang was disappointed that she would not be able to head north, because of her upcoming surgery.  As I immediately Googled 1-800-Flowers for a hospital room stuffed monkey balloon and carnation arrangement, Big Ang explained that she wouldn't have any fun in the woods wearing a neck brace.  Until she further explained that she was having her thyroid removed I wrongly assumed that it had something to do with the strain of trying to see over those two ginormous Wise Guy Gifted sweater balloons she's always flaunting around.
Half a season into the show and I need a neck brace, honey.  Gah, I love her.
Drita is not invited, naturally, and that made Carla scrunch her nose a little.  Now that you mention it, I'm not certain Carla had even taken off her Cher Halloween costume yet.  I should go back and check that out at some point.
I'll do it later, because first it was time to celebrate Junior's birthday back at Renee's house.
The short version:  The Birthday Boy looked like the (even more) gangstah version of Joe Giudice from The Real Housewives of New Jersey taking his good ol' time getting out of bed and shlepping down to the kitchen table, where he got yelled at, accused of still receiving naughty texts from his skankified hairdresser ex-girlfriend and then was tossed an unwrapped watch as his present.  I'm pretty sure Renee was aiming for his head, but her pitching skills need some work.
When Junior didn't pee his pants over the watch, Renee went off on him again while their son AJ tried to choke himself to death on a breakfast sausage.  You can just see it in that kid's face sometimes.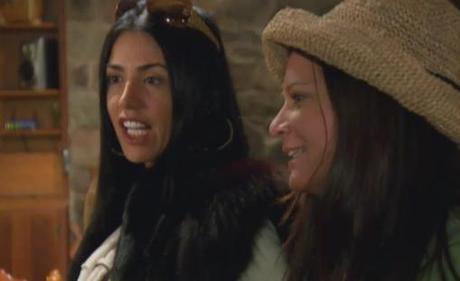 As Junior counted down the last few painful weeks of freedom on his new watch, Drita and Carla roamed around the park to discuss everyone else's business.
Hey.  VH1.  Invest in one of those fancy stabilizing contraptions that all the big networks have, or find a camera guy without a tick.  Seriously.  I thought I was going to get sea sick.  That's all I have to say on that scene.  Except that I expected the guy to fall over backwards, shoot half a reel of sky and Drita's crotch, and then send it to America's Funniest Home Videos.  Now I'm done.
Finally the sun set, and the Wives headed up the highway to their Poconos, PA retreat.
Whereas the aforementioned Real Housewives always arrive to their vacation destinations with fanfare and TMZ paparazzi, the Mob Wives were basically snuck in after dark when all the Poconos vacationers had gone to bed.  For realz.  We don't want to spook the neighbors.
If VH1 could have tracked down a cheap stealth 'copter I bet they would have dropped them in body bags like Red Cross food boxes.
Before they even picked beds, Renee was already having a Renee Moment or two.
Let's just say that if you had any doubt that fur vests were on trend this season, simply check out any episode of Mob Wives, because everyone but the dude at the dry cleaners is wearing one.
Renee packed about 7 in her car, and pulled them out one by one like a Walmart shopper bringing home skins from a good day of backwoods huntin'.
Them varmints were everywhere, I say I say I say.
Ramona packed her entire collection of Louis Vuitton bags, while Karen and Carla showed up with shrink wrapped veggies for the salad.  Renee screamed and (bleeped) about the room and the woods and getting molested in the dark.  Then she zigged and zagged around like a furry pinball machine marble, screaming and (bleepin') some more until I thought the rest of them would get back in their cars and lay a patch of dirt in escape mode.
You know how animals always run away in panic when they know a natural disaster is coming?  Like an earthquake or tornado or Mob Wive invasion?
As Renee was nearly trampled by terrorized woodland creatures running in the opposite direction, Drita swung by Big Ang's bar to let her know that she had decided to see someone about her possible anger management issues.
I love the way Big Ang just kind of rests her massive jugs on the bar while she talks, like they want in on the conversation.  Did I mention how much I love her?
I was a little bummed that Big Ang already had a red "I ♥ Puerto Rico" monkey hanging on her back wall, so that blew my 1-800-Flowers present.  Plan B, I guess.
When Drita finally went to see the guy about her anger management, it was pretty tame given that it was her first visit.  She soap opera cried when remembering a little wheelchair boy who got a cheeseburger in the face, and the Anger Mangagement Man probably wet his chair a little just knowing who she was and that she could go off like a glass soda bottle at any moment.
Hopefully the next time will be more Drita-fied.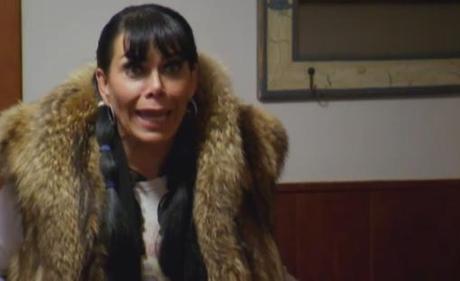 Back up at Cabin de Drama, Renee had unveiled the Hefty bag of meds that she brought along for the trip, but proudly announced she was not going to take any anti-depressants for the weekend.  I guess that was a good idea in a don't drink and dope kind of mindset, but in a Renee not on meds kind of way it had all the markings of a nuclear rod meltdown…and it took about 30 seconds for the first reactor to blow.
The first side effect was clearly her Pippi Longstocking hairdo.  No meds or mirrors, I guess.
I must have blinked at some point, because the last thing I remember was Renee (bleepin') out a non-existent Junior for cheating on her over and over, and crying and having yet another Renee Moment.  But when I opened my eyes from the blink Renee was cool as a cucumber and they were going to play cards.
And then I blinked again and Renee was (bleepin') out Ramona in one of her classic Staten Island "I heard from Drita that you told him that she said on Craigs List that you said that you told my sister-in-law" that Junior only married Renee to get into the Family.  Ramona denied the whole thing on the graves of her four kids and her Zoom Whitening technician.
Renee grabbed her cell to call Junior and prove Ramona wrong.
Again, I marvel at the Jack Bauer 24 reception that everyone on Reality TV gets on their cells.  They're in the back a** woods of Pennsylvania and get through on the first ring.  My old phone doesn't even work when I'm standing in line at the Apple Store for the new phone.  Bitch.
Then suddenly the wind shifted and Renee was tearing into Drita, who she may or may not realize is not even there in the room.  I think I saw a raccoon digging through her Hefty Bag around this point.
Carla says shaddup and then breaks into a little Cher to lighten the mood.
The next night everything seems back to normal, and the gang decides to head into town and hit the local bar scene, 'cuz we know how them Staten Island Mob Wives love karaoke and darts.
After getting all dolled up in their best backwoods glitter and red lips, the Wives hit Shenanigans to sample the local flavor.
Lucky for us, some of the locals were looking to sample some Staten Island as well.  Once the Wives were sufficiently liquored up, over strolled Bandana Dude to try and bag a trophy or two for his trailer.
Now granted, I'm a little rusty on my Singles Bar playa pick-up lines…but I'm pretty sure that announcing right out of the gate that you are still one nasty humping dynamo in the sack, despite having just lost one of your boys to testicular cancer, probably shouldn't be on the first page of your Match.com profile.  Besides stating that he could nail Renee's hide to any shed door, he also bragged about his leg tattoo with the squirrel running up and down with one nut.
(If you have to ask…seriously, you shouldn't be watching this show.  Go buy a book.)
Perhaps I would have better luck scoring at the clubs if I mentioned my tramp stamp with the honey badger chewing my brain cells after all these years of Reality TV.  Does that turn anyone on?
Regardless, the whole thing turned into an explosion of smack talk aimed at all Mothers everywhere, which resulted in Renee flipping out and leaving to call Junior to come get her and take her back to Staten Island in the middle of the night.  As if.
The whole thing was observed by an older gentleman who I swear could be the Love Child of Steve Wozniak and Santa Claus.
I also swear that Bandana Dude got kicked out of the joint by the bald guy who used to do security on The Jerry Springer Show as the remaining Wives high fived each other like they had just gotten a Mean Girl kicked off the Cheerleading Squad.
As the door slammed shut behind everyone I'm pretty sure I saw a really chilled out raccoon face down in the parking lot, wearing a Hefty Bag as a hat.
These bitches be trippin'.