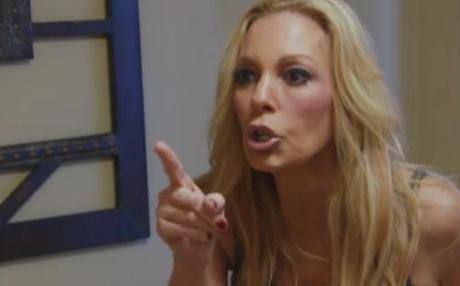 You're a bigger Goombaladoof than Leah said. And for the last time…there's no such thing as Unicorns!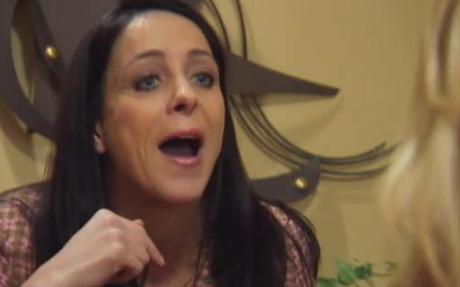 I can point, too. Granted I'm pointing completely in the wrong direction…but I'm pointing. So that still makes you a nasty a** bitch.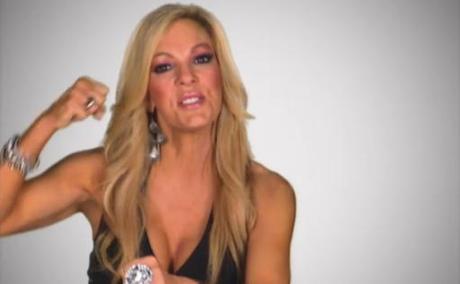 You may have Beer Muscles, but check out these Shake Weight Weapons. And I'm unleashing them on your face.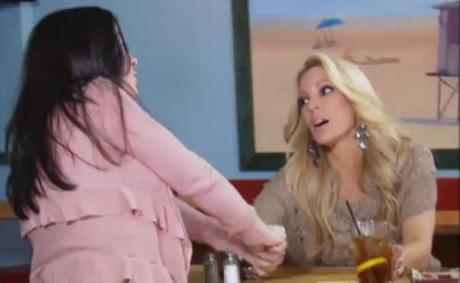 Seriously. What did they use to glue these acrylics on with…road tar? They won't even budge.

I'm coming for you, bitch. You'd better sleep with one eye open. And then when I find you, I'm totally poking it out.
 Let's just get one thing out of the way first, so we can focus on the good stuff.
There just wasn't nearly enough of Leah's Goombaliciousness in this week's episode of Mob Wives: Chicago.  Not even close.
Now that we cleared that up, here we go.
Not to be outdone by Pia and Christina pummeling each other over cocktails a few weeks back, this time around the contestants in the Ring were googly-eyed Nora and Mattel's new 'Roid Rage Barbie, Renee.
Though their Match.com profiles reveal a 40 year friendship of sorts (…loyalty is an important quality when looking for love or new shelter dogs, after all…) there had been a lot of tension between the two ladies lately, and Renee showing up late to Nora's makeshift memorial luncheon for her Dad had been the final straw.
Even after she had rolled in late and strolled over to the memorial table for 4 like it was a Meet and Greet at Barnes & Noble, Renee still didn't fully comprehend why Nora had gotten so upset.  Leaving before the main course was even served didn't help her cause, either.
Nor did the fact that Nora is just plain whackadoodle.  Ask Leah.
Instead of really addressing the issue head on, they had both been letting it stew, which makes for some great Reality TV but doesn't always lend itself to fence mending.
So now enough time had passed to really let that bitter taste seep into those pounding veins on the side of Nora's temples.  You know the ones.  The veins that control the blood flow to her crazy eyes.
Thinking that a little nosh might help their cause, Renee and Nora met for lunch.
Renee showed up with a bad attitude and one of her signature hats.  Nora showed up with her sidekick Julie, who apparently was still milking that out of state visit for a few more 15 minutes.
But seriously…would you want to go and sit in airport security and miss any of this?
That girl ain't going nowhere.  Oh, hell no.  This is some good shizzle.
Remember in junior high when two girls would sit in study hall and tell private stories that a third girl at the table wouldn't understand?  And they would laugh and finish each other's sentences and have private jokes about boys that the third girl wouldn't understand?  Even though they were all supposed to be friends? Or at least they were supposed to be, according to what they told the girl in chorus who told the boy in band who accidentally told the boyfriend of the third girl?
Did you follow that?
Well that was lunch with Nora and Julie.
Awkward.
Renee kept waiting for Nora to say something.  Nora kept waiting for Renee to say something.  Julie just stared and wondered where Renee buys all those hats.
Finally the whole late to the memorial thing came out, tempers flared and Renee's voice bumped up an octave.  She immediately got all Chicago Bears linebacker and went into her defensive Finger Formation.
The only thing Renee likes more than hats is pointing her finger.  Within the first 5 minutes of the show she stuck that digit out and didn't put it back in the holster until the end credits were rolling.  Girlfriend could definitely give any Atlanta Housewife a run for their money when it comes to the OhNoSheDin't finger wag.
Granted, Renee's is a little more White Girl when she pokes it at you.  And every once in awhile it did look more like my old Biology 101 teacher's-aid pointing at the chalkboard then it did a death threat, but she does the whole NeNe thing pretty well.   Props.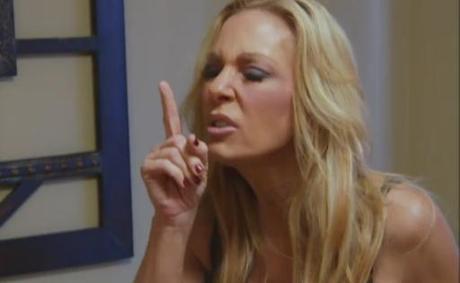 Since it was clear that this was only the tip of the iceberg, we moved on to lunch with Leah and Christina.
Full disclosure.  I don't even remember what they talked about because I couldn't stop looking at Leah's outfit.
I.  Love.  Her.
Did you see those leggings?  Or maybe they were jeggings.  Or NASA flight thermals.
No clue.  I didn't dare get any closer to my television set for fear of retinal burn.
Where do you even buy those?  I swear they were sewn from the metallic Art Deco wallpaper that contestant just used on HGTV Design Star for the White Room Challenge.  They were blinding.
And only my Reality TV Girlfriend #2 (…sorry, still holding out for Big Ang.  But Leah…love you.  Mean it…) could ever attempt to pull those off in public.
I'd say she had some balls, but they would never fit in those tight pants.
So I won't say it.
Aside from leggings that could be seen from the international space station, the other keeper from this scene was Christina.  I'm becoming obsessed with the way she yells when she talks.  No matter where she is or what she has to say, she always sounds like she's three beers in and trying to talk over the DJ.  I'm developing quite a fondness for her raspy Bingo Night voice.
She'd be a freakin' riot in church…Pass the freakin' hymnal or I'm going over this freakin' pew right now.  You really wanna do this right here?
I'm now officially on Team Christina because she scares me and cracks me up all at the same time.
Next we took a breather for some Mother/Daughter bonding.  Or so I thought.
Pia took her daughter Bella to lunch, to celebrate finally washing the car and to have a little family time.
On the rather lengthy List of things that drive me crazy, punk a** kids texting instead of paying attention is right up there with not being able to find that microscopic slit in the plastic seal around a Visine bottle.
I mean…is there liquid gold in there or something that I'm not aware of?  I swear someday I am going to go blind on the floor of a CVS before I ever get that thing peeled open.
Anyway.  Bella kept ditzing around with her Sidekick while Mom was trying to tell her something important.
Did Pia find a real job?  Is she getting married?  Is she moving them both out of town to start over?  Or sad news…does she have a terminal illness?  She seemed pretty serious.  It was like a Friday afternoon soap opera cliffhanger.
What's going on?  Pay attention, Bella.  You can sideways Kitty face yourself into a coma later…Mom is trying to talk to you.
And it turned out to be a pretty big announcement.
Two big ones, actually.
Pia announced that she was getting a boob job.  And they could both be deducted on her taxes, even though I still can't get a break on my gym sneakers.
OMG. WTF.  Send.
Down the block aways, Renee had a quick meeting with her friend Chrisy, spelled with one "S" like you would do if you were on Toddlers & Tiaras.
Red haired Chrisy looked familiar, but I couldn't remember if it was from a country music video or a spanish telenovela.  She was pretty in a skinny Wynonna kind of way and laid it all out for Renee when it came to getting all her crap back from Nora.
Turned out that over time, Renee had loaned Nora clothes, jewelry and enough cash to stock her cabinet with meds and keep the cable box on while she was trying to get herself back on her feet.  We never really got the full scoop, so I made up a great story in my head that I'll share at a later date.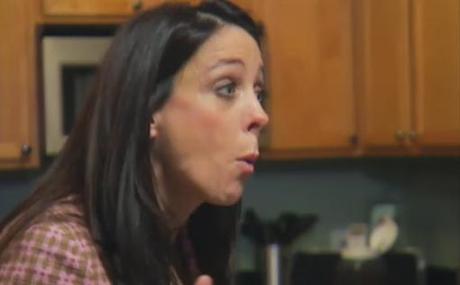 For comic relief, we next took a trip to the Soggy Paws dog washing store so Pia and Nora could hose down their puppies.
Sorry, but DIY dog washing joints are right up there with Life Coaches on another List.
Why do you need them?  Do you actually live in a place with no running water, or no sink or no bath tub?  If that's the case, then you should probably reconsider your choice to even have pets.  Unless you suffer from the Hair Clog Phobia that was just on that show where the girl ate mattress stuffing, I think you can wash your dog at home, thank you.
The only reason I'm eating up valuable type space on this scene is because when the chubby little Soggy Paws dude in the baseball cap was giving Pia directions on how to soap up her mutt (…I said "mutt," you pervs…) he told her to squirt him all over like a hot dog.
Which is funny when you remember she's a stripper.
Moving on from that hilarity, we got another waaay too short glimpse of Leah.
Christina met up with Leah and her Dad Wolf DeSimone to figure out how to tell her own Dad that she had gotten divorced.  It was a zippy little visit to introduce Wolf, who looked exactly like I thought he would look for some reason.  Except he wasn't holding a racing form.  But otherwise…I nailed it.  Christina yelled over the DJ again and it made me smile.
Then the Nora vs. Renee Grudge Match really started to heat up.
After receiving a lengthy voice mail from Renee that basically consisted of "It's Renee… (200 bleeps)…and bring my stuff back. Dial tone." Nora scooted across the street with one of those little suitcases you give your granddaughter on her first trip out of town, packed full of Renee's belongings.
As soon as she walked into Renee's apartment, the fireworks and finger wagging began.
Screaming, swearing, crazy eyes and enough classic Mob Wives (bleeping) to get me through the next commercial break.
Renee does love to stick that finger in people's faces, and Nora's wonky eyes are more than ample target.  She managed to bolt out the front door before Renee could melon ball them out of her skull, but not before landing one big hit right below Renee's Gucci belt.
Nora managed to get the last word in when she went for the open sore known as 'bitter child custody battle' and blurted out "I hope you lose your daughter!"
Yeah.  She went there.
Taking it down about 300 notches, Christina and Pia finally met up to smooth out any remaining wrinkles in their relationship.
Higher on my List than the Visine wrapper is bad editing, so I refuse to even elaborate on this scene except to make mention of the fact that sometimes Pia's sunglasses were on her head, and sometimes they weren't.
And then they were again.  And then they weren't.
Get it together.  Or hire me for your Continuity Guy.  Six figure salary.  Call me.
During all that poor editing, something must have happened that gave Christina the nerve to finally come clean about the D-I-V-O-R-C-E, because she braved a smokey cigar bar to meet up with Daddy Raymond Janek and show him her naked ring finger.
Unfortunately, Raymond didn't take it too well and Christina left the bar smelling like second hand smoke and paternal disappointment.  Next stop: her daughter.
As Christina's ego deflated, Pia's boobs were going in the opposite direction.
All it took were a couple of clear Tupperware casserole containers filled with the biggest blobs of saline ever, and she had her new girls installed.  Now she not only had perkier money makers, but two empty plastic bowls to store all her receipts in for tax season.
OMG. WTF. Retweet.
The final fight on the Nora/Renee Card took place at yet another unlucky Chicago eatery.  Between payments to the Board of Health and building reconstruction charges, being in the restaurant biz can't be a very lucrative venture when the Mob Wives come to town.
Nora had set up one last ditch attempt to reconcile with Renee, which went about as well as you would expect.
Screaming, swearing, more crazy eyes and all the classics again.  But this time they were both dressed a little nicer and Renee had makeup on.
After having Renee's finger all up in her bidnezz for 5 minutes, Nora finally snapped and made a grab for her boney hand.  As they arm wrestled across the table, it got louder and louder and (bleepier) and (bleepier) until Nora got up and made a dash for the door.
She does that a lot it seems.
Instead of just letting her hit the road, Renee kept increasing the pitch of her voice until once again only well shampooed dogs could hear her screaming.  The increase in decibels must have made Nora lose her noodle, because she went roaring back towards the table with all her eyes and veins popping.
And then she slapped Renee.
Yeah.  She went there.
Let's just say that Renee didn't take that very well.
Neither did the bouncers who had to pull them apart.
And please…tell me someone else noticed the skinny kid at the cash register texting like he was on fire.
Dude. LMAO. 2 Mob Wives just blew a major nutty. They went f***ing Goombalistic.
Send.