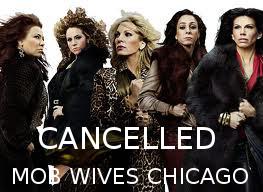 Ok, so I watched the new season of the regular "Mob Wives" and couldn't help but think of "Mob Wives Chicago". So I looked online via Facebook and seen a comment about the show being cancelled!
I immediately typed in "Mob Wives Chicago Cancelled" and sure enough there were listings. I clicked on RealityTea website and there was a story, posted November 30th 2012 stating the show had been cancelled and won't return for a second season.
I am gonna say I am a little disappointed. I did like to watch them. Yes, there were a little out there but I still enjoyed the show. I think the network should give it another shot.
Also all networks need to take into consideration that just because some people can't watch it while it is on during it's time slot, DOES NOT MEAN that they didn't DVR it to watch it later. I have made it clear that I DVR almost EVERYTHING so you don't get my rating during a shows scheduled time!
PLEASE POST IF YOU DISAGREE WITH THE CANCELLATION!