So here's what's been going on with my studio situation. Anyone who works from home and has small kids will get this to some extent.
Having your work space at home is a highly appealing prospect for obvious reasons–no commute, the ability to shift between work and home and back again throughout the day, and in theory, get lots of work done. However, the challenges of a work-from-home setup include interruptions from family, distracting background noise, and the inability to escape from home responsibilities.
I've been working mostly from home as a painter for the past 10 years, and I'm even now still trying to figure out a realistic setup that truly works for me. I've come pretty close in the past.
I've had the whole 600-square-foot finished basement of a house to work in, which was awesome…but it was carpeted, (not good for an art studio) and the light was bad because it was a basement.
I've rented a studio space in a large building before, and while this can be great, you also have to account for the expense of renting plus the hassles of commuting, which combined may not be sustainable long-term.
I've painted in several spare rooms over the years, and that can work but can also have drawbacks that make it impossible, which I'll discuss in a second.
My favorite studio was at my last home, a separate out-building in my back yard. But even that wasn't ideal–it was way too small, so I had to still use quite a bit of my house for storage purposes, and there was no running water or shop sink, which meant I had to walk up to the house anytime I needed access to water or it was time to clean up.
Right now my family is renting a house–we may be buying sometime soon, but for now this is where we are, and I have been using this spare room as my studio:
It's beautiful and has enough light. But there are a few major problems. First, I'm constantly worried about getting a drip of paint on the nice wood floors.
Second, the room is not separate enough from the rest of the house. It is right off the living room, with the dog and the kids walking in uninvited constantly, and lots of background noise right outside the (non-locking) door in the rare event I can manage to have the door be closed at all. The floor gets overrun with toys and dog hair, despite having rules about everyone staying out of the studio. (In fact, I just have to laugh, since both my giggling children (whose Internet names are Blazington and Oinker) and my stinky dog are all within a few feet of my desk in the studio as I type at this very moment.)
Third, there is no shop sink anywhere in this house. Cleaning up oil paints/solvents in the kitchen sink does not work for me, no matter how much I make a point to minimize the mess and wipe with paper towels first.
Fourth, there is not enough space to keep a proper drying rack–I'm referring to two sawhorses with 2×4's across them so you can dry 3-4 medium to large-scale paintings all at once. To have an efficient production system and high creative output, a big drying rack is an absolute necessity when you're working with oils, which take a long time to dry.
All of these small logistical problems have hampered my efforts to create over the past month.
It actually doesn't take a whole lot to be able to create lots of artwork, and different things work for different people. Some artists may be able to focus even when children are present. Some artists work in a medium that doesn't require them to have access to a shop sink for cleanup. Some artists work very small-scale, which eliminates the need for lots of space. Etc.
But the things I've found I can't do without are: Privacy/relative quiet. Good light. Enough space for storage of canvases, tools, painting supplies & a drying rack. A shop sink.
And–this is a conversation for another day, something the availability of which varies wildly from one artist to another, but is generally in short supply when said artist has multiple small children at home–allotted time to work! Even with not much allotted time available, having a designated space to go that is separate from your home can make a huge difference on that front.
So, back to a rental studio I go! I've found a great little space in this building in downtown Portland, and will be moving most of my painting setup over there this week: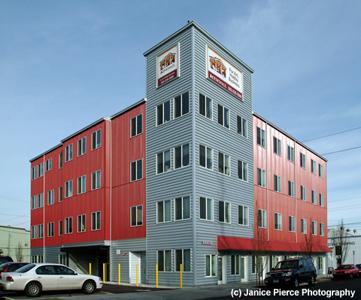 I'm renting month-to-month, so it's not a huge commitment, which is nice. If/when we move to a house that can accommodate a back yard studio again, then I can move out of this place with short notice if need be.
The studio I am getting has a gigantic window for both light and ventilation, high ceilings, a painted floor (so if I drip paint all over it, no big deal–I can just re-paint the floor later), enough space for a proper drying rack, and a shop sink right there in the room. All that will make it worth the commute, as often as I can get over there.
Knowing it is a short-term solution, I have to say I am pretty stoked. The building does not have public access, but as always, I will be available for studio visits by appointment–just ask!
The one complication is that, while I'll have my whole art studio operation moved to this other building, my home office will stay at home–that is, my desk, computer, files, office supplies, and all my correspondence and book-keeping will be in one place, with my art-making in another place.
This is not a huge problem–it just means I'll have to plan ahead more with certain things.
I'll have to lug my camera equipment from home to photograph new work at the studio, then the card back home to upload the images onto my computer–or alternately, lug the new artwork home to photograph it there. If I need to write the inventory control numbers on the backs of some new pieces, I'll have to make a note of that information from my computer before I leave for the studio–or perhaps, just get better about using Google drive… If I decide to work on some smaller pieces from my studio at home, I'll need to make sure I have a drop cloth and all the necessary supplies at home that day.
So, I anticipate things traveling back and forth a lot in the back of my car. With a little planning, it's no biggie. We do what we need to do to make things work.
Pictures of the new studio space–and of course, new art–will be coming soon!