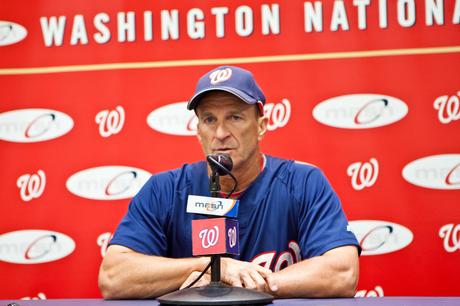 Whoa, did anyone see Jim Riggleman's hissy fit coming? I don't know how he thought this selfish, unprofessional "stand" would benefit him in any way. As a quick recap, Jim Riggleman, manager of the promising and surprising Washington Nationals,
abruptly resigned
last night, directly following the Nats' 1-0 win over the Mariners. In the month of June, no National League team has performed better than the Nats; in fact, they have won 11 of their last 12 games. Jimbo decided to cash in on this little hot streak. For awhile now, he has apparently been discussing/pressuring Mike Rizzo, the Nats' general manager, to pick up his 2012 team option – the front office did not want to chat mid-season and told him to chill the hell out. Ol' Jimbo would have none of this "disrespect." He informed Rizzo before the game that if his option wasn't picked up, he would not get back on the team bus. And then he kept his promise – he resigned.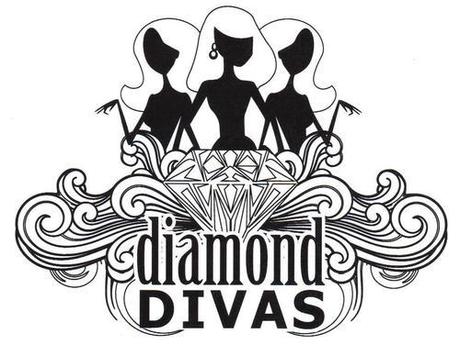 I would quip that "at least he is a man of his word," but the truth is, he is not. He jumped ship, quit on his team, peaced out because his personal demands were not met. He held his team hostage and then said, "fuck it" and bailed. For what? To point out that he is "not Casey Stengel but he knows what he is doing?" Hell, he is not even Ron Gardenhire or Terry Francona, both of whom are excellent coaches with winning career records. Our boy Jim holds a lofty 662-824 career record (140-172 with the Nats), one full undefeated season from a mediocre .500. He wanted a pat on the back and some reassuring praise? No one is going to remember that he left the Nats with a winning record, the first time they've ever had one this late in the season since 2005. All they will remember is his premature and diva-like exit.
As Mike Rizzo said, "one of the cardinal rules of baseball was that no individual can put his interests before those of the team."In particular, he is "disappointed that this is a distraction, that this is not thinking of the team first, that it is thinking of personal goals, thinking of personal things first."Riggleman doesn't seem to care.He even admitted:
It's about me.It's about looking in the mirror and feeling like I've got to answer to myself. In today's world in major sports, it's not a good environment to work when the manager or head coach in football or whatever is on a short leash. Too many negatives can come out of it. You're walking on egg shells too often. You can't think out of the box as much. I thought after 10 years I'd earned the right to have a little bit longer leash.
I would not hire Jim Riggleman, not after this stunt. I'd be afraid that the next time he is unhappy, he'd throw in the towel again. We coddle superstar players like Hanley Ramirez and Manny Ramirez, because they put fans in the seats and earn Ws on the playing field. No one comes to the ballpark to see a coach – unless we are talking Coach K or Joe Paterno, and baseball doesn't have any of those – especially a quiet, non-descript coach who will now only be known as a quitter.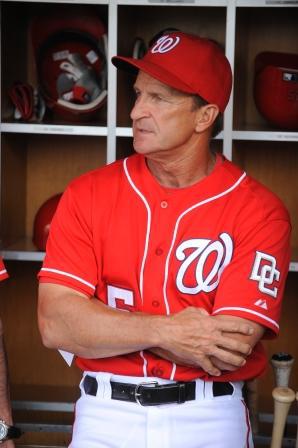 For argument's sake, let's say that the Nationals did disrespect him, didn't ever plan to pick up his option, and were using him solely for his awesome, awesome skills on a short-term basis. To be fair to Jimbo, he was "only" getting paid $600,000, the lowest salary in the Major Leagues now that Edwin Rodriguez resigned from the Marlins. And he has only been offered one-year contracts since he took over for Manny Acta in July 2009.But so what?! If he kept up his good work, if the Nats actually made the playoffs, lots of teams would be bidding for his talents at the end of the season. The bottom line is that he didn't have enough confidence in himself, his players, or his own abilities. The "peaks and valleys," or "short leash," or whatever he called it, apparently stressed him out to the point that he wanted to be paid
now
or leave. Sorry, pal, but baseball doesn't work that way. It's a pretty tight-knit club and I'm almost certain he just exiled himself from it.
It makes no sense. Wouldn't this be like Tracy Morgan quitting after one good episode of SNL? Like, dude, we remember your other five seasons. And I doubt that Jim Riggleman is going to find his
30 Rock
in the future. He had Stephen Strasburg and Bryce Harper waiting in the minors. A breakout season from Michael Morse. Promising, developing talents like Ian Desmond and Danny Espinosa. Ryan Zimmerman is even back. I hope the players rally in his absence – they had no idea that Riggleman was leaving until after last night's game. He could have been the guy who finally put all of the pieces together, who put the Washington Nationals on the path to success. He was even going to be selected as one of the coaches for the All-Star Game.Now all he will ever be is that fan who left the game during the seventh-inning stretch. And everyone knows that guy is a douche.