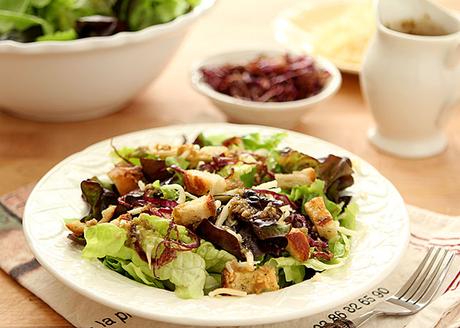 Over the past several years I've slowly but surely segued away from anything close to a 'standard' salad. I can't remember when I had one with lettuce, tomato, cucumber and onion. My personal trend toward different includes more fresh fruits and nuts in salads and there is pretty much one reason why. Tomatoes. There is a small window of opportunity in the summer when tomatoes are amazing and those grown outside that window, in hothouses, well they just don't cut it if you ask me. So I give a lot of credit to my changing direction to enjoying the fruits and nuts more but when preparing a post for the Food Network's #SensationalSides theme of 'Greens' this week I was reminded of the salad that really was my first foray into an ingredient filled salad that has no tomatoes, no cucumbers and only strings of roasted red onion. I do believe I can say that this salad of Mixed Greens Salad with Smoked Mozzarella and a Warm Roasted Garlic Dressing is simply my favorite salad.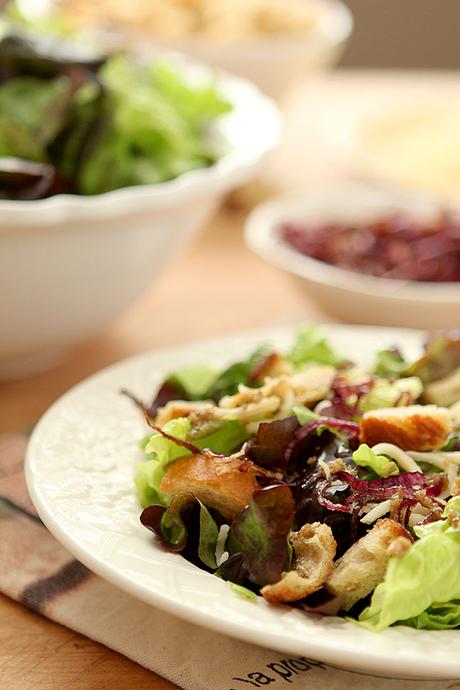 That being said, it's not one of those that you just throw together at the last minute either. Both roasted red onion strings and croutons are made for the salad and baked alongside a head of garlic to be used for the dressing. So, yes, it's a bit more timely but the combination of ingredients is sublime. While I could eat this by itself for a meal, it's just perfect next to a steak and I think no other meal components are necessary. I would suggest you also do what I do and double the dressing...it's so perfect that even on those nights when quick is all you have time for, the dressing alone is great on the old standard of simply lettuce, tomato, cucumber and onion!

Mixed Greens with Smoked Mozzarella and a Warm Roasted Garlic Dressing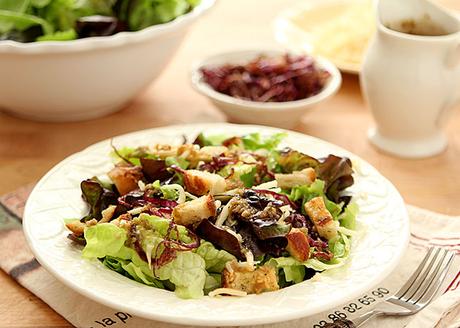 For the Vinaigrette:
1 head of garlic
4 tablespoons plus ¾ cup olive oil
¼ cup finely chopped shallots
4 tablespoons balsamic vinegar
2 tablespoons chopped fresh thyme
2 large red onions, sliced into ¼-inch-thick rings, separated
2 tablespoons (1/4 stick) butter
6 garlic cloves, chopped
2 cups ½-inch cubes day-old sourdough bread
1 teaspoon chopped fresh rosemary
8 cups (packed) mixed greens (about 10 ounces - I used a combination of romaine and red leaf lettuces)
1 cup (packed) grated smoked mozzarella cheese (about 4 ounces)
Preheat oven to 350°F.
Place garlic in small baking dish.
Drizzle with 2 tablespoons oil. Cover dish tightly with foil; bake until garlic is tender, about 50 minutes. Cool.
Squeeze roasted garlic from skins into medium bowl. Mash with fork.
Add ¾ cup oil, shallots, 3 tablespoons vinegar, and thyme.
Whisk to blend well. Season with salt and pepper.
Oil large rimmed baking sheet.
Arrange onion rings on sheet. Sprinkle with salt and pepper.
Drizzle with remaining 2 tablespoons oil; toss to coat.
Put in oven with garlic and roast until tender and brown, stirring occasionally, about 30 minutes.
Drizzle with remaining 1 tablespoon vinegar; toss to coat.
Melt butter in heavy medium ovenproof skillet over medium heat.
Add chopped garlic and sauté 30 seconds.
Add bread cubes and rosemary and toss to combine.
Transfer to oven and bake until croutons are golden and crisp, about 10 minutes.
Transfer vinaigrette to medium saucepan.
Stir over medium-low heat until hot.
Place greens in large bowl. Add cheese and onions and toss to combine.
Pour hot dressing over salad and toss to combine.
Season to taste with salt and pepper.
Top with croutons and serve.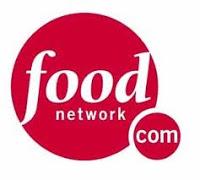 With this weeks theme of Greens for #SensationalSides, I know you'll find more than one reason to be motivated to make something new! Be sure to check out my friends offerings; with warm weather on the way, salad will be on the menu more often and I can't wait to try these!