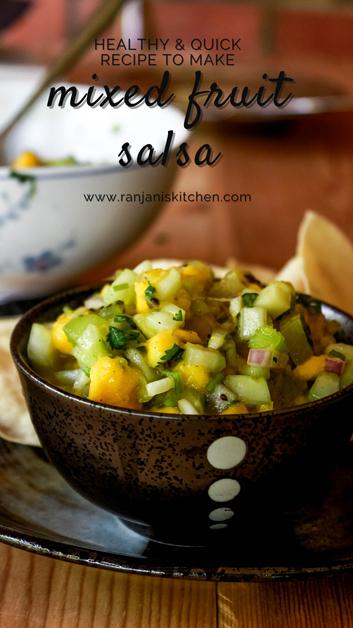 mixed fruit salsa recipe | mexican fruit salsa in indian style - I have made the salsa recipe with the available fruits at home. The choice of fruits depends on availability. I would recommend adding mango and cucumber without fail and remaining fruits are your choice.i promise it is a healthy fruit salsa that you can make anytime.
Serving suggestions:
I have seen the fruit salsa served with taco or chips or you can have it as it is like mixed fruit salad. I would recommend trying with indian papad. It tastes yummy!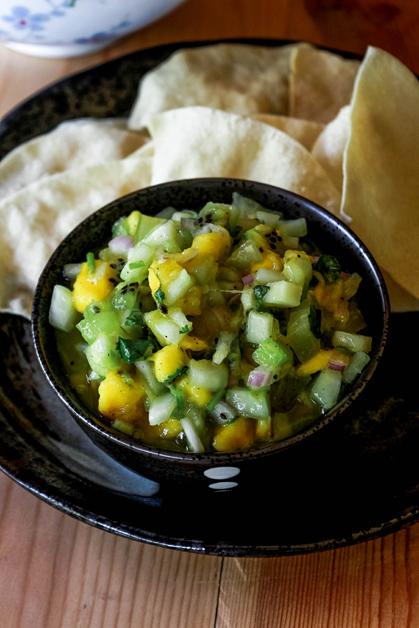 Cucumber with skin - i used indian cucumbers.its skin is hard so i peeled off the skin. If you are using english cucumbers, you can use it with skin. You can see the greenish and yellow colorful salsa 🙂
Jalapeno - in the original mexican recipe,they pickled or raw jalapenos. We can replace it with green chilies or capsicum. If you are going to use, make sure to deseed and use to avoid over heat.
Mango cucumber salsa - if you don't want to add any other fruits, you can simply add mango and cucumber alone as a main ingredient along with big onion,pepper powder,salt,lemon juice and parsley or cilantro leaves(coriander leaves)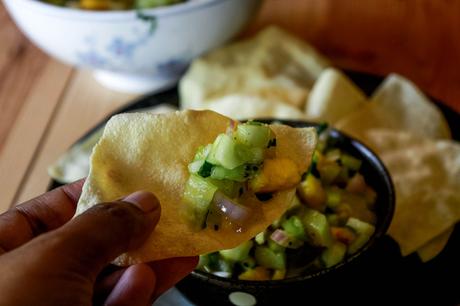 Fruit recipes:
For more fruit recipes click here
Ingredients:
Video recipe for mixed fruit salsa
for more interesting videos, do to " Ranjanis kitchen " youtube channel
How to make fruit salsa recipe
Wash & peel the fruits you are going to use.
Chop them into small pieces and add them into a wide mixing bowl.
Now add chopped big onions and finely chopped coriander leaves.
Finally add ¼ tsp of salt, ½ tsp of pepper powder and squeeze out ½ lemon wedge.
Mix using two spoons or spoon and fork. Mix like a salad. Mix it gently without mashing the food.
Now the salad is ready to serve.
Serve with tacos or chips or papad like me or have it chilled as it is like a salad recipe.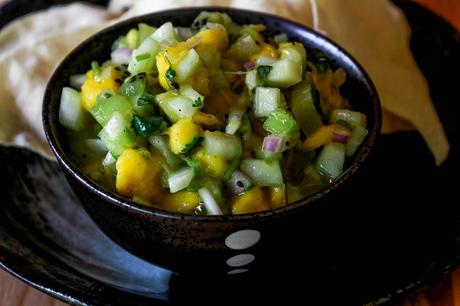 If you like this mixed fruit salsa recipe? share it on your using #ranjanis_kitchen tag and follow @iamsivaranjanirajendran
for any queries contact me at [email protected] and also follow me on
(Visited 64 times, 1 visits today)